The restrictions might be starting to lift, however, the financial crisis could keep going for some time.
I believe that in this time in history, it is more crucial than ever to be able to sell our services.
Selling is the #1 way that we keep our businesses afloat.
Selling helps people to improve their lives. It enables people to get more of what they want.
It's an incredible feeling if you are offering something to someone who is going to benefit and get a result that transforms their life.
Yet so many business owners avoid learning sales skills.
I believe that more than ever, it's a time for us to serve people and make offers to people who need help.
Selling is not about convincing someone or changing someone's mind. It's about having good conversations and seeing if you're the right match to work together.
Sales is the #1 way to increase the numbers in your bank account, which is going to give you more freedom and more choice in your life.
And the best part is that we get to do it while doing what we love and helping people!
Here are seven reasons most coaches struggle to sell their services…
Number 1 – Asking too few questions
Effective sales conversations come from asking effective questions. Unfortunately people have negative associations with sales. Effective selling is about asking effective questions. I call them power questions.
These questions open up your potential clients' minds ways to overcome their limiting beliefs about themselves, about you and about what you're offering.
Effective questions, help the person to come to the realisation themselves that they actually need, what it is that you're offering.
We need to spend at least 70% of the conversation asking questions. This is not interrogating, but asking elegant questions.
Some examples of effective sale questions are:
Tell me what your life would be like if you solved this problem?
Tell me what it's costing you to not have this problem solved?
How is it affecting you?
Why is it important to you to solve this?
How is this affecting your family, relationships and health?
If you could change, what would be your ultimate result?
What have you tried in the past, and what has worked for you?
What hasn't worked for you?
By asking these questions, you're really digging in and getting to know the person to find out if they're a match for you and to see if that person really wants to buy what you have to offer.
Number 2 – Talking Too Much or Too Little
If people who are selling to me talk too much, it makes me want to get out of the conversation. Talking too much can kill a sale for you.
No matter how good your product and offer is, talking too much doesn't give the person you are talking to time to evaluate their own needs.
I understand that we often talk too much because we are nervous and to fill the air. There is value in allowing breathing space for people to contemplate their needs.
Now talking too little can also kill a sale. If a salesperson is not talking much, it makes me question what they are not telling me and why!
Both talking too much and too little lead back to the base of using a sales call as an opportunity to build a relationship with a potential client.
Remember that relationships go two ways. Asking the right questions and listening to needs helps you both work out if you are a match to work together.
Number 3 – Coming Across Too Strong
There's a concept that I teach called strength and warmth. Strength and warmth is the spectrum of how we need both sides to be compelling and influential.
There's a great book called Compelling People. In this book, they studied influential people and found they had a really good balance between strength and warmth.
There's a sweet spot in the middle of being both strong and warm. By strong I mean you are quite direct and confident. You're telling the person that you can absolutely help them, you're giving them lots of assurance. People respect it and feel safe.
You tip over too much to one end of the spectrum and it can come across very forceful and almost rude. Most of us are actually scared of coming across like that. And so, for most of you, I imagine that you're not strong enough.
Number 4 – Coming Across Too Soft
The fourth reason that coaches don't sign up clients is coming across too soft. If you go too much on the warm end of the spectrum you can come across quite fluffy and apologetic. As soon as there's any sign that a person might throw an objection out at you, you accept it, because you're scared of rejection.
So instead of having an open authentic conversation, you end up just being really fluffy and avoiding it. We need to be strong and we need to kind to help people through their limiting beliefs and rejections.
Building good rapport with the person is crucial. You can say something like, 'I can feel that this really seems like a problem for you.' 'What other options do you have if you don't go here?' Help people solve their problem rather than just running as soon as there's any sign of any doubt.
So don't be too strong, and forceful and blunt and direct and don't be too soft. Find that nice sweet spot in the middle where you're having a genuine human conversation with another person to see if you're a match.
Number 5 – You're Too Expensive
Many people try and go quite high in their charging before actually testing the market. They put their price too high before they've actually got the experience.
Make sure that if you're not signing up any paid clients, you might need to drop your price to get some results and some great runs on the board. If you've not got testimonials to back your service, then you're going to struggle to sell yourself at a higher price.
Build up your client base and build your testimonials. Testimonials of your clients' transformations are essential for your business. This may mean doing some free coaching sessions in return for a testimonial and to build up your experience.
Number 6 – You're Too Cheap
You've got to be in the middle- not too expensive and not too cheap. If you haven't had any paid clients yet, you might give a discount for the first three clients in return for a testimonial.
If you've been coaching for ages and you've got clients already, then this is different, but when you're starting out, it's really important that you get results and transformations.  Then you can do things like webinars because you can only to webinars if you've had results for people.
If you feel that you're a bit resentful when you tell people your price and if you feel like you've dropped the price because you are desperate for sales, then you may well need to increase your price.
People won't value you if you've priced your service too cheaply.  The biggest investment I've made into my business was a $17,000 business course.  Because I had invested, I turned up and did the work.
If you are too cheap, people will just think that you're not good, so please don't undersell yourself!
Number 7 – Having Too Little Confidence
When we gain confidence to charge what we're worth, we can have great conversations with people and we can confidently communicate our value.
When we truly know that we're providing great value to someone and getting them results, it helps build our confidence. I'm working with clients, every single day. Last week I had 18 clients and this week I've worked with 27 clients and I'm getting them results.
I'm giving people value and helping them and this gives me a lot of confidence. So you've got to be good at what you do and you've got to be able to communicate what you do well and with confidence.
To gain confidence you need to do lots of practice sessions. I've literally given hundreds of free coaching sessions to people and it built up my practice and it also built my confidence in selling and making offers.
The next thing with confidence is making sure that you're speaking to the right person. It's very hard to sell to someone who genuinely doesn't need what you've got. I try and prequalify people beforehand through a questionnaire.
Only work with committed people because your reputation is valuable. Your reputation and brand is more important than money.
Make sure that you're only having sales conversations with people who you know you can definitely get a transformation and results for. That is going to build your confidence.
If you want to know the best way to sell during these current times, I recently ran a FREE 90-minute masterclass called 'Selling Equals Service'
It was a powerful session and I received lots of great feedback afterwards.
I talked through 5 keys to effective selling and shared a 6-step VALUES based selling framework that I personally use and share with my clients.
In case you missed it, I've created a replay which is now available for the next 48 hours. ?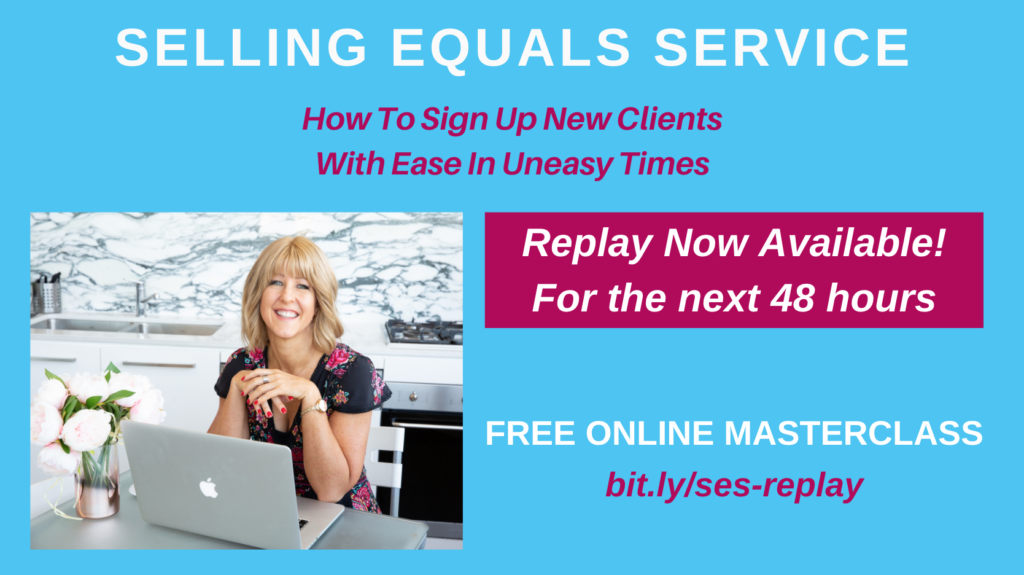 P.S. The content is a game-changer if you want to sign up your ideal paying clients, so don't procrastinate – take action and watch it today before it comes down!
Enjoy!
Kat