There are 3 little-known things that people do in their presentations that hinder their success. Many people have no idea that these are mistakes they are making when they're presenting.
Whether you're presenting on Facebook lives, Insta lives or stories, webinars, workshops, or if you're presenting 1:1 to your clients, you may be doing some of these things without realising.
The reason I'm so passionate about this is that I love supporting people to step up as a leader and position themselves as someone valuable and worthy of being listened to.
Presenting to groups has been the #1 thing that has grown my business, even though I used to be so scared of it.
It has enabled me to create a life of fulfilment and freedom, have a voice, fast-track my business success and help more people, which has all been possible by leveraging the power of events.
Before I started presenting, I was only working with people one-to-one.
I LOVED doing one-to-one work with people, it was my comfort zone. I'm an introvert and didn't like being the focus of attention and didn't want to present in front of groups of people. I didn't want to be the one up the front with everyone looking at them.
But I remember a moment in time where I was at a big convention called Filex, sitting in the crowd listening to the speaker.
And I suddenly it hit me – and I had one of those 'penny-drop' moments that surprised me.
I thought "It's going to take me waaaaay too long to build the business I want to build one by one! I'm never going to have the impact that I want to have. I want to be a presenter. I want to be the one on stage!"
I remember thinking "I HAVE to get over this fear of speaking to group. I HAVE to learn to present".
At the time I was working as a fitness and health coach, only doing one-on-one coaching sessions. My first step to learning to present was to run a small group program at Les Mills called 'Look Better Naked.' It was a program for 6 women for 6 weeks.
Les Mills has high standards with qualifying people to deliver their programs and I remember the guy who was assessing me told me I was too quiet and needed to be more outgoing and loud. He said that I needed to 'fake' confidence until I felt it.
So I just had to step up.
Eventually, I started running bootcamps and then I started doing 1:many presentations, running seminars at my gym.
I didn't realise back then the things I was doing wrong, but over time I have learned what NOT to do as a presenter, by doing these things myself.
1 – Winging It Without A Structure
The problem that most people have when it comes to creating a presentation, is that they don't have a proper presentation structure. They wing it without structure.
That's what I was doing. I was literally showing up and teaching everything that I knew, instead of actually organising my knowledge correctly.
There's a formula for presenting correctly – in a way where people can receive the information you are giving them. There's a formula to engage people and maintain people's attention. I didn't know any of that.
So, the first thing that people get wrong that kills your presentation is they think they can just show up and 'flow' and speak intuitively. They think they can just show up and talk, with no plan or structure.
If we don't organise our knowledge in a way that someone wants to receive it, we're actually doing our audience a disservice. I've seen this happen so many times where people just think they can speak from the heart, without having planned their presentation.
When you have a formula and structure, you can still flow naturally and be intuitive and speak from your heart. Having a structure doesn't stop you from being spontaneous, it can actually help it.
If you think about professionals and successful people, how do they become professionals? They practice, practice and practice!
The Netflix documentary 'The Last Dance' about Michael Jordan shows this perfectly. It is incredible the amount of practice thatMichael Jordan put in and he was the best in the world.
I was reading that when he was filming the movie Space Jam, they would film for weeks or months on end doing 12-hour days. He would then go straight to training and practice for 5 hours every single day.
When we do a presentation and we are winging it and speaking from the heart, we are doing our audience a disservice. We are not valuing them enough to plan and craft our presentation or use psychology or the power of influence to help people to take action.
Remember every single presentation is designed for someone to take action. It's not designed for it to just be interesting. You want to inspire someone to take action and that requires crafting your presentation.
Presenting is a profession because it requires crafting and tweaking your words. The higher the stakes, the more you practice. People who do TED talks practice for months beforehand.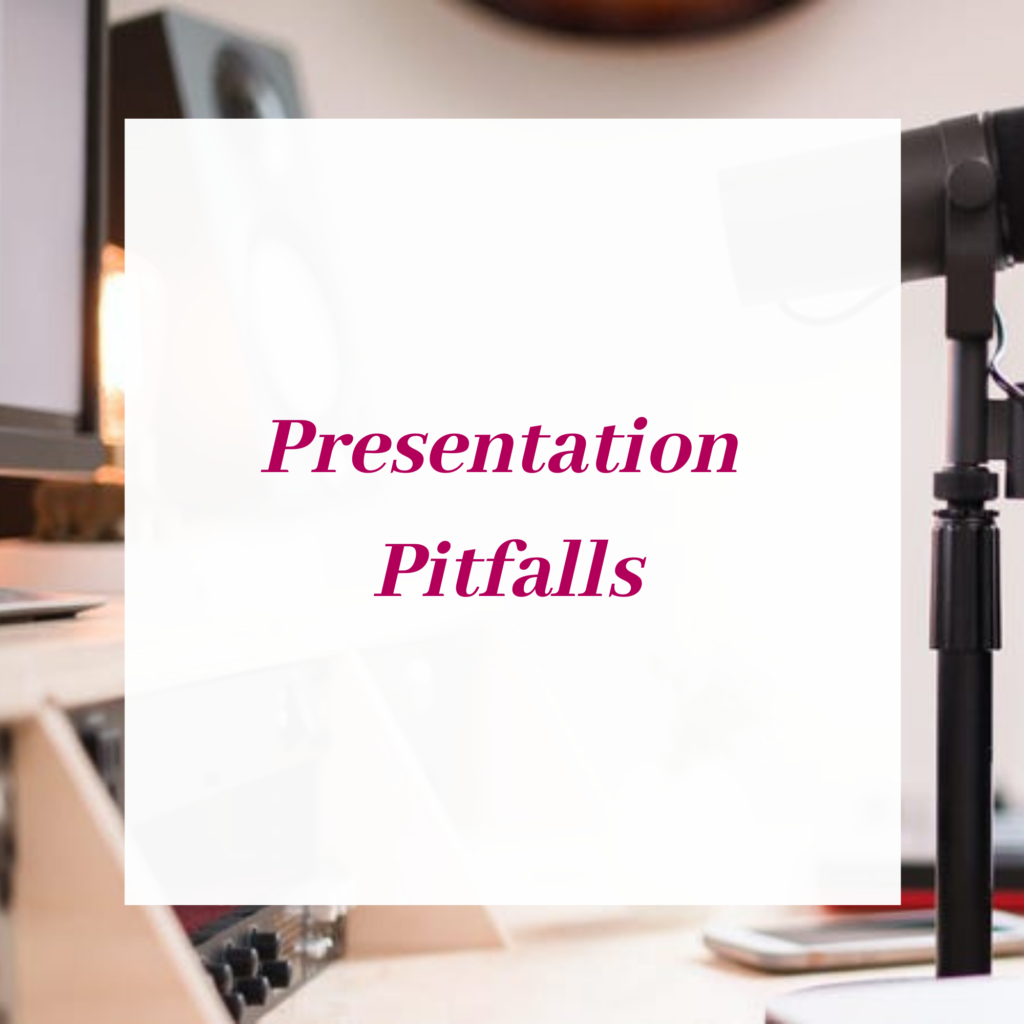 2 – Focusing On Yourself And Not On Your Audience
The second thing that kills someone's presentation is focusing on themselves and not on their audience. This happens all the time because public speaking is so many people's biggest fear.
It's the Number 1 fear people have.  People are really self- conscious, and they're thinking about themselves and what the audience is thinking of them. You can train yourself to overcome this, so when you're presenting, you're thinking about your audience.
I spoke at a woman's event last Sunday and when I was rehearsing for it I brought up pictures of women on Google images on my 2 screens, so when I practised, I was looking at people's actual faces.
It was a great way to practice for a live event. I don't put Zoom on gallery view as it's very distracting. If I have it on gallery view, I look down at the gallery, and then my eyes are not looking at the lens. So I turn off gallery view and only look at the lens so I am then connecting straight to you.
So there's a difference on video when you're presenting, then when you are doing a presentation to a live audience. Because it's been a couple of months since I did a live event, I visualised that live presentation with people in the room together night after night before I went to sleep.
I visualise what I want every night before I go to sleep. I visualise myself helping thousands of people at once.
This is why people will organise their knowledge and put it into a book, or a TED talk. They organise their knowledge so they can help multiple people all at one time.
And so, when I showed up on Sunday, because I had practised and visualised the event, it felt completely normal and there was no need for my brain to throw out fear.
This way I could be really present with the audience and focus on communicating my message as well as I possibly could.
It's so important that we're not self-conscious and thinking about how we look and sound, but instead being present and focusing on sharing our message in the best possible way to serve our audience.
Presenting is not always easy, and it takes learning the craft. But it's worth it because if you get one valuable presentation, it's an asset and it's a legacy item. You can use it over and over again.
If you want to fast-track your business, I believe the most logical thing to do is to present to multiple people at one time.
But you've got to get over any blocks or fear of presenting so you can fully connect with your audience.
3 – Under-Sharing or Over-Sharing 
Under-Sharing
Under-sharing is being stingy and holding back from giving.
We HAVE to always provide great value, whether they're getting free content or not. That is super important.
If you think about all the years and all the amount of study and research you've done, you won't be able to put that all into one presentation or even into a week's worth of content.
We've got to make sure that we're generous and giving really genuine value.
We can't just give fluffy stuff. We've got to give content that has substance and real-life application.
Over-Sharing
On the flip-side is over-sharing. I used to do this all the time. When I ran an all-day event, I would give so much away.
Because I wanted to give so much value, I ended up giving away too much value. This actually ended up doing a disservice to people.
You want your presentations to give value, but you don't want to over-deliver. You want people to leave hungry for more. You need to be able to spark curiosity and help people see that you can solve the problem they hold.
There's a sweet spot in the middle of being generous and not giving everything you have away, all at once.
Be like Goldilocks – share just the right amount. (remember the story? "Ahhh, this porridge is just right!").
A lot of people ask me how do I know the difference of what content to share or not share. Like, how do you know what content should go into your free Facebook Live, webinar or workshop?
Many times, it's very case-by-case, figuring out what should be shared and what shouldn't be shared.
There's an art and a science to it and requires crafting and mapping it out.
If you think of a client journey – there are people that don't know you, so the content that you share with them is going to be different to people who come to your workshops, or who consistently show up on your Facebook Lives, for example.
Everyone's in a different stage on the journey. And that's why it's so individual, there's really not just one rule. It depends on multiple factors.
I'll be unpacking these factors and so much more this coming Saturday at my free event 'How To Get Clients With Online Events'.
It's happening THIS Saturday 24th October.
I will be sharing the formula I've learned from the last 13+ years of doing live and online events to help you get clients from events.
I've used this formula to build my business into a 6-figure coaching business. It's my best strategy for attracting new clients.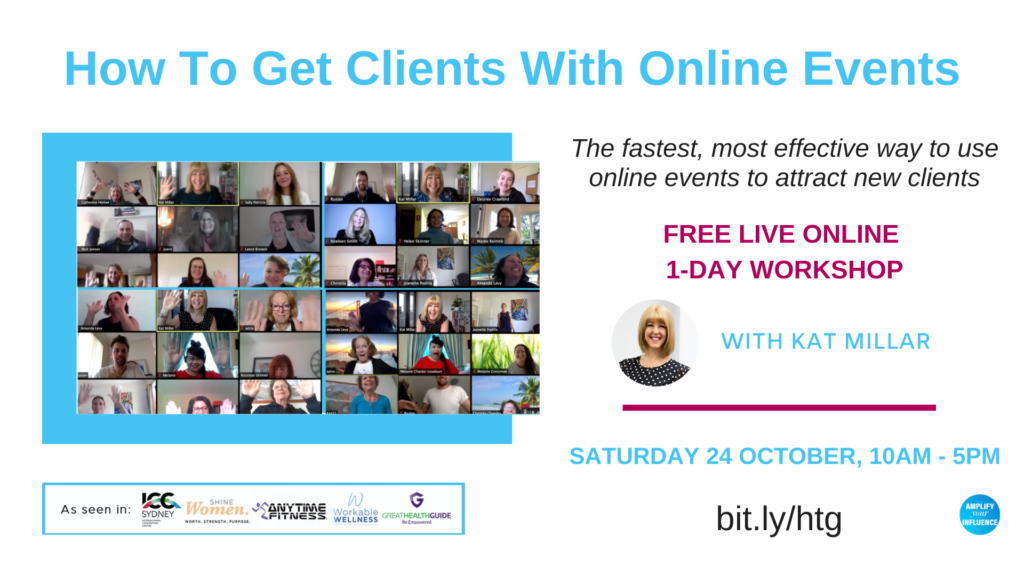 See you online soon!
Kat