A lot of people are out there marketing before they've identified a few CRUCIAL things… and they're frustrated because their marketing is not bringing them in clients.
Before you start marketing, there are 3 crucial things to think about before you put up a single social media post, record a video, launch a website or send an email to your list…
…in order to make your marketing effective.
You can attract paying clients right now, even if you have:
No experience
No certifications
No website
No idea what to share
Even if you're an introvert, a technophobe, or you don't currently have a program, product or following… IF you have these three things.
If you have these 3 things, you can attract paying clients and start making money and help people straight away.
1 – Your Unique Brilliance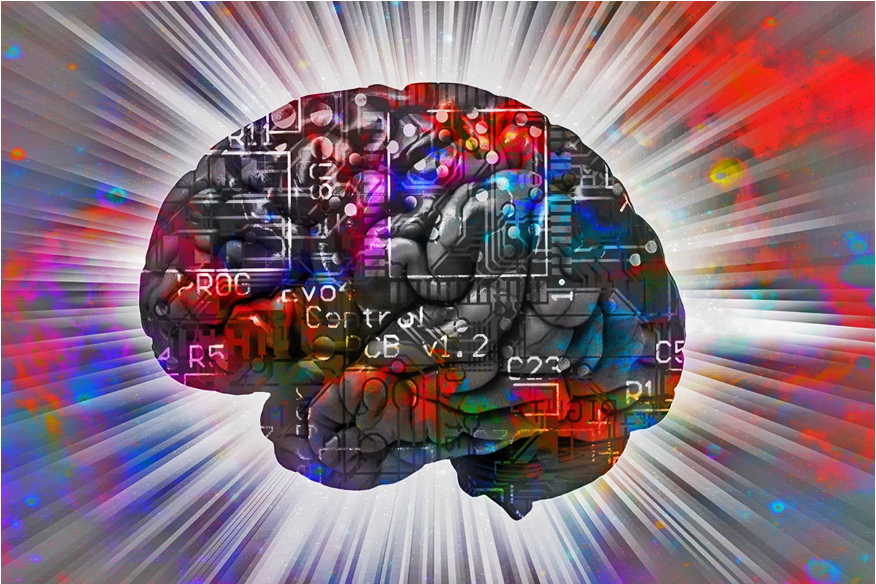 You have brilliance that others need and don't have.
You have one main zone of brilliance; one key area you are brilliant at and you need to communicate this in your marketing. This is your USP – your unique selling point or proposition.
I suggest we unpack and develop our top 3 'contributions' that we have to offer to the world. Your contribution to the world is your mission.
When you unpack and develop your top 3 contributions and design your business around them, you stand out in the marketplace.
Have you identified the unique brilliance that you have, that other people don't have?
Your Contribution = Passion + strengths + mission
Think about these 3 things:
1) What do you love?
2) What are you good at?
3) What do you feel called to do?
It's important to know these, and communicate them to your  following.
This doesn't have to take long. Most of you can sit down and do this in less an hour.  But many people skip this step and start marketing before they are clear on these things, and they wonder why their marketing isn't working and they're not getting a return on their time.
Identify why you are different and how you can communicate that to the marketplace. Otherwise, you will blend in.
Get clear on your top 3 strengths and communicate these in your marketing.
Business is an exchange of value, so you need to communicate your value by sharing your strengths.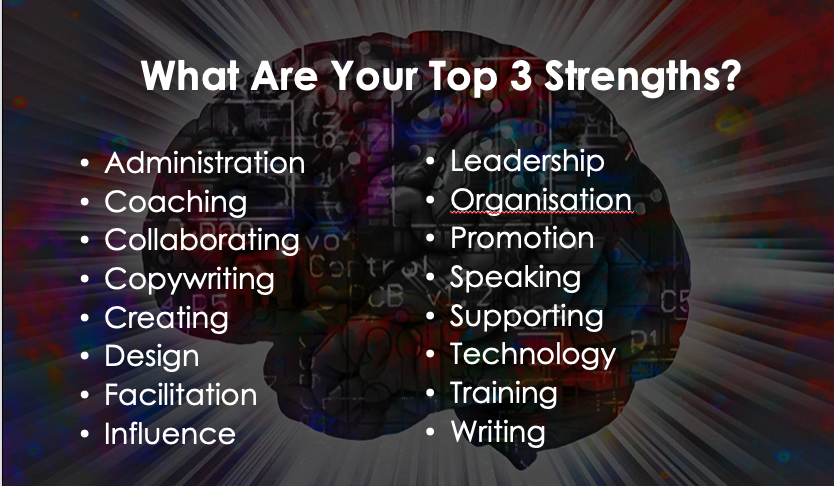 What do you feel called to do and what kind of impact do you want to have in the world?
And what have you actually overcome and what compels you to help others?
What have you overcome and reached the other side of, that now you can help people with on their journey? That becomes your contribution – your passion, your strengths, your mission – what you've overcome and want to help others overcome.
So think about – how can you communicate that better in your marketing?
Define how you are different and unique. If you're a health coach, how are you going to stand out, when there are so many health coaches on social media?
It doesn't have to take a crazy amount of time. Just identify your top strengths and what makes you different.
My strengths, for example are training, speaking and coaching. I've got some skills around writing, copywriting and influence and I'm able to pull groups together and facilitate groups.
These are the things that I've packaged up as my offer to share with people.
A lot of people have a unique briliance zone, but they don't know what it is. Because it is unconscious competence.
Often we don't realise that people are willing to pay for our organised knowledge, because we're so good at it and it's our unique brilliance. So you need to tell people about it.
2 – Your Irresistible Offer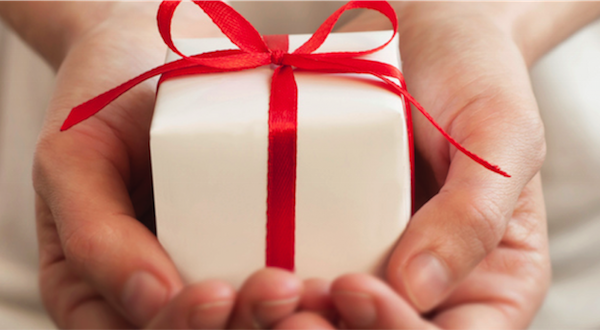 The second crucial thing to identify before you market is your irresistible offer. You want to know your areas of irresistible offer before you start marketing.
Now, this doesn't have to take a long time. You could decide your offer is a 6-session coaching package or a 2-day workshop, or a  12-week online course. You need to know what your offer is if you're marketing.
We want to reverse engineer our marketing by starting with the offer we are going to make to people and making sure our marketing is designed to lead people towards that paid offer.
Your marketing should overcome objections people have to taking action. You want to start with your offer, then think about what is going to help the right people who need it to be inspired to buy it.
A lot of people are doing marketing, but someone asks them what they offer and how much they cost, they stumble and fumble because they're not organised. And they haven't packaged their offer correctly.
People are attracted to others who have specialised and organised knowledge. We're attracted to them because our biology likes certainty every step of the way. It seeks certainty.
Marketing is about attracting and repelling. Attracting the right people, and repelling the wrong people.
The more certain you are about your specialised, organised knowledge, the more you're going to attract people.
The less certainty you have, the more you're going to repel people.
If you're specialised and organised in fitness, for example and you're more organised than your clients in fitness, that's valuable to them.
If you're specialised and organised in wealth creation and you're more organised than your clients in making money, that's valuable to them.
Being specialised and organised in something means you can easily package up and sell as a high ticket offer.
If your specialised knowledge happens to be something that you're super passionate about, and you've got strengths in this area, you feel like you are called to do it and you market it effectively – you will make a lot of money.
When you have a clear solution and you're organised, there are a WHOLE lot of people you can help.
When you start marketing your products and services, you need to clearly articulate your strengths and your specialised, organised knowledge. This stops you from rambling when people ask you what your offer is.
You can tell potential clients about your signature system, how much it costs, how long it goes for and you can say it with certainty.
If you can't articulate clearly and communicate your services, people will paint you with the brush that you're disorganised.
There's a saying out there: How you do one thing is how you do everything. If we're disorganised in one area of our business, people assume we're disorganised in every area.
You don't have to be the best or most skilled in an area. You just need to be experienced and organised around your specialty topic.
3 – Your Ideal Client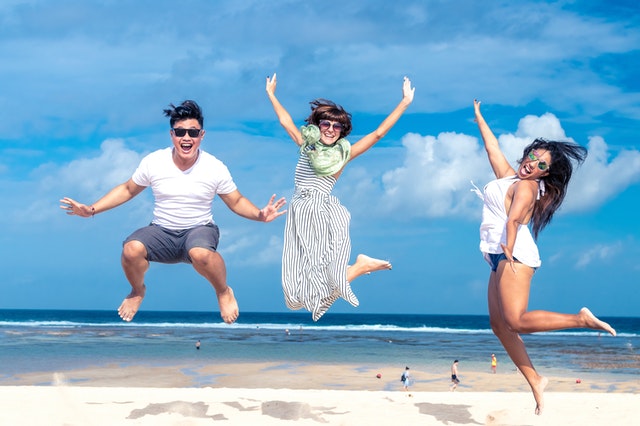 The third thing you need to identify before you start marketing sounds really obvious, but a lot of people still get this wrong. You need to identify your ideal client.
So, why do you need to identify your ideal client?
Firstly, when we create content, we want the person who's reading it or listening to it to think that you are reading their thoughts, or you are listening to their conversations.
When you are clear on your ideal client, you stand out from others as a trusted specialist rather than a generalist. You will get more referrals.
If you jump into a Facebook group as a life coach, you are battling with so many other life coaches.
But if you say, for example, you have an ideal client that you help, then you can target them directly.
For example, if you had the ideal client as parents struggling to cope after a divorce, this level of detail makes you really stand out.
People will see your marketing and think of referring you to their friend who is struggling after a divorce. Or if you're a health coach, and you help people with gut health issues, then you can market directly to people with gut issues.
The more clear we are on who our ideal client is, the more referrals we will get.
Think about a fine dining restaurant. For example, Altitude, at the Shangri La in Sydney. It's beautiful and stunning.
I went there recently with my friend Jess. The menu had 3 items as the main set menu. I thought "These dishes must be amazing, as they are the only options!"
People get too overwhelmed with too many options. And so if you can say clearly what you do and who you are helping, it helps people identify you as the person that can help them.
Choosing an ideal client does not mean you cut out a whole lot of opportunities. We have to switch from a scarcity mindset to an abundance mindset. There will always be enough people for you.
It doesn't mean you can't take on other clients, but you don't market to them. I've got clients outside of my ideal clients. I take them on if I decide they are a good fit, but I don't promote that in my marketing.
Remember, in most cases, your ideal client used to be you.
I want to remind you that you are sitting on a goldmine. Some of you are your industry's best-kept secret.  You need to learn to communicate your unique brilliance, your strengths, passion and your mission. And if you don't promote these things, your marketing is not going to work.
And a lot of you don't have enough marketing out there and you're wondering why you're not getting clients. No one can know you exist if you're not marketing yourself properly.
So remember, we're attracted to anyone who demonstrates certainty in the communication about the organised, specialised knowledge they hold.
When you're clear, organised and specialised within your area of unique brilliance, your offer, and your ideal client – plus you market it effectively, you can attract your ideal clients and be very successful.
Want to know how to do this?
Would you like to finish the year successful by learning a marketing system for creating a steady stream of ideal clients?
I highly recommend you check out my upcoming online evening event, the 'Client Attraction Accelerator Masterclass'
This is our FINAL free masterclass of the year!
At This Free Live Online Event You Will: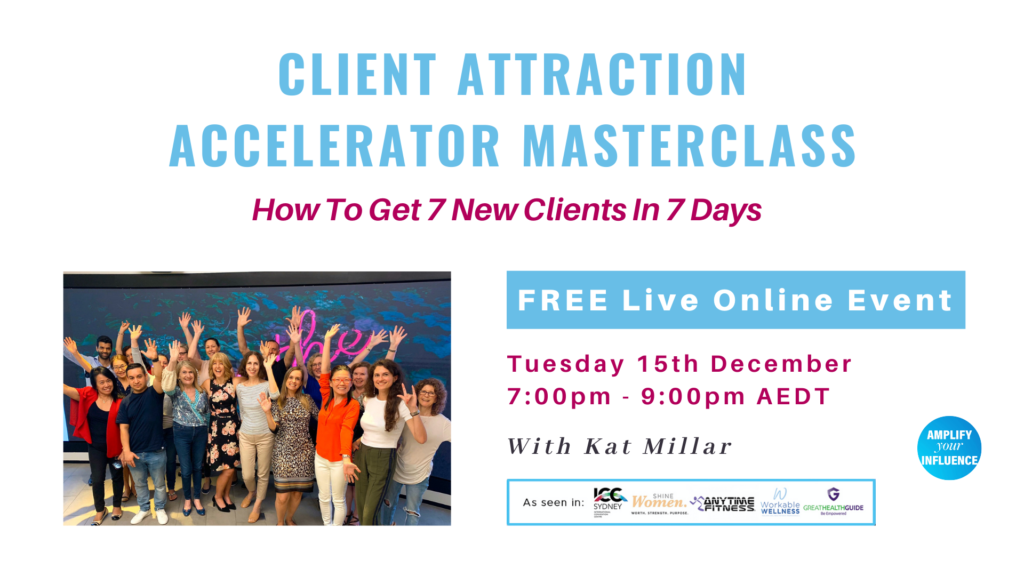 * ​Discover how ANYONE Can Finally Create Marketing that WORKS!
* Learn the Little Known Techniques That Can Adapt & Transform Your Business For 2021
* Identify Been Holding You Back In Business and find the best solutions for YOU!
​* Ditch endless hours of creation for little result, and focus on building a strategy to rapidly enhance client acquisition
​* Learn the Amplify Your Influence Method: The Step-By-Step Process Of How You Can Have Clients Consistently Ask "How can I work with you?"
​* STOP the endless marketing cycle that gets no results and START building a strategy that brings you clients on tap
​* Discover the mistakes most business owners & entrepreneurs make that prevent them from creating the business & freedom they DESERVE
* Get The Most Effective Strategy, Skills, Systems And Support… So You Can Grow Your Business, Fast!
Client Attraction Accelerator Masterclass ?
➡ Tuesday December 15th 2020, 7:00pm – 9:00pm (AEDT)
?  Go here to register now —>> https://bit.ly/client-attraction-accelerator
(Note: Spaces strictly limited and allocated on a first-come, first-served basis. Grab your ticket before it books out)
You can read more or book in for free here