There is one thing that has made the biggest difference in my coaching business and helped me create a 6-figure income.
Today, in this third blog of a 3-part series, I will be sharing the final essential key you need to attract your ideal clients.
In the first blog of the series, I talked about business strategy and how to develop a strategy.
In the second blog, I talked about the essential skills you need as a business owner. I covered what the skills are, and how you can develop those skills.
Today, I want to share with you a little bit about the key points in my entrepreneurial journey that have made the biggest difference in my business and helped me keep going when I've wanted to give up.
Research shows that as many as 50% of businesses fail within the first 5 years and 70% or more in the first 10 years.
Business is not easy and it's definitely not for the faint-hearted.
But business is the best thing I've come across for personal development. There has been nothing that has developed and grown me more than having a business.
When you are a business owner, you have to overcome your fears and doubts. You cannot afford to get stuck in your limiting beliefs. It isn't always easy to keep showing up, but you cannot allow yourself to get stuck in negative emotions, you've got to keep moving forward.
When I decided in 2003 that the 9-5 world wasn't for me and I wanted to be an entrepreneur, I made a decision and took action and left the corporate world.
Since then I've been focused on building my business, honing my skills and consistently working hard to get new clients so I never had to go back to a full time job.
I've had a few contract jobs that have kept me going in the quieter times, but I've been so determined to make business work.
What has kept me going in the hard times, has been the support of my mentors, coaches and community.
As I've been moving through the entrepreneurial journey and going through all the ups and downs that come with business, the thing that's gotten me out of the difficult places every time, has been support.
When I used to get tempted to look at full time jobs, it was my 'why' – which is to help others who are struggling like me – and the support around me that helped me to keep going.
If you want to make it in business, you need:
Business Strategy
Business Skills
Business Support
Support of a Coach, Mentor, and Community
Too many people are walking around thinking they can do it on their own in business.
I was like that as well. I didn't think I needed to invest in a coach.  I didn't think I needed a community. I thought that I was a strong, independent woman and I could do this on my own. But that was just my ego getting in the way.
There was one particular moment that stands out to me.  I wasn't getting clients, and I was completely torn. I didn't want to get a job, but I also didn't know what to do because I didn't think I could afford to invest in getting help.
I remember going to an event in 2013 with Benjamin J Harvey and Dr. John DeMartini.  I was new to Sydney, and things weren't working in my business.
Ben talked about when he decided that he was going to commit to investing in himself, and at the time he was in $137,000 worth of debt. Despite that, he spent $17,995 on a program on his credit card.
That program was the thing that catapulted his success. He now he's a multi-millionaire and has helped thousands of people. He said something woke up within him.
The exact same thing happened when I went to his event. Something woke up within me. I had no money and was completely broke. I had $500 in my account which was to cover two-weeks of rent.
I decided to back myself and it was one of the scariest moments, because I had no idea where I was going to come up with that money.
But I knew that the missing thing in my business was support. I didn't have someone to ask questions who was above my level. I had other friends in business, I had books and YouTube, but without a mentor and without a community, I was struggling and I knew that I wasn't going to make it if I didn't change something.
Since investing in getting support, I've made my way more than my investment back time and time again.
I grew a 6-figure business in less than 12 months and was able to go full-time in my business a coach working from home.
Ben Harvey has a 5-step system that I wanted to share with you because it's simple and I love it. There's a lot we have to navigate in business, but we often overcomplicate things, so  I love the simplicity of this.
Ben Harvey's 5 Steps to Success
1) Decide What You Want
It sounds so simple, but a lot of people aren't able to articulate what they want clearly. Take the time to get clear on exactly what you want and decide to get it.
2) Commit to Doing Whatever It Takes
Make a commitment to yourself that you will do whatever it takes to grow your business. Honour yourself and your commitment and keep showing up, no matter how hard it gets.
Determine that you will not give up on yourself, or your dream. Commitment is a game-changer.
The world of online business is expanding all over the world and the ones who are succeeding are committed to it.
3) Find Someone Who Can Help You
I have not met ONE person has ever made it on their own. There's not a single athlete that doesn't have a coach, yet there are so many people trying to grow a business without support.
Everyone who's ever achieved anything, has had someone help them.
The fastest way to get success, is to model what other people have done that have gone before you. Don't copy, but model.
If you want to succeed, spend as much time as possible with the people who are moving in fast in the direction you want to go.
4) Learn Everything You Can
Find someone you resonate with, someone who you like – you like their energy, style and you enjoy learning from them and spending time with them. That's how I choose my teachers, I like them.
Choose teachers and mentors who are experienced in the result you want to get and are able to get you great results too. They need to understand you and speak your language.
5) Follow The Exact Process

Too many people are taking a little bit from this person, a little bit from another and trying to combine it together with little or no success.
People take different strategies and mixed methods and try to piece them together. They end up confused and overwhelmed.
You want to make sure that the person you choose to coach you, has the method that you want and has achieved the results that you are looking for. Then you need to follow their exact process.
Three Reasons You Need Support
1) Clarity
Clarity is one of the most priceless things you can have in business.
I've had about 15 coaching sessions this week, and about 90% of the people I coached said they wanted clarity. Clarity is knowing what the next step to take is.
There's so many things that you can be doing, consuming or outputting in your business.
This is where support can help you have that clarity, because you know exactly what to stop wasting time on and what to start spending time on.  Clarity is such a gift in business.
If you can get clarity, it stops the noise that's stopping you from doing dollar-producing activities. You know those things that we waste time on, that don't really move us forward in our business.
Having an expert guide you and help tweak your direction is so valuable.
I was on a coaching call with a mentor the other day where he completed changed my next move. I could have spent so much time going in a different direction, but he knows my business and having him give me clarity saved me so much time.
I always ask myself what successful multimillionaires who earn a seven or eight-figure income do. I ask myself what they would spend their time on, and then I spend my time on that.
2) Critiquing
If you want to grow, you need to be able to receive feedback. Many people are not willing to accept feedback. They defend themselves, get offended, and they shut down. Feedback is someone's gift to you. If you don't take the gift, then it just drops to the floor and is wasted.
Our egos can be fragile. But if you don't have someone that can critique your business and help you tweak it, it may take you years to progress in business. Having someone that can critique you, give you feedback and be someone you're accountable to, is invaluable for your business.
3) Community
When I first started my business, I just did it on my own. I didn't understand the importance of having a community.
I was living in London and New Zealand and I was struggling and feeling so alone, but I didn't want to tell anyone how much I was struggling.
Having the right community around you challenges you, inspires you, champions you and holds you to a higher standard.
If you're in a start-up stage, have people around you who are also in the start-up stage. You want people who can give you feedback, support you, and be a cheerleader and cheer you on.
You want people around you who inspire you because they're also doing great things.
Join a group of a small inner circle, like a mastermind of people, where you are keeping each other accountable. In large Facebook groups, you don't get the intentional planning and support that you do in a mastermind group.
I have a few mastermind groups, where each week, we have a person in the hot seat, who lays out their challenges, and other mastermind members give input. There's incredible growth that happens in a mastermind group.
Having support in business is crucial.
If you need extra support and have not yet had a free clarity call with me, you can book in for a 45-minute clarity session here.
I'm also running a free online workshop on Sat Aug 8th, called 'Attract Your Ideal Clients'.
I'm sharing my best tools and strategies to develop your skills and grow your business.
I'll be sharing how to attract clients and apply the principles of having the right strategy, the right skills and the right support.
I will also be unpacking my proven automation systems so you can pick up the tools that you can use to create a pipeline of consistent clients. I'm also going to show you step-by-step how to create a marketing roadmap.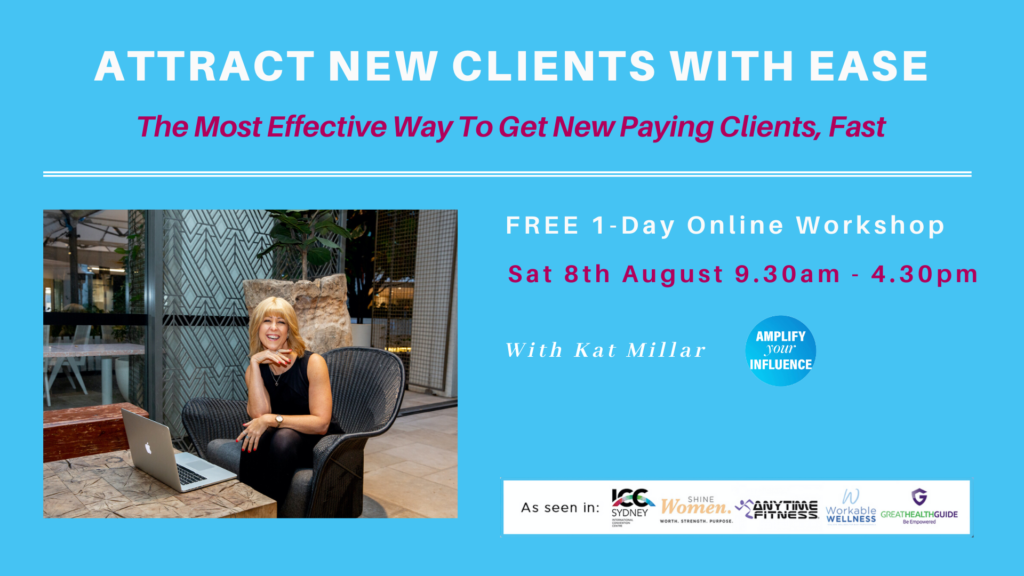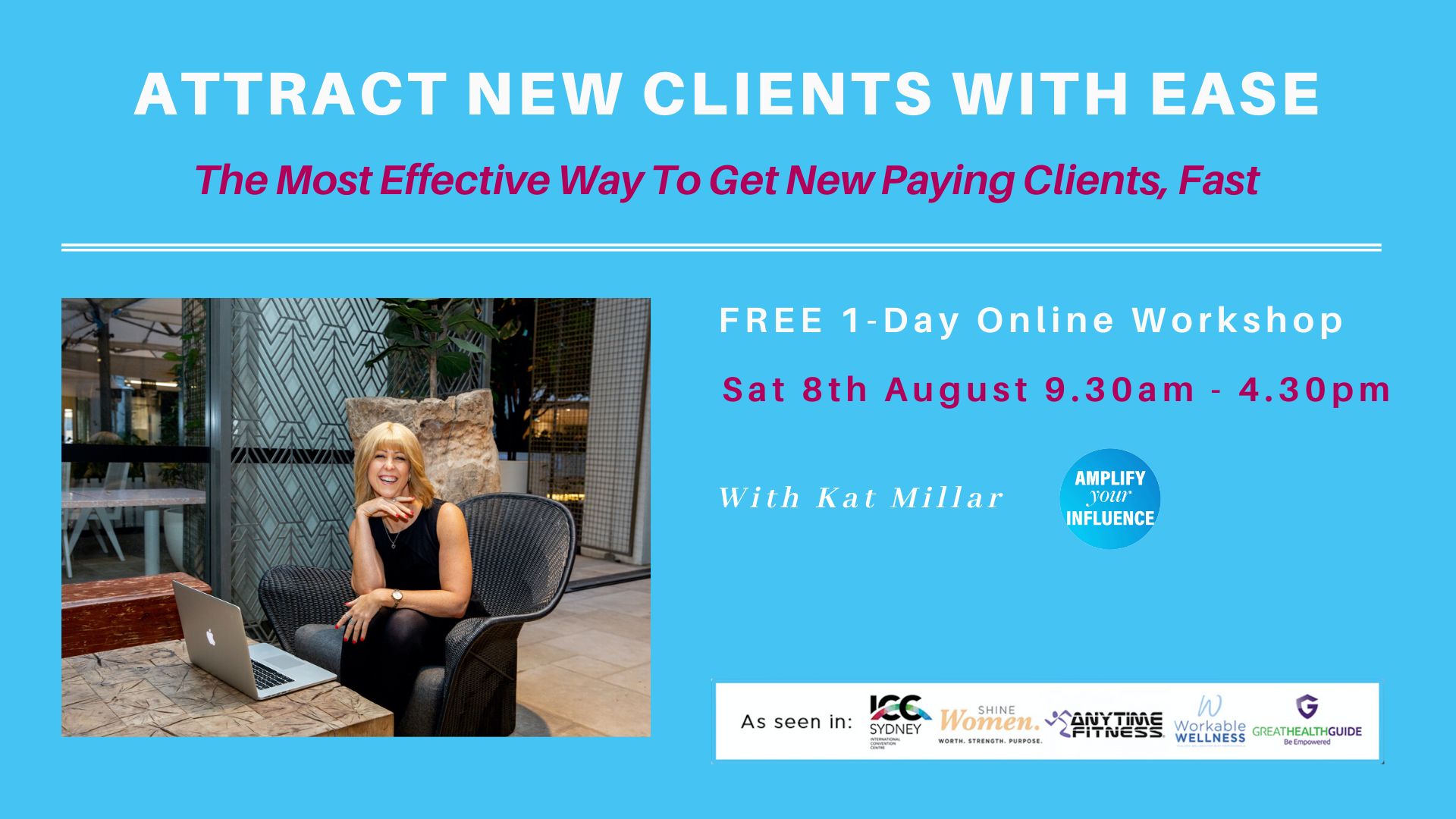 See you there!
Kat