When it comes to sharing your value online, do you worry that people will perceive you as big-noting yourself or bragging?
We're aware that it's not really acceptable to brag about ourselves!
But we're also mindful that we need to be sharing our expertise and credibility to promote our business.
So how do we share our experiences and value, without coming across as though we are being boastful?
In this video, I share 3 ways:
1 – Show, Don't Tell

As an entrepreneur your job is to express your worth by organising your knowledge and offering it to the world. This may be uncomfortable for you, because it involves showing people how you can help them and being confident in it.
It means not being afraid to be seen and heard, not being afraid of having a voice and having an opinion. You are  far more valuable than you realise. You're probably earning way less than you deserve.
No one is going to come along and demand that you realise your worth. That's up to you. And you won't last in business long if you don't!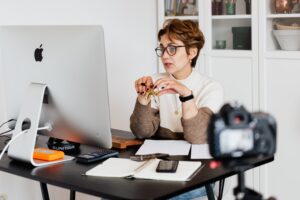 If you want to help more people you've got to be clear on your value and you've got to let people know about it.
I love what renowned marketing expert Frank Kern says: "The best way to show someone that you can help them is by actually helping them:.
If you want to share your value – ask yourself how much value you are ACTUALLY giving to your people?
Not just intermittent value, but consistent value where you are showing up regularly to help your followers.
Does your audience feel they can really trust you to keep showing up?
Can they rely on you not being here today and then gone tomorrow?
Are you just re-posting other people's content, or are you deliberately crafting something from scratch that will genuinely be helpful for people?
A lot of people don't want to give all their secrets away and you don't have to either.
However, you can give away so much of your knowledge and valuable content and people can still want to pay you. They need more than just information.
Even though I give a lot of free knowledge away, people still need a personalised roadmap to help them through their business journey, and there is only so much you can get out of my free posts, blogs and videos.
Eventually you need to get eyes on your business and have someone help you create a clear roadmap that will guide your business into being all that you planned it to be.
Putting yourself out there requires courage, effort and consistency. It requires you to be loyal to your followers and to the people who are watching your life. It means sharing your opinions and sharing your unique feelings, even though your opinions might ruffle some feathers.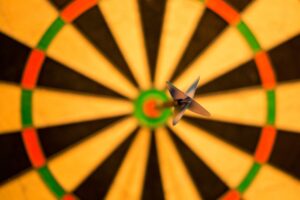 Marketing is about targeting the right people and being willing to not attract everyone. Leaders and influencers are not afraid to repel some people, when the right people are drawn to them.
You see this on YouTube all the time. As the likes go up, the dislikes also go up.
If you are going to attract some people, you are also going to repel others. It's the nature of online business.
If you're struggling to get clients right now, it's probably because you haven't shared enough value, or communicated your value well to your audience. You have a genius zone that other people need and don't have.
The more you know your value, the more you'll be able to communicate your value. So some of it actually comes down to valuing yourself and your self worth. It's really about backing yourself.
You need to back your work ethic, back your ability to help people and back your program. Put your program on a pedestal, not yourself. And this is how you can share your expertise and your brilliance, by really talking about your program. Your program is not just something you've created, it's a part of your core being that you've poured yourself into.
Most Mothers wouldn't reject their child or put them down if someone complimented her child and called them pretty. She probably wouldn't say, "No she's not". She created that child, so she would hopefully accept the compliment and respond with a thank you.
It's the same for a program you've created.  You don't have to say you personally are great, but you can say that your program is excellent because of how you have invested what you've learned, your experience and your soul into it.
You can share how you've spent a long time creating the program and within it you share your knowledge in an easy to follow, step-by-step process. Instead of elevating yourself, you elevate your signature system that you've created.
2 – Have A Balance Of Strength And Warmth
There's an amazing book called 'Compelling People' by John Neffinger and Matthew Kohut.  They did some research on compelling people who have a very large audience.
What they found is that compelling people have two important traits – strength and warmth. Compelling people have a balance of strength and warmth, where they have found a sweet spot of balance between these two traits.
Showing Strength
Strength is that directness and confidence that holds conviction behind it.  When you are in the presence of someone who is very powerful and very strong, you feel an energy exuding from them. It makes you trust them.
Strength is such an important part of showing your value. You've got to be strong and confident in your conviction and certain of who you are and what you offer. Strength is also about competence.
When you are confident in your competencies, you know that you have expertise and can deliver results. Strength is shown in your certainty, confidence and competence in what you are offering.
Showing Warmth
If you have strength but you don't have warmth, you come across as too direct and hard. It's the opposite end of the spectrum. If you're too far on the strength end of the spectrum and don't have warmth mixed in, you come across as direct, hard, unlikable, not relatable and intimidating.
People will think you are powerful, but they won't want to get in close proximity with you. You become scary to people. So your strength needs warmth to balance it out.
Warmth is having empathy, understanding and having the ability to listen. It's all about the connection. It's conveying your humanity, being relatable and vulnerable. People often think that vulnerability lowers your value, but it actually increases it.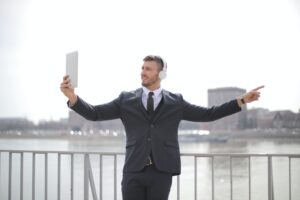 If you want to have compelling copywriting, you want to have a good balance of strength and warmth. Take the time to assess yourself and ask yourself where you sit on the strength and warmth spectrum. Even ask some people close to you for how they experience you to be.
If you're really strong, think about how you can turn up the warmth a little. It could be smiling more, telling stories or sharing your experiences and bringing vulnerability into your personal stories when you're sharing your value.
If you're more on the warmth side of things and you're really good at relating with people, building connection and showing empathy, then maybe you need to push your strength side a little. You may need to be more assertive and tell people how you can help them, and share about the consequences of them not changing.
3 – Evoke Emotion
The language and words we use in our content can evoke either fear or desire and you want both of these within your content to create compelling content. Compelling content evokes the pain that people are in and it pushes on their pain points.
There are 7 pain points that people try to avoid, and I go deeper into these in my upcoming webinar.  Your clients are feeling pain in some of these areas and there are words and language that we can use to help them avoid their pain and remove them from the trajectory they are on.
There are also 7 main desires that humans have, that are solved by service-based businesses like coaching and consulting.
With both pain and desire, you've got to be thinking how you can express your value and also move people emotionally, because it's not just about sharing content. There's so much information out there, we can Google anything, anytime on our phones. It's not just about sharing information.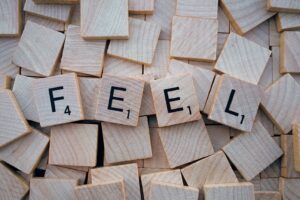 It's inspiring people to act. That is what valuable content is. Valuable content is not '3 tips' or '3 secrets' or '3 methods'.
It's about using story and emotion to push on pain points that invoke emotion and desire that inspires someone to act.
When you are creating your content, really think through the language and the words that are going to bring the pain or desire feelings to your readers.
When you inspire someone to take an action, even a really small action, they attribute that to you, and they're like, 'Wow he moved me. He didn't just entertain me, he educated me and helped my belief to shift so I see things differently now'.
And that is what valuable content does. Valuable content is about showing and not telling. It's about having a balance of strength and warmth and it's about showing value and evoking emotion.
If you would like to know how to do this, I'm unpacking it all in my upcoming, free webinar, on Thursday, 18th February.
I recently ran a 1-day event, where I delved deeply into the art of creating compelling copy.
I shared my 'Compelling Copy Formula', and unpacked the psychology of influence, which enables you to understand at a deep level how to inspire people to take action.
I received so much great feedback about it that I decided to run a FREE LIVE online 'best-of' evening event with the highlights that people loved MOST!
If you want to avoid being drowned out in the sea of noise with the masses online, and you want to understand how to create compelling content and get my actual step-by-step formulas, then this webinar is for you.
I'll be unpacking how to write influential copy and how to utilise power words and phrases that move people towards you.
I'm sharing how to communicate your value in a way that people get to know, like and trust you, so you can attract new clients FAST!
Learning how to write influential content has the potential to change EVERYTHING for you.⠀
Want help to grow your business? 
Business is too hard to do alone.
Do you need help to get more right-fit clients, free up more time and create a profitable, lifestyle-friendly business that you LOVE?
I offer a free 45-minute business strategy session, where you'll get personalised guidance, direction, clarity, and a clear action plan.
I'll walk you through a proven business growth roadmap and personalise it to show you exactly what you need to do to hit your financial and freedom goals. 
This is only for people who are ready and committed to change.