Are you a service-based business struggling to get clients?
It's so important that we understand the psychology of the people who are in our communities and following us…
…and understanding the deeper mindset of people who may buy your services.
I've found there are 7 reasons why people don't buy.  In this video and article, I unpack those 7 reasons and give you the keys to overcome them through your content.
1 –  They Don't Trust You

Now more than ever, building trust is key for connecting with your ideal client.
How we can overcome this through our content is by showing our credibility.
You want to remind people of your experience, skills, knowledge, and make sure you do it confidently.
(When was the last time you bought a service from an unconfident person??)
You might be thinking you don't want to come across as bragging or being vain, but if you don't sell yourself, no one else will. You need to be confident in order to build trust.
Think about someone who you have invested financially in, whether they are a relationship coach, a business coach or someone similar. You invested in them because you trusted them right?
Another great way to build trust is to be consistent in our content.
As a service-based business, trust is built through consistency and repetition. It's about regularly showing up, putting out quality content in blogs, videos, Facebook Lives etc. and giving value. This increases your credibility.
Show up consistently and share about how you have helped people.
Talk about your years of experience and highlight your strengths. Talk about how many people you've worked with and who you've trained under for example.
If you haven't got any clients yet, talk about the education that you've done.
You could state that over the last 20 years you've been fascinated by personal development and you've done xyz courses and you've read specific books.
You can say you've been researching your topic for xyz number of years.
You can also talk about your mentors and their success.  No matter where you're starting from, you have to show your credibility, you've got to play to your strengths.
2 – They Don't Trust Themselves
The next reason people don't buy is because they don't trust themselves to get a result.
This is one of the hardest reasons to overcome.  People may trust you and know you can get them results.
However, they may not trust that they are going to do the work to become successful themselves.
People have to be pretty vulnerable to admit this. There are not many people want to admit that they procrastinate or may prioritise other things over your service. Often people will give an excuse rather than admit.
Who of you have downloaded a course and never logged in? I have started so many online courses and haven't finished them! I know I'm not the only one!
The success rate is less than 10% when people undertake online courses. This means 90% of people who sign up for a course don't actually complete them.
People don't always trust themselves to complete a course. You can layout how easy it is, in a step-by-step manner and still, some people don't trust that they are smart or savvy enough to actually do it.
3 – They Don't Trust External Factors
There may be a problem with your industry in general, so the trust may be low in the public's perception of what you do. This is where you've got to show how you're different.
For example; someone may have had a bad experience with a yoga teacher and they may paint you with the same brush if you are a yoga teacher. So, it's really important that you show how you're different.
When I was a personal trainer, I had to always overcome people's negative perceptions. Some people thought that I was going to be nasty and make them do horrible things that they didn't want to do. People were surprised when I told them that I won't make them do anything they don't want to do.
You've got to use your content to overcome these objections that potential clients are thinking and show how you're different.
4 – They Don't See The Value
When people don't see your value, it's rarely a problem with affordability.
You may think about having having some lower price-point products, so that people could jump onto your online course or group coaching program, for example, if they can't afford your one-on-one services.
Creating a payment plan is another good option to offer people.
Obviously you're not targeting people who are completely broke, but you're targeting those who are your ideal client and have money to invest. You can't build a business trying to convince people who have no money to pay you money.
People will invest when they can see a return of investment. You need to show people the possibility of getting more back than what they are paying for.
Fear of change is the number one fear in humans. Offering people a solution in which they have to change can be daunting. So you have to show them that change is safe, that they can do it and you are going to support them through it.
You also need to show people that they are going to get more back from investing in you and your service. We typically fear change because our brain doesn't want to suffer a loss.
So you need to show people that they are going to get a great return for their investment.
Give evidence-based case studies and examples to support your claims.
5 –  Fear of Negative Emotions
Fear of negative emotions can range from disappointment, that people may not get a result.
The negative emotion could be guilt. Guilt could come from people paying and feeling guilty because they've wasted your time.
Someone may have issues of not wanting to invest money if they've got a partner and feel guilty for investing in themselves.
Any kind of worry, doubt, any type of fear, guilt, or shame can stop people from wanting to buy. You can overcome these doubts and fears through stories and FAQs.
For my Accelerator program, on my website, I have commonly asked questions, so people that are asking 'What if…' or "Can I put this as a tax write off?' I give them answers to their questions through the content on my landing page.
6 – Fear of Failure
Fear of failure can be a massive one with people. It's similar to the fear of negative emotions but it can stand alone, especially if they've tried a whole lot of things before and you have perceived themselves as failing.
Taking another thing on could be a challenge for them.
If you're a weight loss coach, for example, and your ideal client says they trust you and they trust themselves, but what if it fails? What if they fail?
You need to call these things out in your content by saying something like "You might be wondering…"
7 – Fear of Success
Fear of success is fearing that something will actually work! This can be tricky, but people do have fear of success.
What happens if I do get that result? What might that mean? What if I lost my relationship due to the success? What if I lost my job?
This is where you call it out in your content. So in your Facebook Live videos, in your content and your blogs, you just say, "Some people ask; "What if it works, and then because of this success I have other problems?"
And then you overcome the questions in your content, by using a story of one of your clients who had the same fears.
One of their fears may have been increased responsibility. It might mean that they may have a team of people relying on them and that brought with it a fear of success.
I'm personally getting to that stage where I need to hire more people in my business, and there is a real fear of responsibility that I'm wrestling with. I don't want to let people down, so I'm struggling with a bit of discomfort of going to the next level.
Subconscious marketing or neuro-marketing is where we really focus on the psychology of people who are consuming our content.
Giving them answers to their questions within your content helps build trust and overcome their objections.
Many times people don't attract the right clients because their content is not connecting with them.
By content I mean anywhere we you show up online, such as Facebook live videos, social media posts, blog posts, emails, landing pages, in your Facebook group – and anywhere else you show up online and give value.
Content is not only King… content is the Kingdom. If you don't get your content right you will not attract the right clients.
There are people who are out there that think that clients are just going to come to them by posting on social media, without understanding that content has to be written in a certain way to overcome all these objections.
Would you like to know exactly how to put these types of strategies into your content?
I have a workshop coming up THIS  weekend, it's going to be a value-packed workshop where you'll walk away with your content game-plan DONE!
‪Join us at the 'Create Content That Connects' Online Weekend Workshop THIS weekend Sat and Sun 6-7 June 9.30am – 3pm
‪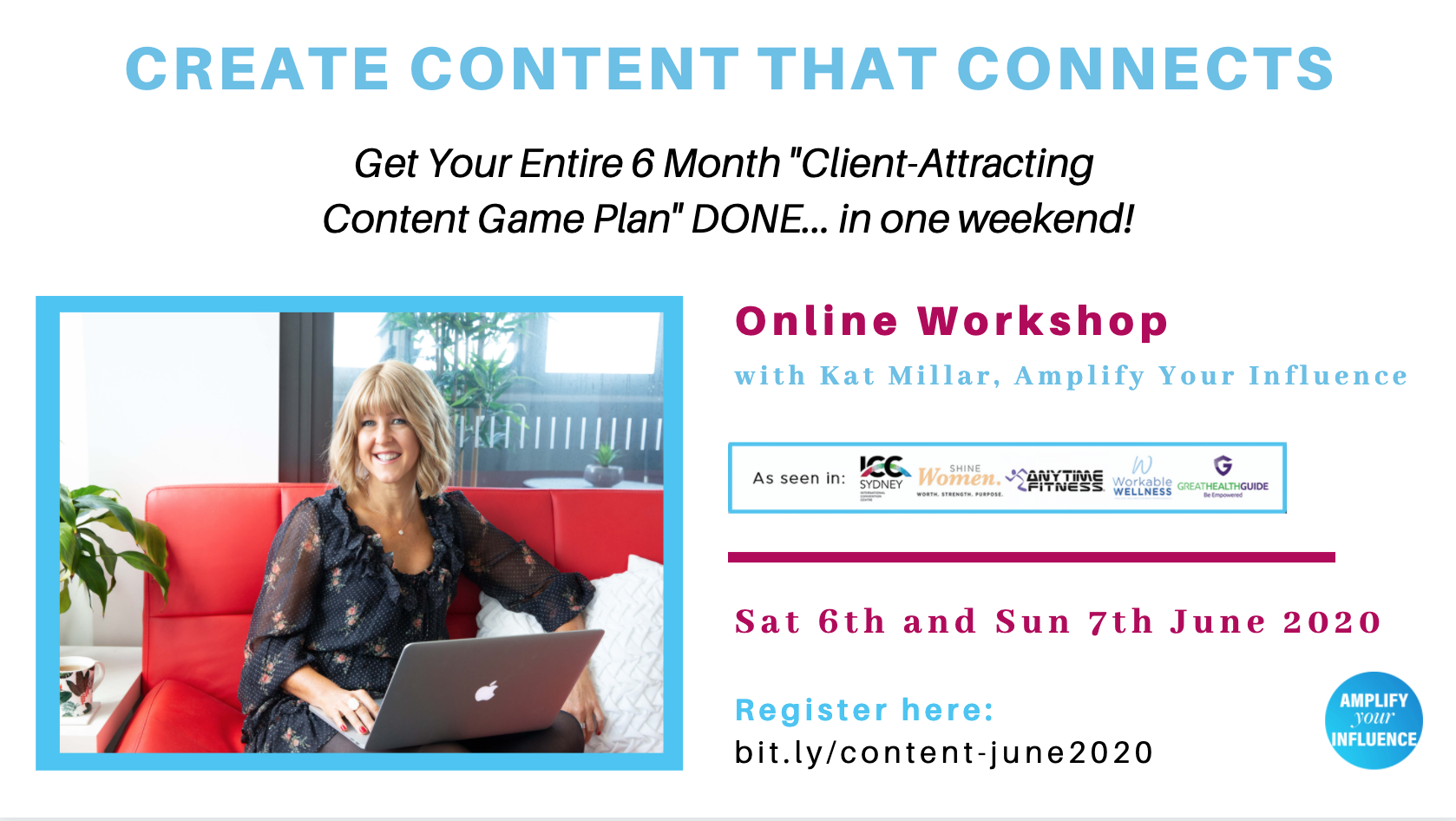 Hope to see you there!
Kat