Last week in my blog and video, I shared 3 things that prevent people from attracting clients on social media.
If you haven't seen it yet, you can check it out here
Following on from that, this week I share the ONE main thing that exploded my business, which removes all 3 of these problems.
For the last 13 years I've been using this strategy, and it's the one thing that helps me attract clients, be able to hold their attention and inspire them to take action.
To recap, here are the 3 things that prevent people from attracting clients on social media:
1 – Not Knowing How To Attract People
One of the main reasons people struggle to get clients is not knowing how to ATTRACT people.
Being able to attract people is crucial for growing your business consistently.
The brutal reality is that if you don't effective attraction skills, you're probably not going to stay in business very long.
The good news is, like any skill, the skill of being able to ATTRACT clients can be learned.
2 – Not Being Able To Hold People's Attention
The second reason is not being able to hold their attention. They may get people to like a post, but they can't hold the attention of people.
People move on fast if you don't keep their attention. Attention is everything.
Social media is a great way to build connections and relationships, but it's not a great place to keep people's attention. It's a noisy place with lots of distractions. 
There is so much information you need to share to build connection and trust, but most people have a low attention span.
3 – Not Being Able To Inspire People To Take Action
The third reason people struggle to get clients is that they're not sure how to inspire someone to take action.
This is where a lot of people fall down relying on social media to get clients.
A lot of people think that if they put up content posts with tips on Facebook and Instagram that they will get clients.
But it doesn't often work that way. You also need to be able to inspire people to take action.
This is why I recommend running events. It's the best way to get and maintain someone's attention.
Running Events – The Number 1 Thing That Attracts Ideal Clients Consistently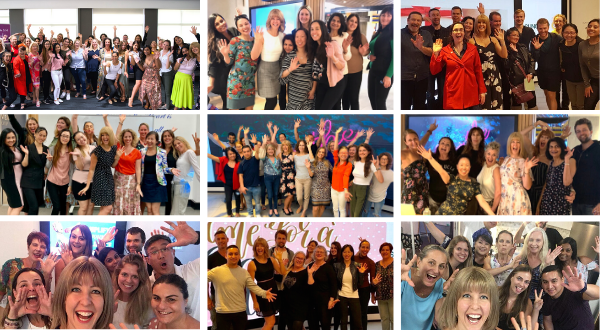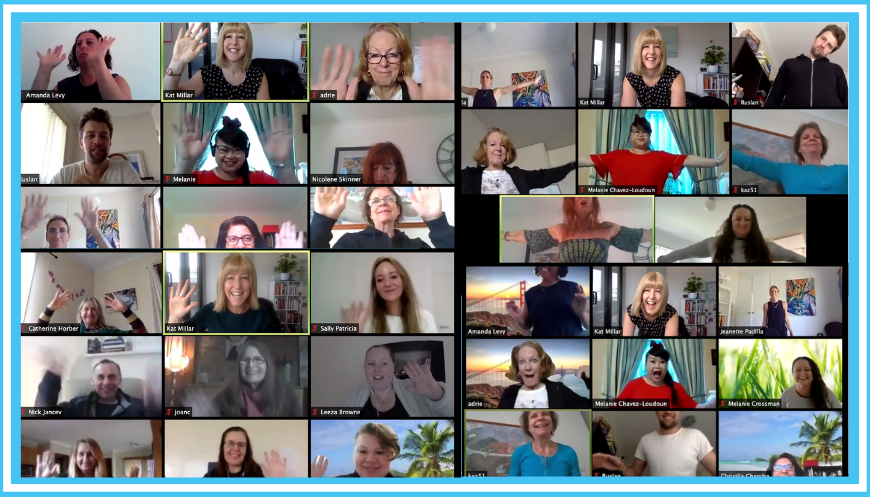 Running events is like purchasing a ticket to a concert. People turn up and give you their attention for a long period of time, and that's not possible with social media.
The fastest way to hold someone's attention for the amount of time needed to build trust and rapport is by running an event.
It could be a free event like a webinar or workshop, online or in person. There's no way to hold someone's attention for long on social media or even by reading your blog that compares with running an event.
This is why big companies do live presentations. Like Steve Jobs did with the iPhone. Apple have billions of dollars and they could have marketed in other ways, but they chose to present their new product at a live event.
Learning to present so you can run events is directly related to how successful you'll be in your business.
Presenting is a learned skill. If you're not willing to learn the skill, you'll most likely struggle to stay in business for long.
The problem is a lot of people are scared to learn it because of fear. Fear of rejection, fear of failure, fear of people not showing up,  the fear of looking stupid, not having enough content and not being good enough.
For many years, I've encouraged people to run events and I sometime get resistance because of these fears.
If you were with me 14 years ago, you would have found yourself in a studio in a Les Mills gym in New Zealand where I was running a small seminar.
I was training for a bodybuilding competition at the time and learning a whole lot about muscle gain, supplements and protein.
So I went to my gym manager and asked if I can run an event and if she would help me market it.
I was so nervous and scared. I didn't really know what I was doing. I didn't know that I needed to structure the event,  how market it correctly, I didn't really know anything!
I think back about it now and it wasn't great… but this event positioned me as being different in the gym, because the other personal trainers weren't doing it.
When you position yourself as a person that's willing to overcome the fear of presenting, you put yourself ahead of others.
At the moment you don't have to book a venue or organise food or any of that because we have this awesome technology like Zoom that you can use to run online events.
Running events is so much more powerful than doing Facebook Live videos
On a Facebook Live, there's no buying behaviour happening. It's entertaining and educational, but people aren't looking to buy. There's different psychology when people register for an event.
You don't have to be a polished presenter. You can start with a 60-minute webinar – they are very doable. I started from scratch and learned from making mistakes and using trial and error…
When I came to Sydney, I started running little monthly meetup groups in my local library. About 20 people would show up every month. Some of them would go on to become clients and some of them would just keep coming month-to-month and they enjoyed the community.
Events have been the #1 thing that has helped me get booked solid with ideal clients.
One day I was sitting in an event listening to Benjamin J Harvey speak. I remember realising that my events were educating people, but I didn't have a proper structure or formula. I was just downloading content to people.
I didn't know how to use frames, the right content, language, or how to effectively influence people and keep their attention.
So I invested in a presenting course because I recognised the importance of it. Presenting is a skill that I want to develop for the rest of my life.
If you want to increase your positioning and your credibility as the authority in your sphere of influence, presenting and holding events is the way to do it. All of your presentations become valuable assets that you can use later.
Presenting is something that will differentiate you from your competition. It will allow you to build massive trust with people and it will help you hold people's attention and build engagement.
I've done over 200 events now. If you saw my very first seminar back in that gym studio all those years ago, you would have seen that I wasn't confident, I was worried, I had so much fear, I was insecure…
… but I'm so grateful to my past self for giving it a crack.
I'm so blessed that I've now had teachers that have taught me how to do it properly.
It gives me a lot of security and certainty to know that whenever I need to get clients, I know that I've developed the skill of being able to speak and present and this will always bring me clients.
That's what I would love to help you with.
Since my wobbly 'give it a crack' start at the gym, I've been blessed to build a six-figure coaching business, working from home, mainly because of the power of running events.
This is why I decided to run an event where I teach you how to do it.
I'm packing the best of my learnings into one day, and I've decided to offer it completely free.
I'm going to be sharing my 7 pillars to profit from presenting, I'll take you behind the scenes so you learn how to create and deliver really effective presentations, show you how to structure them, leverage your online events, facilitate great connections with people and ultimately, know exactly how to get new, ideal clients.
You can grab your free ticket here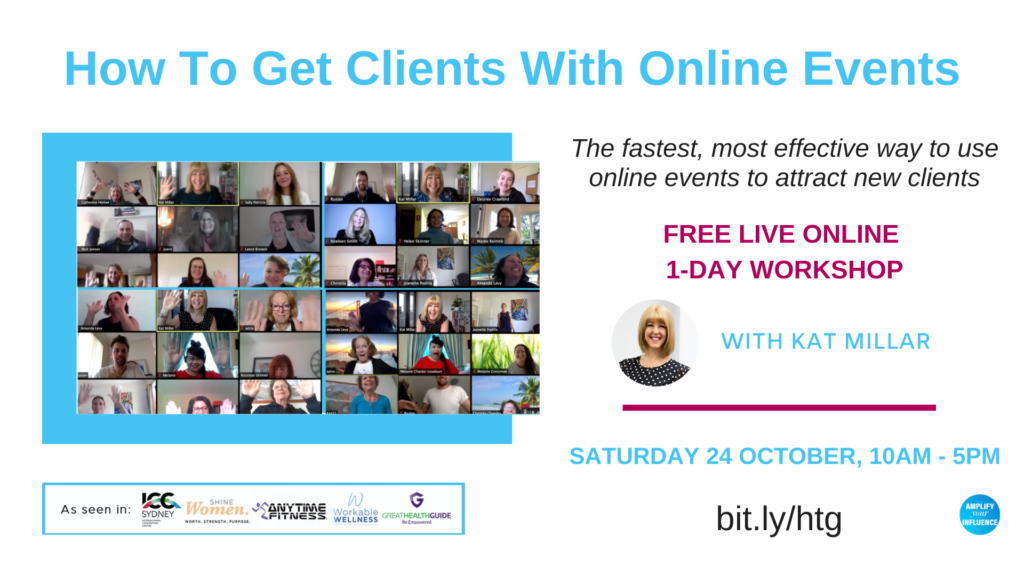 Looking forward to seeing you there!
Kat