I've been asked this question a lot lately…
How do we know how much to share… without giving too much away?
We're all told – give value, value, value!
What does giving value actually mean?
And how do you know if you're giving away too much value for free?
How do we help people, without them feeling they don't need to buy from us?
How do we share in a way that people think, "I need more from her?"
If we give people a sense that we're giving them everything in our free content, people won't buy from us.
Here are 3 powerful keys to knowing if you're giving too much away…
1. You're not highlighting the gap
I like to say 'Show the gaps, don't fill the gaps"
Our content needs to show people what they need and what's missing.
This is super important.
When people are deciding what content they want to share, a lot of times think "What can I teach that's valuable?"
Then they post it hoping it will lead to people wanting to work with them.
They hope that people will enjoy it and want MORE.
Rather than showing them what is missing.
And this leads to people consuming your content for free and not wanting to work with you.
2. You're giving a banquet, not a taste
It's so important that we show people what they DON'T know.
The way to overcome this is giving what I call value-voids.
Share value, leave a void.
content that converts is designed to BOTH relieve tension AND create tension.
False sense of solution I'm going to give you everything I know.
One of the pillars of my content formula is curiosity. If we give people a sense of resolution, we rob them of curiosity
3. You're not using influence strategically
You need to learn how to use influence so that your content works.
When you learn the layers of how to do it – you can be so much more certain that your content will work.
It will do its job.
Infusing Influence into your content is thinking:
What do you want your content to do?
What do you want your topic to do?
What's the purpose of the content?
In this video I share:
How to know if you're giving away too much for free – and what to do about it.
You can check out the video here…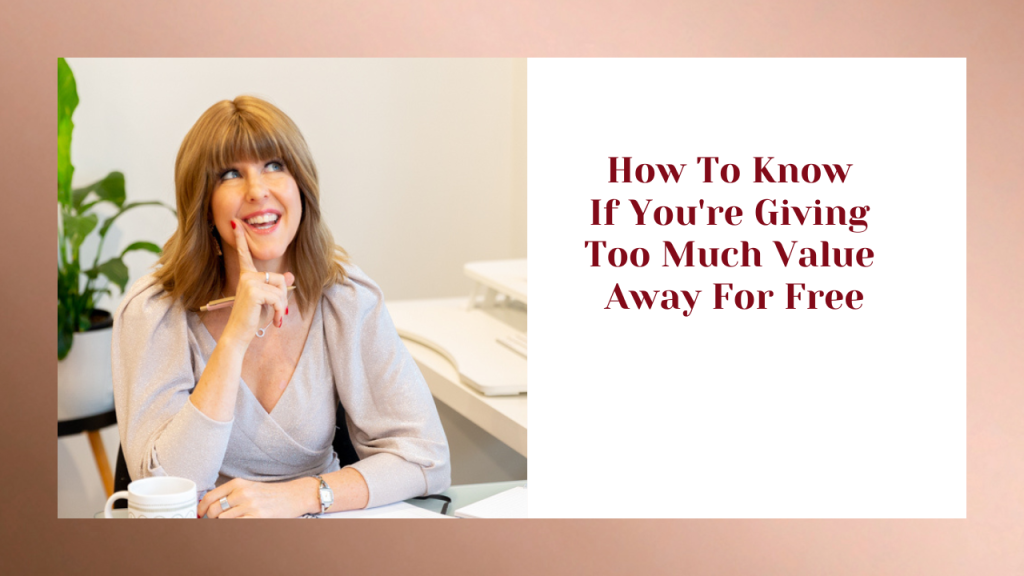 There's a strategic way of adding value.
There's an influential way to structure.
How to use headlines – there's an approach. In my event, I go deeper.
Always work with contrast. This is what they do without thinking.
Value is not the thing…
…Not ONLY value – too much value…
"Value is not, here's everything I know."
Often – particularly as women we feel we need to prove our worth by giving so much value that we confuse teaching with value.
If you give everything away and they don't act on it. Then you're devaluing it and it's not value.

You only know if something is good if you can compare them.
If you're missing this one thing (tension)
What IS value?
Every time we teach something new there's a responsibility to help someone apply. Otherwise, it fizzles out – and they don't do it.
People think "oh cool I get this."
Yet are you teaching them how to implement – and getting them excited to implement – and getting rid of the beliefs holding them back from implementation?
WHEN YOU GET THIS RIGHT
People aren't reaching out to you or responding to your emails or messages

People tell you how valuable your content is, but don't sign up for your program or offer
1. Show People
So, what are you actually selling then?
When you package your knowledge for sale, you're actually offering 3 valuable components that are massively more valuable than just content.
I call these The 3 Essential C's
Curriculum – The complete A to Z curriculum
Coaching – The coaching and guidance from you as an expert
Community – The support from a group of like-minded people doing the same journey
1. Curriculum – we know there's a ton of information out there on the internet.
Having an A to Z journey is completely different. This enables you to trust the credibility
2. Offering all the content in one place with a logical, sequential approach that gives a specific outcome so people can't get distracted or lost is extremely valuable.
People pay for a path.
3. Coaching – Let's face it. There are so many questions like "Which headline is better." Being able to ask an expert with experience and wisdom is priceless.
4. Community – No one wants to do it alone. When you create a thriving community – that's what people want.
Influence is a craft you can learn.
If there's one key point I want you to take away, it's this:
When you know how to use elegant influence to create compelling content, your marketing becomes easier, faster, and more enjoyable, and you show up with more confidence.
You connect better with your ideal clients and attract more right clients into your business that you can help.
The good news is, it's a skill that anyone can develop.
Kat xo

P.S Whenever you're ready… here are 3 other ways I can help you grow your business:

1. Grab a free copy of my 'Client Attraction Checklist'
It's a powerful roadmap to attracting leads, signing clients, and scaling your coaching business. — Grab It Here
2. Join the community and connect with like-minded Coaches & Experts
It's our Facebook community where ambitious entrepreneurs learn how to increase their income, influence, and impact. — Join Us Here
3. Work with me to get more clients
If you'd like to work directly with me to get more clients… just send me a Facebook Message with the word "Clients"… tell me a little about your business and what you'd like to work on together, and I'll get you all the details — Message Here