What if you could double the likelihood of people saying yes to your offer?
Imagine if your offer was a complete no-brainer for people to take up! (if it's a match for them!)
The best way to do this is to double the value of what you're offering – and you can do this without having to overhaul your program!
Having a valuable, irresistible offer is one of the most important assets you can have in business…
…and having a product or service where people clearly see the worth (and don't question the price!) is actually really easy.
So, how do we do it?
Sell Tools As Well As Time
Remember – Selling Time Is Intangible and Invisible
Often people have something like a 6 or 8-week, or 3 or 6 month program and they are just selling 'time with them'. The problem with that is that time with you is invisible and often hard for people to visualise.
Selling time with you can be hard because, essentially people can internally question what this means – and what kind of result they will get. They ask themselves how they know that spending time with you is going to equate to a physical and tangible result.
Giving people real and tangible things in our offer is one of the 7 essential ingredients of a valuable offer.
I share the 7 different ingredients with my clients, but tonight I want to dive deep into this one specific ingredient to make your offer a no-brainer.
You have an incredible amount of intellectual property (IP) in your mind. The unique way that you explain things and organise your knowledge, your processes and frameworks are your IP.
If you can put those into tangible tools and include them in your offer, then suddenly you're going to really double the value of your offer especially if your tools are good.
It's difficult for people to see the value, and people usually want something more tangible. They want tools, not just time.
Give Real And Tangible Tools In Your Offer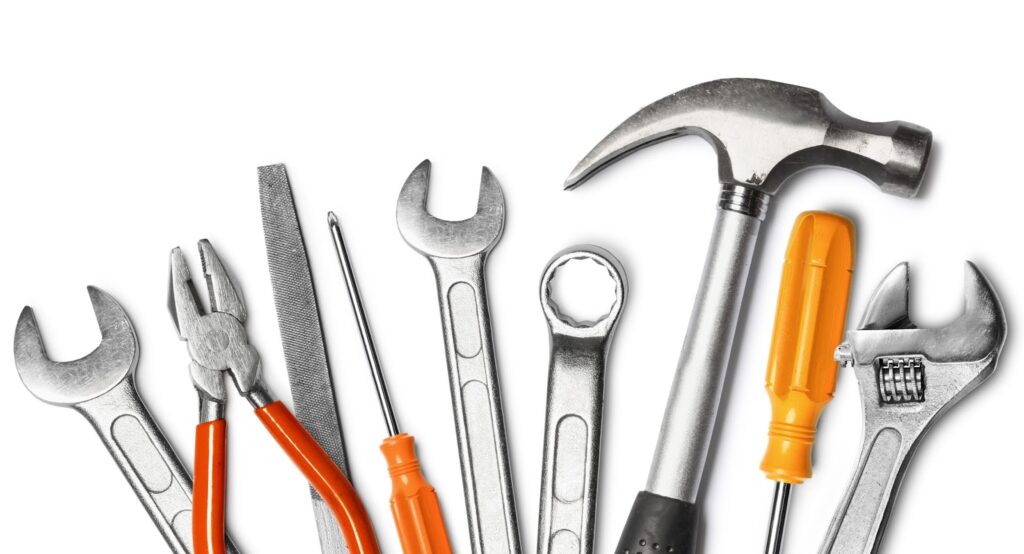 So to increase the value of our offers, we can add tools to the mix.
Your knowledge is valuable, in terms of your stories in combination with your experience, skills and everything you've absorbed throughout your life.
Creating something to boost your offer using your IP doesn't have to take a long time.
People like the word tools, because they are something you can pick up right away and use.
Instead of saying "I will teach you XYZ", flip it around and say you are giving them XYZ tools they can pick up straight away and use.
It often doesn't take long to extract that and create a tool that's valuable for your ideal clients.
What Makes A Tool Good?
The first thing that makes a tool good is that it needs to be simple to use, so someone can pick it up and use it straight away.
For example, instead of just having time with you on a coaching call, you could offer to record the coaching call, so they've got it to listen back to.
This is something I did last year as a New Years offer.  I offered 5 x 90-minute sessions with me, and they also got a personalised meditation MP3 emailed to them.
I took everything that they said in the session, and created a personalised meditation for them to listen back to. I recorded it on GarageBand and had backing music playing. Every person I sent it to said they played it over and over, because it was inserting their words back to them.
This was a super powerful tool, and that it didn't take long to create.
There are so many different things you can include in your offer.
You can offer to send them an action plan after your call.
Or you can create a personalise roadmap for each person. You know how to take someone from A to Z and you know the steps that people need to go to get from where they are at their problem to their solution, so these are what you put in your roadmap.
Let's say you jump on a discovery call where you create a personalised roadmap for them.  If you've already created the roadmap as a template, then you can personalise it easily for that person. Easy for you but super valuable for them.
One of my roadmaps is my Client Attraction Roadmap. It starts with identifying your unique brilliance. So I would actually say in my personalised roadmap; "This is the unique brilliance I see in you and these are your strengths."
This is how you can package up something that is really valuable, but it's important first that you identify your ideal client.
When you know your ideal client, you can take their information they tell you and you create a document, or a personalised report for them, so they're walking away a tool, rather than just time with you.
What you are doing is making every part of the time with you tangible, so that they like feel like it's something real. This helps the clients to see the journey and roadmap they need to take to grow.
Here are some examples of tools that you can use straight away.
If you offer someone a coaching program, i.e. time with you, you can also offer a vault of documents that are really valuable tools, things like checklists, worksheets, video training, guides, templates, PDFs, progress reports, cheat sheets etc. – this way you're giving something tangible.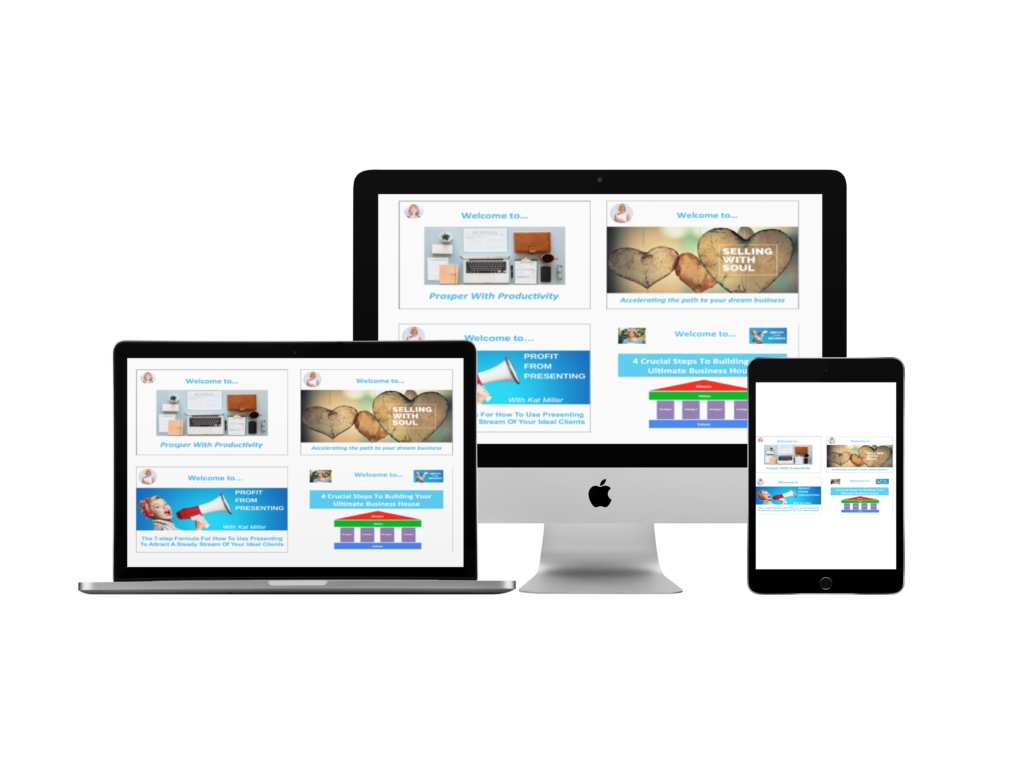 Start thinking about some tangible tools you can make to add to your offer.
Transform Your Service Into A Product
We love products. We love going shopping, touching things and buying them. We love having something tangible like a dress. So if you sell something that's invisible, then think about how you can turn it into a product and make it more tangible.
If you're offering a service, such as a graphic designer, a copywriter, a psychologist, a plumber or a coach, you want to turn your service to be more like a product.
People think that it takes a long time but it's actually your genius zone. It's your unique brilliance. It can be super easy and quick but it must be valuable.
My Client Attraction Accelerator program, for example, is a portal with 8 modules helping people to attract clients. It contains content on marketing, sales, copywriting, presenting and funnels. It has everything that you need to do to attract and sign up clients.
It's not just video content, it's also downloadable documents.
People don't just need video content, they need community, energy and to be motivated and inspired. They want a coach, mentor and live energy and inspiration.
So when you think about how else you can double the value of your offer, you can offer a community. In between having coaching and watching your course videos, people like having a place where they can ask questions and interact.
One of the tools I create for my clients, is Loom instructional videos on how to do things, and then send them the link for the video. These are little mini-training videos made specifically for each client and they address specific needs.
Time-savers 
Think about the tools you use that save you time and what you could put in your offer to help people save time.
For example, part of my offer is I offer are things I've created over the years that I share with my clients so they can pick them up and use them. These are things like PowerPoint slides, marketing documents and other business documents. They can put in their own logo and tweak a few things with the templates.
Once I've made them it saves people a lot of time so they don't get stuck trying to make these documents themselves from scratch, which slows them down.
For example, I have:
A webinar steps spreadsheet. This is so valuable for people that are running a webinar. It's got every single thing you need to do four weeks out to get your webinar running. It's got what you have to do for webinar promotion, and it's also got training videos on how to do it
An offer validation guide, which is a guide to make sure your offer will work
An offer creation formula – to know how to create a valuable offer
A Client Attraction Checklist, so people know what to do daily, weekly, monthly and quarterly in order to attract clients
A Lead Generation Strategies Guide, which has a whole heap of free lead generation strategies. I've got plug and play templates, and an authentic sales script. It's basically a toolkit
An online resource toolkit at the moment for my Mastermind group that I'm working with called Profit From Presenting. It's teaching how to run your first webinar
A video survival kit – with tools and technology tips
A list of handy links and I give people my webinar funnel to use
Each week I create a worksheet, for my Inner Circle community which takes me from 30 to 60 minutes and it's filled with valuable questions and information
These are all ideas you can use for creating your own tools and resources.
There are fun ways that you can name your tools because it's all about naming it something that's appealing and attractive.
All these things don't take too much time, but save people time and increase the value of the offer.
Today I've talked about the first tool to help you double the value of your offer.
If you want to know all 7 of the ingredients of an irresistible offer, plus how to effortlessly market it to your ideal clients, and the BEST way to get clients onto discovery calls, I'm running a FREE live webinar that shows you exactly how to do it!

You'll discover:
?  How To Get 7 Clients In 7 Days, using a proven, step-by-step process (WITHOUT using any pushy or sleazy tactics)
​?  The 3 Powerful Client Attraction Methods that have people consistently asking "How can I work with you?" (without wasting money on ads)
​?  The Little-Known Content Creation Techniques that will adapt & transform your business in 2021, using my psychology-based influence hacks.
​? ​ ​A Simple Tool That Shows You INSTANTLY whether your target market is niched enough and if not, how to fix it.
​? ​ ​How To Map Out Your Ideal Client's Journey so you can get people's ATTENTION and connect with them authentically.
PLUS you'll receive a BONUS GIFT for attending
Get My Social Media Success Tool Kit Valued at $97 For Free!
With step-by-step guides to navigate the online space & acquire the clients you want – ready for you to implement instantly!
Client Attraction Accelerator Masterclass ?
FREE live, online webinar
See you there!
Kat