What does it really take to grow a 6-figure coaching business?
If you've been coaching for a while, you're probably a great coach. But if you want to create a six-figure coaching business, the question to ask is… is being a great coach enough to get you reliable, consistent clients?
In theory, anyone can become a coach. Coaching is generally the easier part. It's the business of coaching that's more complex.
The successful coaches I know (myself included) have created success predominately because of our business skills. Understanding the business side is what makes a difference between making it or not making it as a business owner.
I know I'm a great coach. But that's not the main reason I grew my business to earn 6 figures annually. It happened because I got as good at business as I am at coaching. And because I am, I can help WAY more people.
So I'm going to share some of the mistakes I made and also the common mistakes I see coaches making.
Successful coaches have mastered the art and science of marketing and selling.
You might be thinking that you don't like sales or marketing. Or you may not want to come across as pushy.
I get it. But here's the good news.
To become a 6-figure coach, you don't need to be an expert marketer, do cold pitching, chase people or hustle… You don't need run ads or even have a website!

You certainly don't need to work longer hours, grunting and grinding away on things you don't enjoy. Otherwise, you can burn out & become a slave to your business.
But you DO need to take the things off your to-do list that aren't moving the needle forward and focus on doing the right things.
If you want to generate a consistent flow of quality leads you need a proven strategy…
…so you can finally stop the frustration of wondering where your clients are going to come from… and start consistently earning 10k+ per month, reliably and predictably.

After being in business for 18 years and trying so many different things, I've discovered there are just 5 things you need to focus on to grow your coaching business to six figures.
1 – Design A Client Attraction Strategy
The first thing you need is a strategy to attract your ideal clients consistently. For this attraction phase to work, you've got to remember that people buy for their reasons, not yours.
When I started out in business, I was a personal trainer, then a health coach, a mindset coach.
When I decided to become a business coach, I didn't want to let go of all this knowledge I had acquired in these other areas. I tried to position myself to do way too many things, and it just didn't work.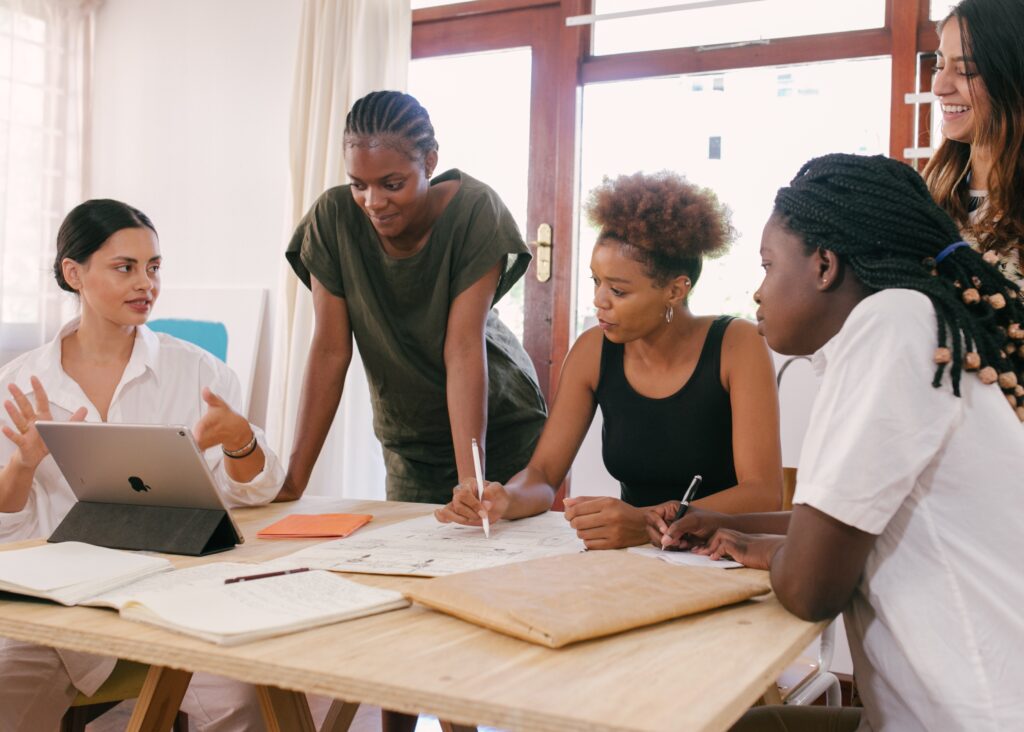 Choosing a focused niche may feel like you are closing doors, but the truth is many more doors will open to the right people.
When I chose to become more focused on a niche, it closed doors to some potential clients, but it opened doors to way more people and opportunities. Having a clear niche can activate a fear of missing out, and fear and worry that you may not get enough clients.
The coolest thing is when you step into the specificity of a niche, it helps convey to people specifically how you help them, which actually draws MORE people to you. It helps you to elaborate on a clear problem that you solve.
Being vague and non-specific does not work, especially in the attraction phase. If you want to level up your business to 6 figures, you need to have the willingness to solve a clear specific problem.
To do this means really stepping up in terms of the way you view yourself and position yourself as an expert and authority. It does require a level of courage to do this, especially if you are not feeling that confident yet.
A lot of coaches are creating content when they don't have clarity on the problem they solve… and they are wondering why it's not working for them. The lack of clarity will reflect on your marketing, and how you're creating your content.
Once you make the decision to niche (even if you're worried about it), you will find people respond better, because you are being clear on the specific problem you help people with and the way you journey people to the solution.
2 – Craft A Profitable Presentation
The next thing you need to do to consistently hit six figures, is to craft a profitable presentation. A profitable presentation is a very powerful asset.
Written content is important. But for most coaches, written content alone, like blogs, emails, and social media captions rarely is enough to attract clients consistently.
Written content alone doesn't always inspire and influence someone to make a decision to work with you. Unless you're a really great writer, written content does a poor job of converting people consistently.
If you want people to trust you, you need time with them. In order to build trust, you need to ask for time, however long it takes for people to go from cold to sold.
The reason people give you time is that you offer to educate them. Otherwise how else are you going to get their time?
It's very challenging to get more than 60 minutes of someone's time on social media. So an online event is a win/ win scenario for both you and the person attending your online event.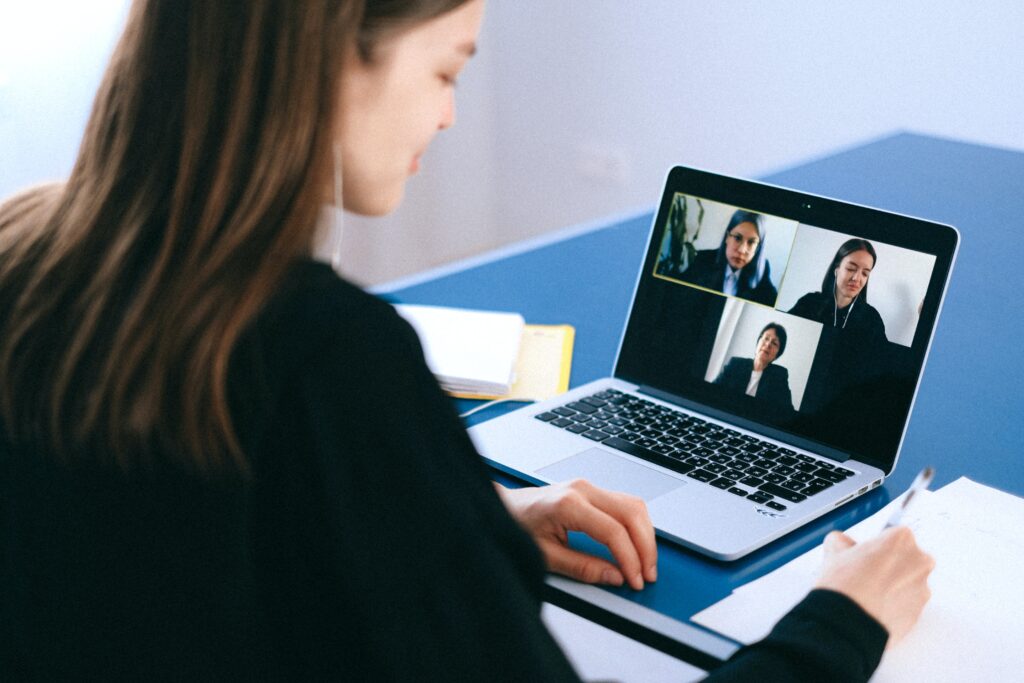 To take someone from cold to sold, you must build trust and building trust requires someone having time with you.
You ask them to give you their time, and in return, you'll give them education for free.
During this time with them, you're building trust and showing them how you help people.
The most powerful strategy I've discovered for attracting clients is to combine great content with a great presentation.
Having an effective presentation:
Keeps people's attention
Creates more trust
Positions you as an authority
Helps you overcome people's false beliefs
Inspires people to take action
Is highly leveraged to save you time
Builds your email list
Doing just one-on-one coaching doesn't give you that leverage. When you're willing to get on a platform, even if it's a platform like Zoom online, immediately your authority level goes up.
In an online event Zoom event, you have time to shift people's beliefs and objections to buying.
Rather than having 50 sales conversations which would take 50 hours of your time, you can have that same value speaking to 50 people all at once. Can you see how leveraged having a profitable presentation is?
It's challenging to just keep doing one-on-one coaching and get to 6 figures annually. The fastest way to do it is by having a combination of having a profitable presentation and compelling content.
3 – Create Compelling Content
You can have an incredible program or service, but without compelling content, it's like having a Porsche but leaving it in your garage. You won't get very far.
The marketplace has shifted to be more education-based and the cool thing about this new marketplace is that if you enjoy teaching, training, and educating people, you're in a good position to inspire people to take action.
People don't really care about your product or program. They just want to know that you're able to give them what they desire, and this is where you can show them that you're the expert and you do this through educating them with your content.
You also do this by using your content to shift their beliefs. Your content needs to clearly show someone what you recommend in order to get from Point A to Point B. Which you'll notice is what I'm doing right now in this blog.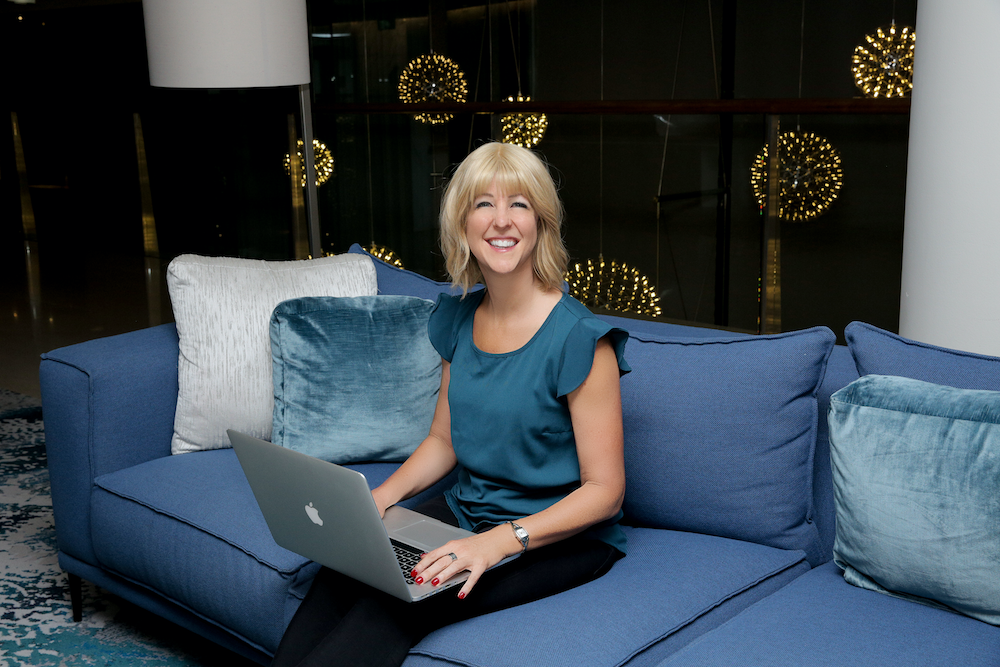 Use your content to shift beliefs in your ideal clients from what they currently believe to what you want them to believe and educating them is key to this.
When you take the time to educate your clients, it can really dramatically shift your business.
When you create consistent content, you're educating people on why you're different. You're also changing their beliefs from what they currently believe, to what you want them to believe. And you do this in order to have them take that next step to work with you.
Not doing this was a massive mistake that I made. (I made mistakes in all the 5 areas that I'm talking about today!)
I didn't realise you need a formula and strategy to create compelling content that inspires action. I used to just wing it.
I would literally just write a blog, without having any structure or any formula.
I'd just show up and throw up (as they say.) I'd do Facebook Live videos that didn't have a plan or proper structure.
The purpose of your content is to educate people and inspire them to take action.
4 – Build An Automated Funnel
When you're building a coaching business to 6-figures, there are two distinct paths you can go down.
One is working manually, which means you just keeping up as best as you can with your never-ending to-do list.
Or, you can choose the second path, which is building a funnel, which is an asset.
A funnel is a path that people go through where they come into your email list by putting their name and email to access free content. You then take them through a process of nurturing them until they know, like, and trust you and then if they're the right match, invite them to become your paid client.
This is what so many of your competitors are not doing because it takes some thought and learning, which can be scary or overwhelming. But it's one of the most powerful ways to have a sustainable, successful business.
What so many coaches do is start their business manually, which is how most of us start out, but then they attempt for the rest of the business's life to keep running it manually.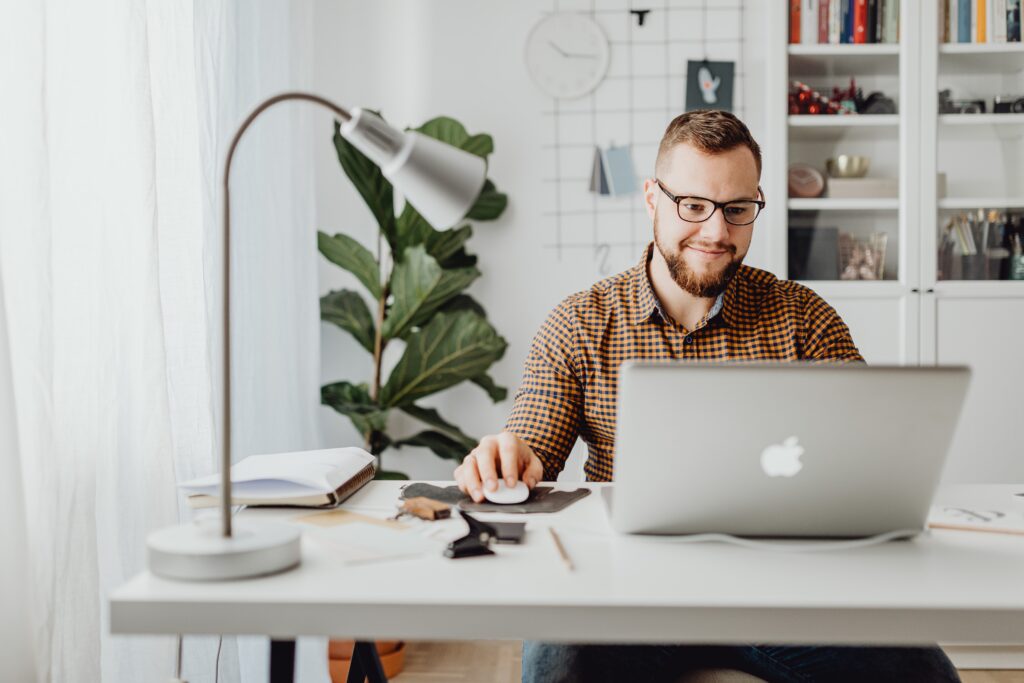 Using funnels to automate your business equals freedom.
If you haven't already decided, please decide that you're going to stop running your business manually.
Automation equals freedom.
This makes a huge difference in terms of the financial capacity and lifestyle your business can bring you. Rather than consuming and reacting, you create and build a profitable, scalable asset.
Because I know how to create funnels, I can be out running, get an idea, come home and have a funnel up online within a few hours.
It's incredible because you can build a funnel that generates a lot of income without doing a lot of work.
If you don't have an automated funnel in place, there's only so far you can go. Everything is capped. Your sales, your profit, your growth, your lifestyle – everything is limited.
Some people think it looks too hard, but what's worse? Running a business that sucks the life and soul out of you, because you're so stressed out and doing everything manually? Or taking the time to upskill and automate your business?
I use ClickFunnels for this, as I've found it's one of the best landing page builders and funnel builders in the world, and I trust it. I've had people say to me they don't want to pay for a subscription, but all you need to do is have one client and that pays for a whole year's subscription.
I've got 20 different funnels working for me. I have webinar funnels, lead magnets, and my online courses hosted there also. This gives me so much freedom.
I love taking time to have holidays. I bought a timeshare over 10 years ago and if I didn't have funnels in place, I wouldn't be able to take so many holidays.
To me, taking the time to set up automation is a no-brainer. When you have a funnel in place, you no longer have peaks and troughs leaving money on the table.
But, when you build an automated funnel, you have the capacity to generate a consistent lead flow.
5 – Develop A High-Performance Mindset
To create a successful coaching business … and by success, I'm talking about a business that fills your bank account and your soul… you need to develop a high-performance mindset.
You have to constantly level up your mindset. A high-performance mindset is focused on taking charge of your life and business. It's about being a leader.
You can't wait for a miracle, a sign, a rescuer, or a lucky break. You have to create it yourself. It starts with being intentional about what you want from your life and then building your business around that.
It's really important that you figure out what you want in your ideal life, and then take actions towards making that come true. From there, you can put the proper structures in place.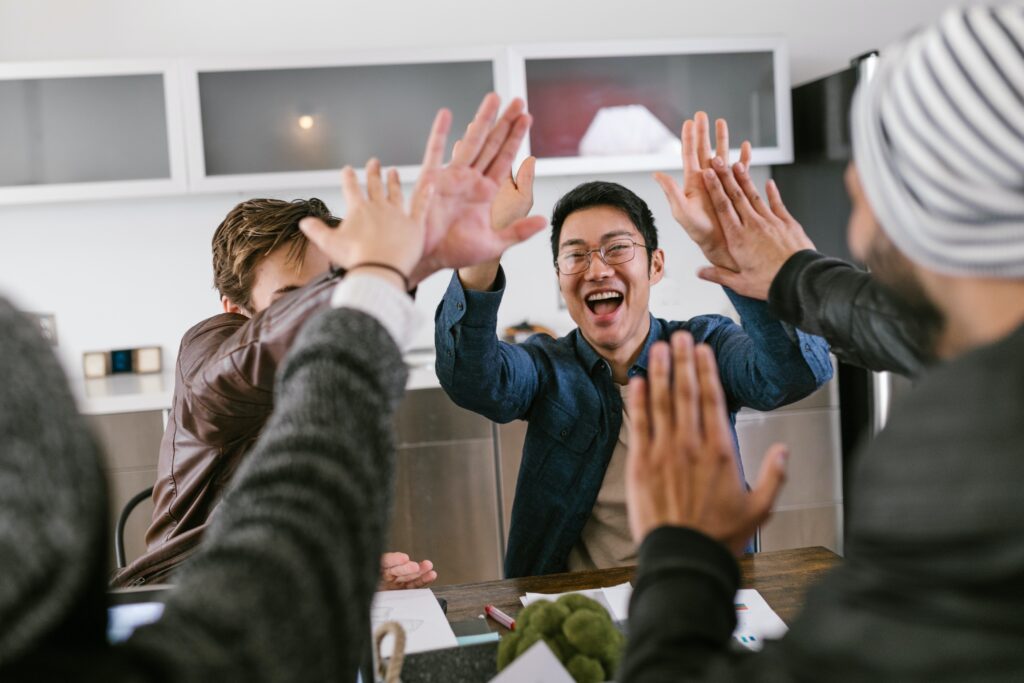 You can't wait for a rescuer or a lucky break. You have to create your opportunities yourself and that starts with being intentional.
Structures create outcomes.
Having structures like systems, strategy, and support in place is what builds a sustainable business around your vision.
Hustling 16 hours a day might sound impressive, but it's not healthy. Manageability is crucial. And this always starts with your mindset.
When I started out, I acted like I was a 6-figure business owner before I had the money in the bank. I believed so deeply that it would happen for me, and because of that, I was able to step into the mindset of a 6-figure business owner and take action as they would.
Back then when I made investments, hired team members, or made any major decisions around my business, I always asked myself what would a 6-figure business owner do? Then I did that.
This meant never accepting anything less than everything I want.
A high-performance mindset is willing to take risks. It's an abundance mindset. It's charging what you're worth, not allowing yourself to stress out about money, and knowing that there are always clients.
You have to believe that you're going to find a way to make things work. You can't play safe or be timid. You've got to make quick decisions and put yourself out there.
I see so many Facebook groups where people are saying they are looking for someone to contribute to their book or to speak at events. There will be hundreds of people putting their hand up, and I wonder why these people aren't putting out their own books and sharing their knowledge in their own events.
It's not that hard to do. It's just about being willing to do it.
You've got to take risks. You've got to know your 'why'. It's about deciding specifically who you want to serve, how you want to spend your time (based on what you enjoy), and how you want your business to feel.
I fully trust in my work ethic, I trust myself and back myself.
I know that I'm going to make a way, even if there does not look like there is a way. I'm going to find a way to make things work. I don't play safe. I'm not afraid to put myself out there, even though I don't always feel confident.
That's what high-performance business owners do.
When you get off the merry-go-round of chasing quick fixes, and step from a place of scarcity into an abundance mindset, you will create something truly great in this world.
In order to go faster, sometimes we need to slow down and learn a different way of doing things.
Would you like to dive deep into each of these 5 strategies and find out exactly how to apply them in your business?
I'm so excited to let you know about a brand new program I've just release called the 'Level Up Marketing Game Plan Online Bundle'.
I created this online program with two other experts, Mark Flores and Gez Perez. We recently ran an in-person business event for coaches and experts and received incredible feedback from it.
People loved it so much that we decided to bring it online so you can access it anytime!
We joined forces to bring you the best strategies, resources, and tools to help you grow your business to $10k+ months consistently.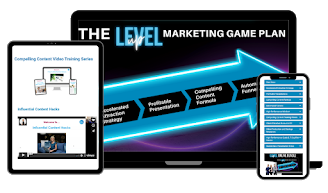 When you join us in the Level Up program, you'll understand how to apply these client attraction strategies in your business, so you can have a reliable system that brings in your ideal clients consistently.
You walk away with a thorough understanding of the 5 pillars that make up the Level Up marketing game plan.
You'll discover exactly how to:
Design an accelerated attraction strategy
Craft a profitable presentation that leverages your time
Create compelling content using a proven formula
Build an automated 24/7 client attraction funnel
Develop a high-performance mindset of abundance
Plus, you'll get a load of valuable downloadable marketing bonuses.
You can check out the Level Up Marketing Game Plan Online Bundle here.
Until then, keep showing up and sharing your brilliance, because the world needs you!
Kat