2020 has been a crazy year for most people. It's time to give yourself a pat on the back, chink your glass and celebrate your personal and business success!
With 2020 rapidly drawing to an end, I believe it's important to look backwards at the year that's been, before moving forward into the new year ahead.
At the end of every year, I take time for reflection on my personal life successes and my business successes and growth.
Taking the time to celebrate everything that you've achieved throughout the last year is so valuable.
It's also a great way to take the learnings and grow from them.
I like taking myself on a date, where I go to my favourite cafe or park, sit under a tree, take out my pen and paper and reflect.
3 Ways To Reflect On Your Year
There are a few different ways I recommend you reflect on your year 🙂
1 – Do A Solo Date With Yourself
The first one is to do a solo date with yourself, which is my favourite thing to do. I love to go away by myself, somewhere out of the house, and sit with pen and paper and actually have a time of reflection,  and just write and write.
2 – Do A Group Reflection
The second way is to do a group reflection, and I like doing this as well. I just tied up my Influences Inner Circle Program for the year, and we went around and encouraged each other and spoke out what we admired about each other.
I encourage this group to think about where they were last year in December 2019, and none of us knew about the craziness that was about to occur in the world.
None of us knew that in March a pandemic would impact our lives as much as it did.
I encourage you to acknowledge yourself for how you've handled one of the craziest years in your living history.
For me, 2020 was one of my favourite years, despite the loss, the stress and way our lives have changed, but for me it was a fruitful year.
Give yourself grace and kindness, because your nervous system has been through the wringer. Acknowledge yourself for everything that you have been through, acknowledge that it was probably one of the toughest years of your life and just be really kind to yourself.
3 – Create A Video Reflection
The third way of doing a reflection is to do a video reflection. You could record yourself a video and watch it back in a year's time, or watch it back in a couple years' time. You could do this on Zoom, FB Live or just a video on your phone.
Share some of your highlights, what you have gained and achieved, and what you would do differently. You can do this alone, or with your community.
3 Steps For Doing A Yearly Reflection
There are 3 steps that I use that might help you when you're doing your yearly reflection.
1 – Go Through Your Calendar
The first thing I do is I go through my calendar, right from January to December. The easiest way to do this is to do a search. I compile a list so I can see it in front of me.
I write down the courses that I've crewed, the events, webinars and Facebook Lives I've held and the holidays I've had.
2 – Have A Logical Process
I put mine all my information onto a spreadsheet with filters on it.
I work out how many hours I've crewed for other people's events, how many events I've run myself, how many Facebook Lives I've done, how many webinars I've held and I tally them all in a spreadsheet.
3 – Have a Creative Process
You may also want to have a creative process of reflection.  A friend of mine took a day recently and created a snapshot of drawings of her year, a beautiful creative reflection of her life right now.
You might want to just summarise your year on one page, or put it creatively on a big piece of paper for what 2020 was like for you.
10 Reflective Questions To Ask Yourself
It's important to have targeted questions that you ask yourself when you do a yearly reflection. This helps guide your reflections.
1 – What Went Well For You This Year?
Ask yourself what went well for you this year? What's one thing or many things that went well for you?
I know it's been a super challenging year for everyone, but this is important. You need to really acknowledge what you did well.
For me, being on lockdown forced my business to go full time online. This actually expanded my business. I took risks that I may not have taken if we didn't have a lockdown.
I loved that this year I was not out and about all the time. I saved on petrol and I got to know myself a lot more. I got to see my non-negotiables, and what was really important to me.
I did my last live, in-person event in March. I did my very first 2-day weekend workshop, and then the WHO announced the pandemic. And so that was the last time I did an in-person workshop.
Despite things closing down around me, I pivoted and went fully online. This was a huge leap of faith for me and ended up being an incredible change for my business.
2 – What Are You Proud Of?
It's important to write down what you are proud of. Is it doing your first Facebook Live?  Or was it your first time doing social media posts?
What are you proud of that you've achieved in 2020?
I'm proud of my resilience. I'm proud that I quickly I just changed directions and pivoted to go full time online. I'm proud that I didn't complain, I got excited.
3 – How Have You Grown Personally?
When entrepreneurs face challenges, it shows you what you are made of.  We're tough, we resolve challenges, we push through, we solve problems.
The leaders that are doing the best in the world, the most successful people are the ones solving the biggest problems.  They create solutions and solve problems.
I'm proud that I've created solutions for myself and for my community during this crazy year of 2020. I can honestly say I've grown so much personally in this last year. Adversity forces you to grow and expand.
It's in a crisis that you see what's really inside of you. When everything's calm, anyone can be calm, peaceful and joyous. But when the rubber hits the road and when the storms come, that is when your true inner strength comes out.
The storms show you what you're made of. They force you to step up.
Write down all the areas you have grown personally this year. And boy, it's been a crazy year where we have all had big chances to grow personally.
3 – How Have You Grown Professionally This Year?
The next question to ask yourself is, "How have I grown this year professionally?"  Ask yourself what have you done professionally that has caused you to grow?
For me, I've been able to be able to build a strong community, which was really my big desire. For years, I've desired a really amazing community. And I've now got that. And I love every single one of my clients. I love working with them all.
I've said no to people throughout the year, so I can just keep saying yes to the right people. And I've finally got a book of clients that are incredible. I don't just take anyone. I'm selective.
This requires a lot of faith and trust to believe that the right people will come to you if you allow the wrong people to pass by. I've let go of people that haven't been the right match go,  in order to keep spaces open to the right people.
I've run multiple different groups. I have the public community and I have 2 private communities. One community is the Client Attraction Accelerator and the other community is my Profit From Presenting Mastermind.
In these communities people grow professionally as individuals and they grow corporately also. I'm seeing the power of community and people encouraging and inspiring each others.
5 – What Did You Learn?
It's important to ask yourself, "What have I learnt this year?"  I did a lot of learning this year. I think learning can come as a by-product of life.
We learn from our business relationships and from the things we've invested in our lives. I've invested in 3 big programs this year, which was quite an investment for me.
I've always believed in the power of mentorship, but I'm really seeing my growth now. My business exploded as soon as COVID hit, and that was only because I had great mentors and because I pivoted fast.
Also I've attended and crewed many courses.  I've learned so much more about marketing,  copywriting, about Facebook ads, and there's still so much more to learn.
I think it's really good to be specific on the skills that you've been improving on and specifically the knowledge that you've gained in the year.
6- What Did COVID Teach You?
COVID really taught me the value of online technology. I know that sounds really funny, but we can sit at home and make money. We can have a 6-figure business, just sitting at home. And I think that's incredible.
COVID has also taught me not to take things for granted, like going to the gym, going to church, hanging out with friends or just doing what you want. I've become so much more grateful for those things that I may have taken for granted before.
I'm very intuitive in business, and I've learned to listen to my gut feeling. I want to work with leaders who are committed, coachable and willing to learn and change. They don't have to know a whole lot and they can be struggling, but I know I can help them.
If I don't feel like I'm the best person to help someone, I will not take certain people on.
I know that when I invest my time and energy into people that that are going to do the work, then I'm going to grow also and the impact that I'm having on the planet is much bigger.  This is all related to my values.
We've only got a certain amount of hours in our week. And it's so important that you protect your own emotional energy. And you've got to go with what feels right.
7- What Has Changed That You Don't Want To Go Back To?
COVID has changed a lot for a lot of people, but it has also brought positives. I've seen the value of being online. I love that people in New Zealand, England and America have all been able to attend my courses and events.
There are also downsides to online, and you definitely miss the energy of live events. I definitely want to go back to holding live events. That's something that is on the cards for me and my community in 2021, as soon as we're allowed safely.
But what I don't want to go back to is just limiting my events to face-to-face events and not having that ability for people to be on Zoom and benefit.
I think what's going to happen next year for a lot of events is it will be a hybrid – online and in-person, which I think is a beautiful thing.
Next year I'm going to be having more boardroom style in-person events, and also holding them on Zoom so that they can all be recorded and other people can benefit from them.
8  – What Is One Of Your Highlights?
I know this is a similar question to others, but what is one of the highlights of your year? What is one thing that really sticks out to you as being a real highlight?
I think one of my highlights was my birthday, because I got thoroughly spoiled, and it was just absolutely amazing.
9 – What Is One Of Your Happiest Moments?
What was one of your happiest moments in 2020? Just a time where you laughed and laughed and laughed and couldn't control yourself.
Is there a happy moment that you can pinpoint as being one of your happiest of the year?
10 – What Advice Would You Give To Yourself In 2019, If You Could Go Back?
This is a fun one and it's really interesting. What advice would you give to yourself if you were back in 2019? If you could go back and knowing what you now know, what advice would you give to yourself?
I think I would tell myself to be prepared for anything. To appreciate everything, because anything can just be taken away in a moment.
I encourage you to do these 10 reflection questions by yourself – take yourself out on a private little date with yourself and reflect, and also in a group as well.
This way you can go forward into the next year, taking the learnings from the last year and running with them into the new year.
Have a wonderful, happy new year and may your 2021 be very prosperous, successful and fulfilling!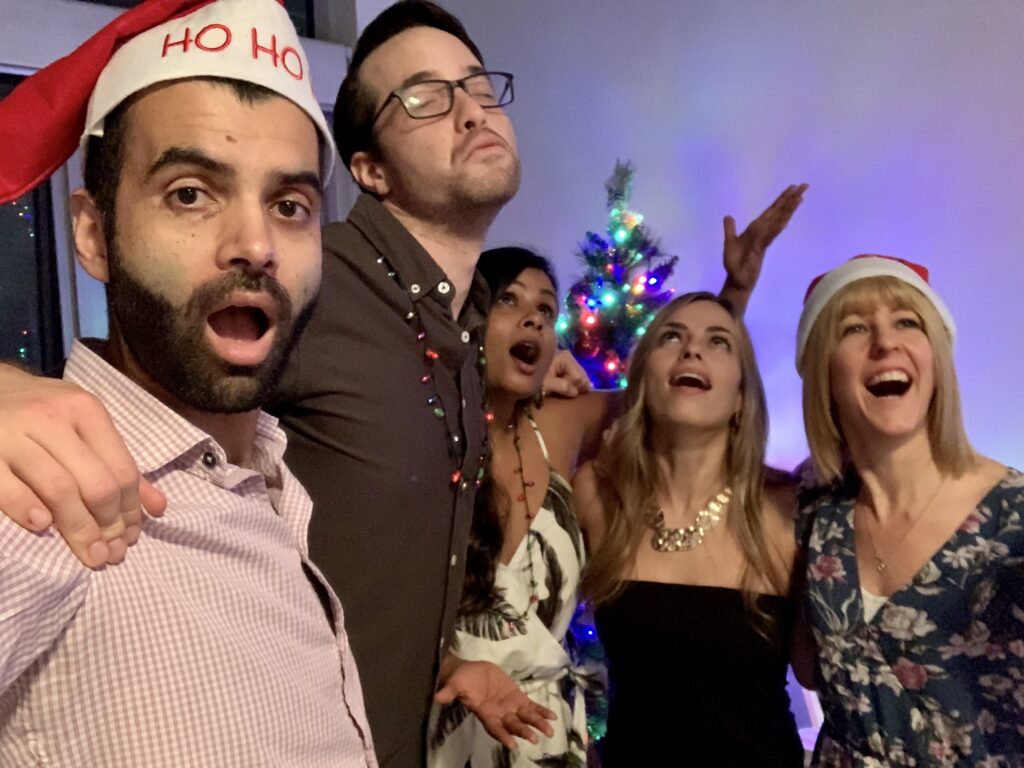 Have fun with your friends and family, no matter what's going on in the world and remember to take lots of deep, refreshing rest.
See you in 2021!
Kat