Have you ever thought that you'd like to run online events?
Do you currently run online events and would like to make them better?
Running online events, like webinars or virtual workshops, is one of the fastest ways to attract your ideal clients, especially right now.
Having run over 100 online events, each one getting me clearer and clearer on what works, I've tested and measured the best ways to do them effectively and successfully.
There are so many things that you have to think through prior to an online event, like how to best use technology, what marketing to do, how to effectively structure your talk, and how to get people to turn up for your event.
Over the years working with so many different people, I've noticed that there are 7 core mistakes that people make when it comes to running online events.
There are some critical things that people get wrong and in this video and article, I unpack them, so you can avoid making the same mistakes.
Before I go into the 7 main mistakes, I want to first share with you 4 reasons why running online events is SO effective:
1 – Online Events Help You Grow Your Email List
Your email list – your database of people – is one of your most valuable assets in business. Obviously we don't own anyone's details on social media, Instagram, Facebook or LinkedIn, so it's important to build your list.
We do this by having landing pages where people can opt in to your event, so that you now have their email address so you can continue to give them value and share other offers with them.
There are always people who sign up for a workshop and don't turn up, but you've got their details and you can continue marketing to them and nurturing them in the future.
2 – With Online Events You Can Speak to More People at One Time

If you're only ever doing one-on-one coaching, you're very limited to the impact that you can have.
If you want to make more money, help more people faster, have a bigger reach and make a difference to more people, then online events are a beautiful way to do it.
3 – Online Events Can Help You Get People's Attention Fast
Holding online events it's a fast way to get and hold people's attention. It's very hard to hold someone's attention by just a social media post, a blog or even a Facebook Live video.
If you run an event people get to know you, like you, trust you and build rapport with you because they have longer exposure to you, so you can inspire and educate them.
4 – Online Events Raise Your Positioning and Credibility
Your positioning and credibility are increased because not everyone is willing to take the risk of putting themselves out there.
If you're willing to do this, it puts you more in the position of being an expert. It also enables you to educate and inspire people to take action.
Not everyone's ready to buy straight away and they need your education so they will see the benefit they will receive when they make a change in their life.
A lot of people are resistant to change, so you can use events to educate people and them overcome their limiting beliefs.
Running online and live events has opened up so many opportunities for me and I get most of my clients through running events.
Online events are not going to go away, in fact they will only grow and ramp up – so now is the time to get in!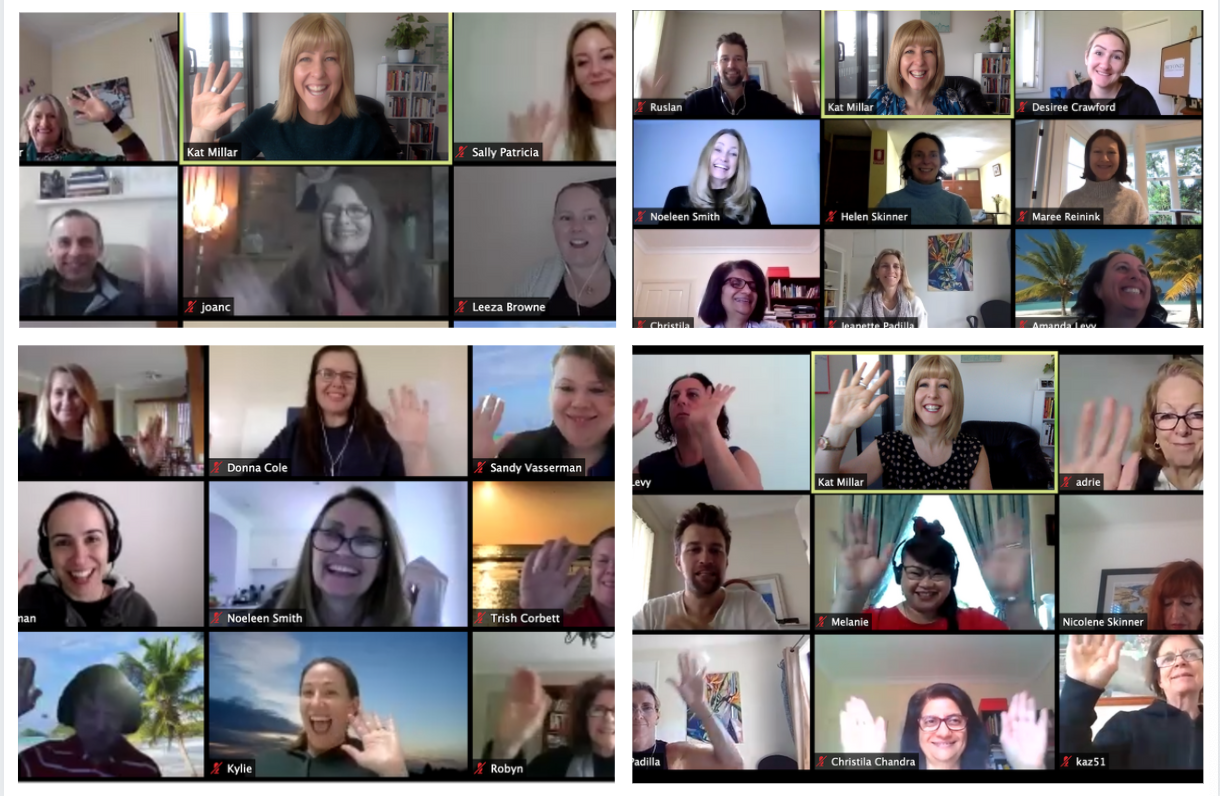 Now you know WHY you should be holding online events, here are the 7 mistakes I've found people make when running online events:
1 – Not Tailoring the Talk to the Audience
When running online events, I've noticed that some people speak on what they want to share, but what is so important is that you tailor the message to your ideal clients.
So you're not being general or broad, but you're solving the exact problems that your ideal client has.
I've never given a talk where I haven't asked people for some prior input, like a survey. I've asked them what they want to learn about, what their main challenges are, what their dreams and goals are.
At one company I spoke at, I had one of the board of directors sit down and interview all of the instructors and staff. I listened to the recordings and created the talk based on that.
You don't want to try and just wing it and guess.
If you are giving people what they want, if you're speaking their language, then they're going to get so much value from it.
You need to do your research by talking to people, going to networking events, seminars and talking to and listening to people to find out their needs.
You can poll your Facebook community, get people to complete a survey before a coaching session or at the end of a workshop or webinar.
2 – Failing to Set Frames
A frame is something that you build an idea around that you want people to have. For example, when people come to an event, you've got to quickly set the frame so everybody is sitting within the same frame.
There's different types of frames, and they can include things like; the rules about the event, how you want people to behave within the event, and also beliefs that you want people to have through the event.
When people come to my workshops or my webinars, I always have a slide that says, 'I've been at the top like the most successful people'. And then I'll give a list of things that successful people do.
I put things like, 'Successful people show up ready to learn, they stay focused, they take lots of notes…'
I'll read through this list and that is setting a frame of how I want people to show up in that event. And if I miss that slide the event can be a bit chaotic.
I don't want people to come and just be chilling out. If they have a question I want them to write it down, or put their hand up or write it in the chat box.
There are also frames are around how you want people to behave. There are also logistical frames, so I always have a slide that talks about making this a world-class learning environment and that we keep everyone's information confidential.
I also let people know they will be put in breakout rooms. There's also a disclaimer about being able to have participant's photos taken and things like that, so you set all those frames at the beginning.
The other frames that are really important to mention are beliefs that you want your participants to have. Often I will show my private community Inner Circle's manifesto which says 'In the Inner Circle, we are on-mission action-takers. We operate from a growth mindset, we free ourselves from blame, excuses, and denial, we choose to value people, contribute, pursue our vision and loads of fun…' etc.
This is setting the 'frame' that shows participants that in this event, we don't focus on our excuses, we have an entrepreneurial mindset – we show up, we give things a go, we never give up and we see challenges as an opportunity.
3 – Not Adding Enough Value
I find that people often will not plan their event enough, where they give people ideas or concepts that they haven't heard before, or they maybe haven't heard it in a sort of way before. They haven't really thought through what's going to be truly valuable.
Value is what gets someone to take an action right away. Are the facts you're presenting inspiring and educating enough to make people take action? If not, then it's not valuable.
Value also means spending time practicing, thinking through what is going to be really useful for people. People love examples and stories of others who have taken a concept and put it into action in their life.
People also love templates and they want their questions answered. They want to be able to share with other people. This is all part of adding value.
Value is not squeezing in the content. I once heard someone say that if you squeeze in the content, you squeeze the audience out!
You want to make sure that your content is valuable, that people can apply it right away. And you need to give people plenty of time to think through things also, so they can digest the toolkit of ideas you've given them.
4 – Giving Away Too Much Information
This is probably the one that I have found the hardest. I just want to share so much of what I know because I've studied this stuff for over a decade and I've been in business for 17 years.
If you give too much information, it could be like standing in front of a fire hose to get a cup of water. It's actually doing your audience a disservice if you give away too much information, because they can't apply it.
If you say to your audience that they will learn all they need to know from this event, they will leave thinking they know everything and that's not possible, so it's doing them a disservice. They also won't buy from you because they've got everything they need.
You also need to create curiosity. It's called the Zeigarnik Effect and it's about opening loops in people's minds, where they actually realise they've got to spend more time with you as the educator.
Show them how many hours worth of knowledge there is to know about that subject and one way they can get that knowledge is through using your coaching.
5 – Speaking Without Structure
People want organised knowledge and people pay for organised knowledge. When you're creating an event and you show up and try and pour out everything you know about the topic, that is a mistake.
You don't want to just give people a whole heap of content or information and leave people to have to figure out what to do with it. You want to make it digestible and palatable for them, by breaking it down into steps or pillars.
The best speakers in the world have organised the information into a structure. If you think that they're just winging it and speaking intuitively, believe me – they're not.
It's also good to refer people back to the beginning of your talk. You don't just take them from here all the way from the start to finish, it's good show them where they are in the system.
You also want to make sure that when you're delivering your content, you use diagrams and images, so people can see a clear visual of what you're explaining and show how things fit together.
6 – Being Unprofessional
This goes without saying, we all know that we need to be professional, but what does that look like?
Being professional means:
Having a nice quiet environment and making sure your audio is good and clear with no background noise
Making sure that you've got a good lighting system
Setting your computer or tablet up at eye level
Making sure you start on time
Ensuring you have nice professional PowerPoints, if you're using slides
Practicing your talk before you deliver it
All of this is part of being professional.
This doesn't mean you can't be personable though. It really helps to add humour and your personality and flavour to it. Professionalism is not perfectionism. It about giving the most value while still being yourself.
Remember that everyone who comes to your online event or talk knows at least 50 close people that they can potentially refer you to.
Always be thinking that it's not just the people that show up, but those people potentially know 50 others that you can reach.
Even if just 2 people show up, always give those 2 people your 100%, because if one person makes a change from what you've shared, it's worth it right? And they will tell their friends.
7 – Focusing Too Much on Themselves
People are so self-conscious, they put off running events because they're so concerned about what people might think of them and they are scared of judgment.
There are fears around if the technology doesn't work and fears if no one turns up. I've had all these fears and different limiting beliefs myself.
Instead of focusing on the fears, focus on the good result possible, not the negatives.
I'm completely detached from who comes to my events. I care about the people attending as people, of course, but I believe that whoever turns up are the people who are meant to be there.
I don't focus on money, I focus on doing your best work and preparing well for the event and give it your all.
I put aside days and days to create my events. I give myself feedback after events on all the things I could do better next time and I take on board all the feedback that I get from people who attended.
Turn the focus away from yourself and onto focusing on the value you can offer people.
That's how you grow your business.
Here's a review of 7 mistakes people make when running online events:
1 – Not Tailoring the Talk to the Audience
2 – Failing to Set Frames
3 – Not Adding Enough Value
4 – Giving Away Too Much Information
5 – Speaking Without Structure
6 – Being Unprofessional
7 – Focusing Too Much on Themselves
Would you like to learn the presenting formula that I use, so you can run online events that attract new clients?
I'm running a workshop on Saturday 4th July that will show you how to present effectively, and use online events to attract clients and build your business.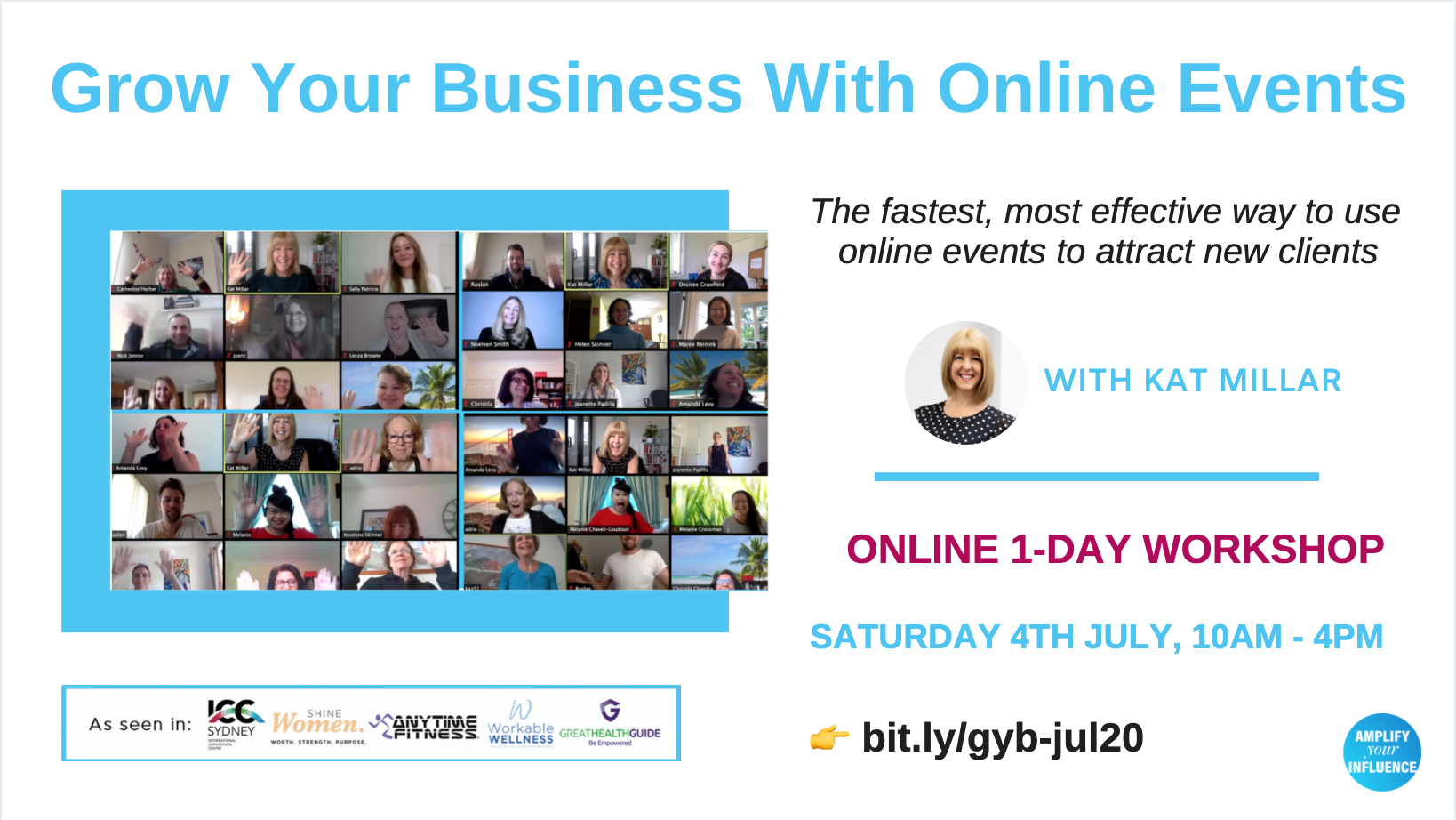 In this workshop, you'll pick up the tools that you can use to run effective online workshops and webinars….
…so you can not only be successful in your presentation, but know exactly how to get people to show up, engage and take action.
See you online soon!
Kat