Want to know what's REALLY stopping you from having more clients right now?
It might not be what you think.
I dive deep into the obstacles that may be preventing you from attracting more clients to your business. 
Unlock the Secret to Rapid Client Growth
Identify the hidden roadblocks hindering your progress 
Gain clarity on the crucial steps you could be missing 
Overcome mindset challenges that sabotage your success
Learn powerful strategies to amplify your client attraction efforts 
Break free from old patterns and limiting beliefs 
If you want valuable insights and actionable tips to accelerate your client attraction game.
Watch the video here…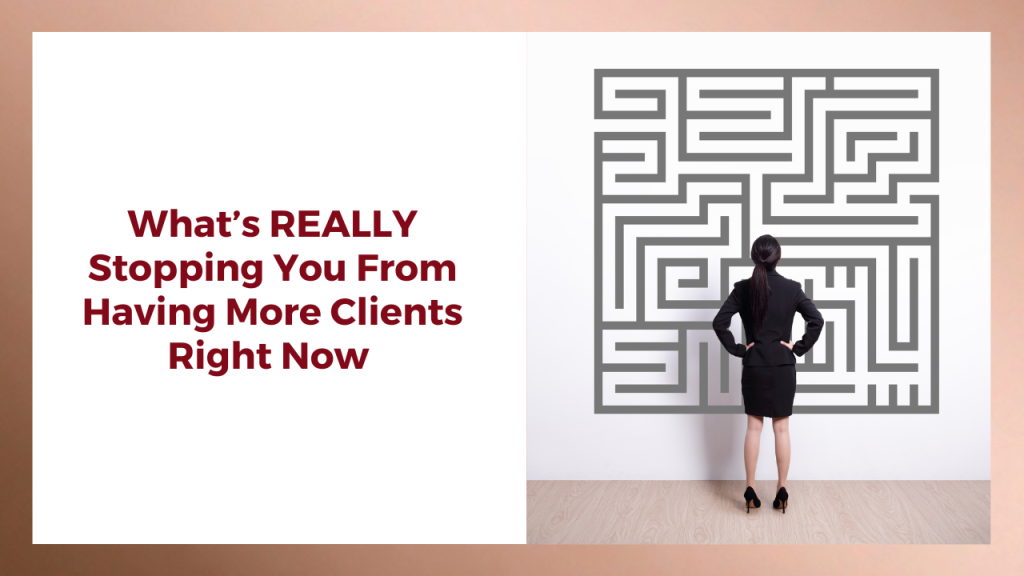 Here are the 5 things…
1.
Avoiding Skill Improvement
Coaches often hinder their success by neglecting areas they lack proficiency in, such as marketing, sales, tech, content creation, and presenting.
This results in an amateurish image and the inability to attract clients effectively. Embracing these challenges and consistently refining these skills is crucial for coaches to elevate their professionalism and attract paying clients.
2. Starting Too Many Ventures
Coaches frequently struggle due to their tendency to jump between multiple projects without completing any. This scattered approach prevents them from establishing a sustainable business.
Staying focused on finishing projects rather than accumulating unfinished endeavours is essential to build a solid and reliable business foundation.
3. Excessive Concern About Others' Opinions
Success requires disregarding the opinions of others, including the fear of judgment and imposter syndrome.
Overcoming this obstacle enables coaches to authentically serve their target audience without being hindered by external opinions.
By focusing solely on the needs of ideal clients and embracing authenticity, coaches can project a boulder and more resilient presence.
4. Underestimating the Power of Consistency
Many coaches undermine their credibility through sporadic appearances. Demonstrating commitment and consistency builds trust with clients, while irregularity erodes that trust.
Embracing consistency, even in challenging situations, reinforces the coach's dedication and fosters trust, a critical ingredient for business success.
5. Reluctance to Invest in Development
Coaches often struggle to secure clients because they hesitate to invest in their own growth.
Neglecting business mentoring, training, and coaching for themselves hinders their ability to effectively market and sell their own coaching services.
Recognising the importance of investing time and money in learning business skills is vital for coaches to effectively market, position themselves, and accelerate their success.
In a nutshell, coaches can really boost their chances of attracting clients by tackling these common stumbling blocks: honing their skills, staying dedicated to finishing projects, not letting others' opinions hold them back, keeping up a consistent presence, and putting effort into their personal growth.
These positive shifts pave the way for a coaching business that's not only more successful but also built to last.
P.S Whenever you're ready… here are 3 other ways I can help you grow your business:
1. Grab a free copy of my 'Client Attraction Checklist'
It's a powerful roadmap to attracting leads, signing clients, and scaling your coaching business. — Grab It Here
2. Join the community and connect with like-minded Coaches & Experts
It's our Facebook community where ambitious entrepreneurs learn how to increase their income, influence, and impact. — Join Us Here
3. Work with me to get more clients
If you'd like to work directly with me to get more clients… just send me a Facebook Message with the word "Clients"… tell me a little about your business and what you'd like to work on together, and I'll get you all the details — Message Here