Happy new quarter, the final quarter of 2022!
What does having a winning quarter mean to you?
Maybe it's your impact. How many people you are going to help?
Maybe it's launching or FINISHING a project.
What if this is your quarter to finish something?
Or to finally start the thing you have been putting off?
I invite you to think about one, two, or three things you want to focus on in quarter four.
In my community we focus on setting 3 BIG PROJECTS for the quarter such as running a masterclass, launching a new website, launching a new program, creating a new funnel and so on.
Then we set the action steps and milestones for each of the 3 projects.
In this video, I share:
The 'Whats-Good Snapshot', so you can capture and celebrate what went well, including examples
The 'Growth Reflection' process to take the learnings and lessons from last quarter and make sure they're not wasted
The 'Feel-Good Future' to help you plan an epic quarter ahead
You can check out the video here…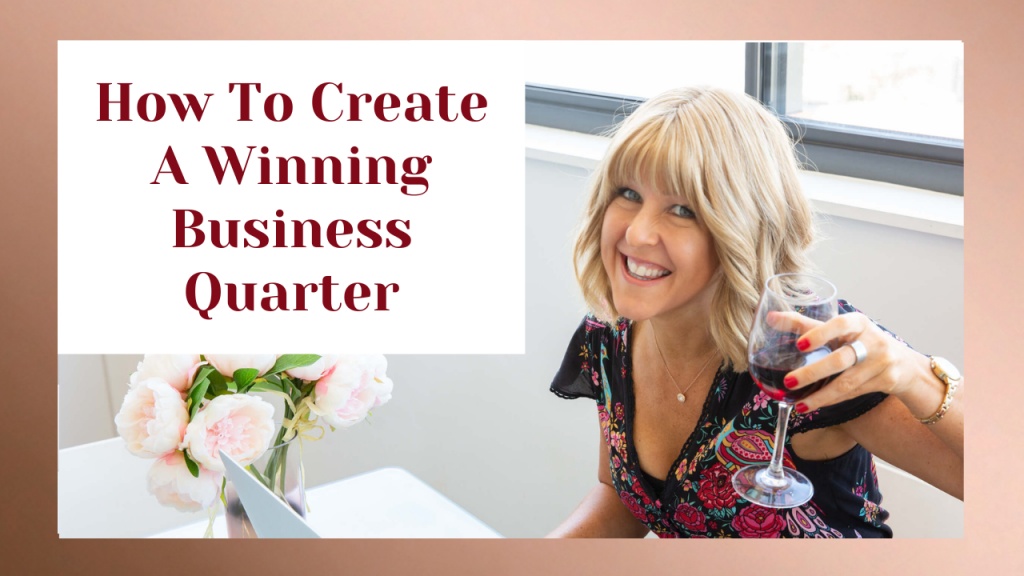 The 5 Step Winning Quarter Framework
The What's-Good Snapshot
Wins from last quarter…
Why you are proud of them…
What are you confident about right now?
What are you enjoying?
What are you grateful for?
What have you learned?
The Growth Reflection
What aspects of your business frustrated you last quarter?

What not working or feels out of alignment that you want to change?
What difference will it make to your business to change it?
The Reframe Method
Imagine carrying the problems you wrote down into the next quarter…
Why is that a problem?
In order to feel overwhelmed or stressed, what must you be believing?
In order to feel calm and in control, what must you believe instead?
Based on all of that, what actions will you choose instead?
The Reframe Statement:
Even though (circumstances)…
I choose (response)…
The Feel-Good Future
Vision | What do you want for the year ahead?
Focus | What do you want for the quarter ahead?
Money | How much money do you want to earn this quarter?
Meaning | Why is your work important? Who does it affect? Why does it matter?
What are your 3 Big Quarterly Projects?
P.S Want all the behind-the-scenes training with exactly how to do each step, with all of my templates, all the training resources, and support to get booked out with amazing clients and consistently have 5-figure months?

I'd love to get to know you and see if you're a fit for our client Attraction Accelerator program.
DM me the word 'CLIENTS' and I'll get you the details
Until we meet again my friends, keep shining and keep sharing your message to the world – because it matters.
Big love, bye for now.
Kat xo
P.S. Whenever you're ready… here are 3 other ways I can help you grow your business:
1. Grab a free copy of my 'Client Attraction Checklist'
It's a powerful roadmap to attracting leads, signing clients, and scaling your coaching business. — Grab It Here
2. Join the community and connect with like-minded Coaches & Experts
It's our Facebook community where ambitious entrepreneurs learn how to increase their income, influence, and impact. — Join Us Here
3. Work with me to get more clients
If you'd like to work directly with me to get more clients… just send me a Facebook Message with the word "Clients"… tell me a little about your business and what you'd like to work on together, and I'll get you all the details — Message Here