Do you relate to this?
You're showing up regularly online.
You're following a content strategy.
You're creating compelling content.
BUT…
You're still not signing up clients consistently.
You're not sure what's going wrong.
You're feeling frustrated and confused and you're not sure what to change.
There's one thing that most coaches are overlooking when it comes to getting clients that is costing them thousands of dollars…
Holding them back from working with amazing new clients…
…and it's something you probably haven't thought of.
You might think more people aren't wanting to work with you because of the economic climate…
That the market is too saturated… or because people just aren't seeing your posts.
But the real truth is, it's often none of these things.
And the good news is, you have more control than you think in changing it.
The reason you're not signing more clients is that your offer is not irresistible enough.
It sounds so simple – but most coaches don't have a really juicy offer that they are so proud of and love sharing with other people.
If you don't have an irresistible offer, it doesn't matter how much content you put out. It won't work!
You can have the best content, the best presentation, the best funnel – but if your offer is not irresistible, these things don't matter.
No matter how great the sales conversation is – if your offer isn't right, then in the end, it falls flat and the person doesn't buy.
Everything you do in your business builds upon your offer.
A lot of people think their offer is fine, but I very rarely work with anyone who has an offer that I haven't tweaked.
Often, they don't have clarity about what they offer.
And they're creating content without thinking about the endpoint – which is a sale.
They're not excited, enthusiastic, or energised about making offers.
If you don't make offers, you don't have a business.
If you're not excited to sell your offer, you need to go back and improve the offer, otherwise good luck trying to sell it.
You've got to optimise your offer for conversion.
And then once the offer is optimised, you then need to work on your ability to communicate its value.
Because it doesn't matter how good your offer is – if you're scared to present it to people, you're also out of business.
If you want to be a successful coach and have a successful coaching business:
You have to put your offer out there consistently
You have to talk about it all the time
You have to believe it's the best thing ever
Most coaches aren't doing this.
The offer is one of the first things I work on with my clients because it's so important to get right.
Here are 3 reasons why it's so important:
1. It separates you from other coaches who do the same thing
2. It gives you rock-solid confidence
3. It helps you build an effective content strategy
Here is one of the most important pieces to get right:

Create a solution for every problem your ideal client has that's related to the outcome you offer.
You can check out the video here…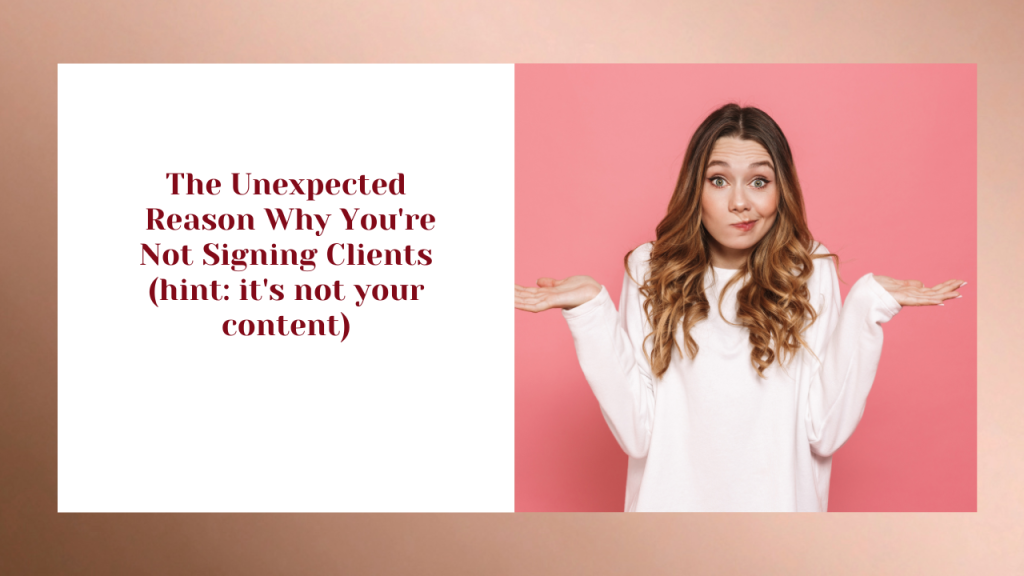 One key thing you need to do to make your offer irresistible
Create a solution for every problem your ideal client has that's related to the outcome you offer.
The more problems you can think of, the more solutions you can provide.
The more painful the problem, the more likely they will say yes to what you offer.
Your offer needs to relieve massive pain:
Health pain
Business pain
Relationship pain
Financial pain
It's not enough for people to want it. You want them to desperately need what you're offering.
The 5 elements you must include in the solution section of your offer:
Confidence – Belief in the result – it won't work for me specifically, I won't be able to stick with it, things will get in the way.


Time – I'm too busy to do this, this will take up too much time, it will take too long to work.


Effort – it won't be convenient, it will be too hard, it will be confusing, I won't like it.


Skills – I will suck at it, I'll be left behind.


Method – I don't like group programs. I'll get lost in the crowd. I may not like the culture of the community. I don't want to do x to get y.
Here's how to build the 5 elements into your offer:
Confidence in the result – share case studies


Time it will take – Think – How can I make it faster? How can I show progress?


Effort it will take – How can I make it easier and simpler with less effort?


Skills needed – How do I help my clients rapidly develop their skills?


Method – Find out what they want and how to best deliver it
You want to create a unique bundle – create a container they can't get anywhere else – a bundle or system of lots of things put together.
Bundle in too-good-to-be-true inclusions and bonuses.
You want your clients to think – "I get all this for only that"
You want to overcome all the problems related to your solution.
You want to show it can't be bought anywhere else.
I've shared one of the pieces to get right when it comes to creating an irresistible offer.
There are 8 elements that you need to get right in your offer to make it irresistible.
I'm going through all 8 of these elements in my VIP Immersion Day next week with my clients. It's a members-only event and normally the only way to get there is by working with me in one of my paid programs.
But I've decided to open up some guest spots, so if you'd like to join us…