Are you tired of spending hours and hour creating content?
Do you find yourself caught in an editing loop, overthinking and rewriting every second word?
You second-guess if it's good enough to share, but you've spent so long on it, and you don't want that effort to go to waste.
Do you want to speed up your content creation process, without compromising on quality?
In my latest content I identified some real and raw reasons why creating content often takes so long, and how to fix it!
Watch the video here…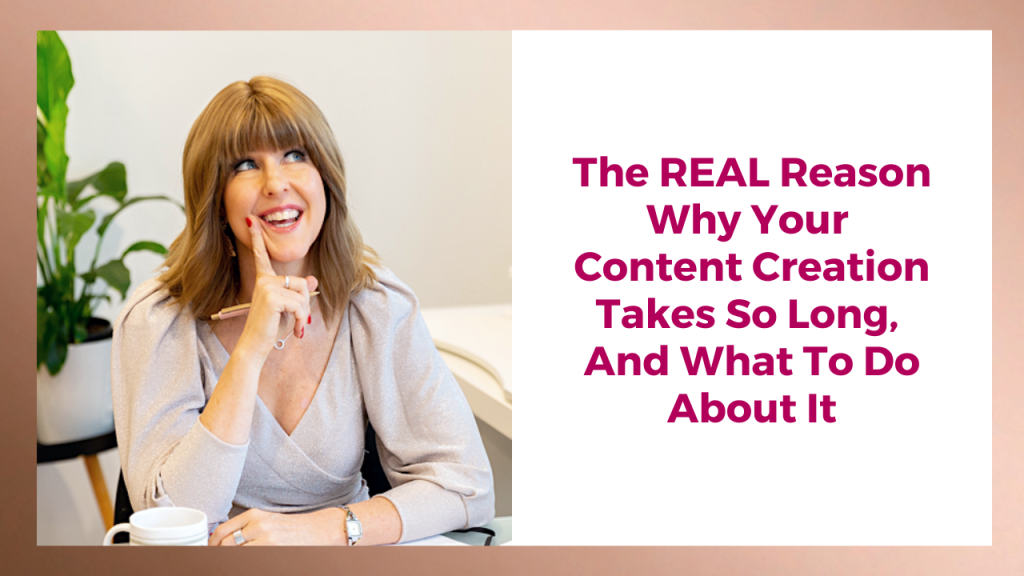 I firstly want to explain 4 key concepts when it comes to creating effective content that doesn't take forever.
I created a Quadrant to explain this, called the The Content Efficiency Matrix.
Efficiency is the ability to produce something with the least amount of wasted resources, such as time. It's maximising output while minimising input.
Effectiveness, when it comes to content, is response, i.e., engagement: people reaching out to you on social media, replying to your emails, booking in to your calendar for strategy sessions, buying your coaching or program.
So, using efficiency on one axis and effectiveness on the other we get a quadrant with the following elements:
Ineffective and slow – Takes ages, and doesn't work. Poor response. We want to eliminate this.
Ineffective but fast – Doesn't work, but is fast. We want to eliminate this also. If you're just pumping out any random content, it doesn't matter whether you do it fast if it doesn't work.
Effective but slow – Takes ages, but works. People respond. But you can't produce much content because it takes so long that you put out a very low volume, meaning your results are very slow also. We want to reduce this.
Effective and fast – This is the goal. To get quicker at creating content WHILE not compromising on the quality of your work that leads to results – i.e., people moving along your client journey towards working with you.
To get faster at creating content and have time to create more content, it helps to understand why it's taking so long in the first place.

If you keep repeating the same behaviour of overthinking and second-guessing, there could be something deeper happening.
Which means that no matter how much you try it probably won't get better.
But when you know the reason, you can decide what to do about it.
The reason you don't do it often goes deeper than most people realise.
Here are the top 5 things I see that lead to coaches spending too long on their content creation.
1. Not being clear on your message
Creating content for too many people who are not your ideal client. Messaging is a big issue for a lot of coaches. When you're not clear on your message, you try to please everyone and you stand out to no one.
2. Avoiding other tasks
Content can be our comfort zone. And in my experience, in 95% or more of cases, the reason that we're avoiding other tasks is because we're not good at them. It's a skill issue.
We spend a lot of time creating content because it's more fun than facing other things in our business, like learning tech, setting up a marketing funnel, or booking people into sales calls.
It's similar to its equally costly twin, procrasti-learning.
This is where we learn, learn, learn instead of do, do, do because it's easier and more fun to consume than to create.
The challenge is to realise that we mistake consumption for transformation.
3. Fear of judgement
This is about not feeling good enough, caring too much what people think, imposter syndrome, fearing silence and little engagement (making it mean it must be not good).
A BIG reason why so many people fear judgement, is because they don't have a compelling content strategy or skills. Which brings me to the next two…
4. You don't have a plan
Without a clear strategy, you waste time thinking about what to post about. You do it when you're distracted, instead of having pre-thought and pre-planned it.
With an effective strategy, you work backwards from your call to action.
5. You don't know what to say and how to say it
This refers to the skills and structure of creating compelling content. Whether that's speaking on video or writing, being able to influence and move people and engage people's attention through the words you choose.
The more you develop your skills, the more money you'll have in your bank account, and the more people you can help.
When you know how to create compelling content, your marketing becomes easier, faster, and more enjoyable, and – most importantly – it works.
You attract more of the right clients into your business.
The good news is, it's a skill that anyone can develop.
And this is why I created a new EXPRESS live online workshop called
I recently ran this as a 1-day workshop and it was a game-changer for so many people!
I was blown away by the number of messages I received saying how much the content helped them.
So, I decided to run an encore express event – actually 2 of them, at 2 different times so you don't miss out.
I'm sharing how you can get more high-quality coaching clients, using my unique, proven brain-based content-creation formula.
This workshop is perfect for you if you're an experienced content creator or if you're just starting out.
I'll be sharing the best content from our 1-day workshop, equipping you with the tools to attract your ideal clients, quickly & consistently.
I only run this once a year so if you'd like to know exactly how to get more high-quality clients fast and consistently, this is for you.
In this workshop, I'm sharing:
???? My Signature 4-Week Content Builder
Craft a highly-effective 4-week content plan in LESS than an hour to showcase your unique edge and enroll new clients into your program
???? ​How To Build Trust So Your Audience Sees You As A Go-To Authority
Discover psychology-backed strategies based on human behaviour to light up the 3 parts of the brain crucial for decision-making, so you create a steady flow of clients
???? Use Elegant Influence To Turn Your Content Into Clients
Discover effective strategies to get the attention of the right people, clearly communicate your value, & elegantly inspire people to work with you.