Want to make more money this month…without working harder and longer?
You might be asking yourself…
How do I earn more, without coming across as pushy on social media?
Is there a way to elegantly promote my offers online without sounding repetitive?
How can I share the value of what I do, when it feels like no one is paying attention on social media?
Most of us understand that business is ultimately about serving people and not chasing money.
But let's be honest – without a healthy flow of moolah, it becomes nearly impossible to make a meaningful income on a significant number of people.
When it comes to generating a steady cashflow, business owners often have 3 main challenges:
1. Not enough leads: Without the ability to attract leads, your audience remains small, which results in minimal attention and engagement.
2. Low sales conversions: If you struggle to convert leads into clients, you end up with low sales. Low sales = low cashflow = no fun.
3. Limited scalability: If you're unable to get clients in a leveraged way, you can find yourself exhausted, burnt out, or stuck at the same level.
Let's dive into some of my best behind-the-scenes secrets that you can apply straight away to create a fast flood of cash.
Watch the video here…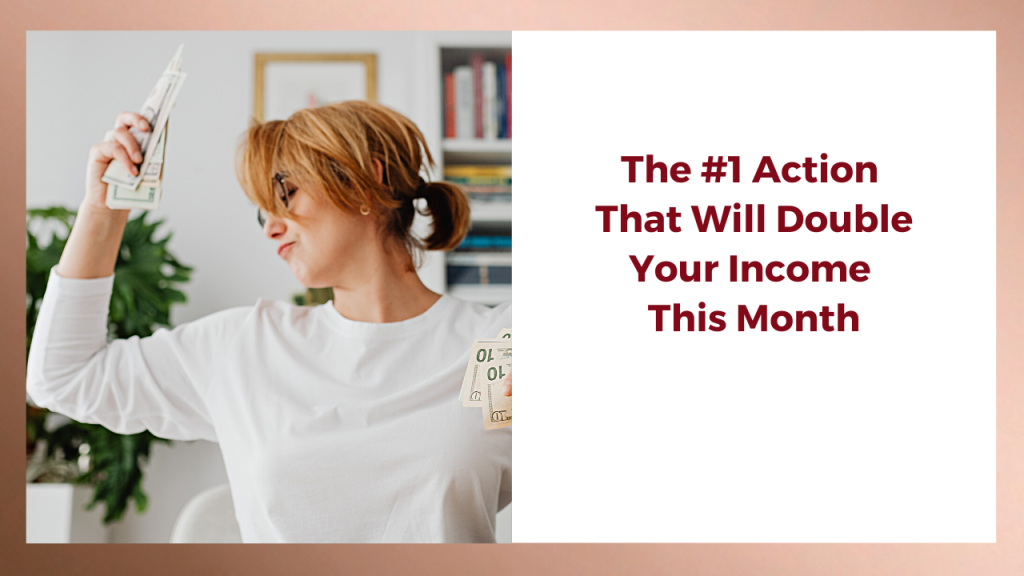 The #1 action that will double your income this month is: Make more offers.
Here are 3 things you can do to put this in place in your business…
1. Create value-add content
Sharing valuable content builds trust and credibility. It also has the added benefit of being able to educate people on the benefits of what you do and overcome any limiting beliefs they have.
People need to be at a certain stage in the buyer's journey before they're ready to work with you. They need on average about 8 touch points in order to make a decision to buy.

If you share an offer too prematurely, you can put people off and cause a bad first impression.
2. Make an elegant invitation
Once you have provided valuable content consistently, the next step is to offer an irresistible opportunity via email and social media.
This invitation should be exclusive and compelling and designed to specifically solve the biggest problems of your ideal clients.
It should include a compelling outcome, qualifiers that make it exclusive, a set timeframe, scarcity, and a call to action that invites a direct response. I suggest using 'reply to this email' or 'DM me'.
3. Send people a simple sales page
I recommend using a plain Word document as your sale page for this process, instead of a complex landing page, which has a number of benefits:
It feels more like you're providing an exclusive, private opportunity, rather than selling to the masses

It looks fresh, exciting, simple, uncomplicated, and clear

It's different so it stands out and 'disrupts' what people would normally see

It's easier to create than a full-blown sales page so you can launch it faster
I'm sharing this exact formula step-by-step with everything you need to double your income in a month with my inner circle community at our upcoming VIP Virtual Retreat in a few days.

We're going to build out the whole process together and personalise it to make it work for you.

I'm inviting a handful of guests to join for free and there are only a few passes left.

Learn exactly how you can easily sign up more amazing clients and make more money.

Grab your FREE guest pass here

You'll also get:
* The Elegant Invitation: How to elegantly invite ideal people from your existing audience into paying clients via email & social media

* The Propulsion Plan: How to rapidly remove the blocks in the way of your business growth and create a step-by-step plan for your acceleration

* The Authentic Enrolment Formula: Gain valuable skills in asking powerful questions, and presenting your offers effectively

* Mastering Video Marketing: How to create engaging presentations that grab attention and connect with the right people

* Action-taking Sessions: Productive 'get it done' sessions where you make fast, tangible progress on your business goals

* Expert Mentoring: Hot-seat sessions where you can receive quick answers to your burning business questions

* Mastermind Sessions: Quality connection with like-minded female entrepreneurs
That's just a taste of the awesomeness of this exclusive online retreat.
I only run these twice a year so don't miss out, grab your spot now.