I'm sharing some powerful strategies for structuring a high-converting presentation based on my extensive experience of running over 350 events in the past decade.
Hosting online events is a fantastic way to reach a wider audience, establish credibility, and attract new clients.
It allows you to showcase your expertise and provide valuable content without the pressure of one-on-one sales calls.
Additionally, running events simplifies program launches, enabling you to help more people, earn more money, and make a bigger impact.
In this video, I share 3 proven steps to launching your first or next online event with some of my top tips and tricks so you'll be well-set up for success.
Watch the video here…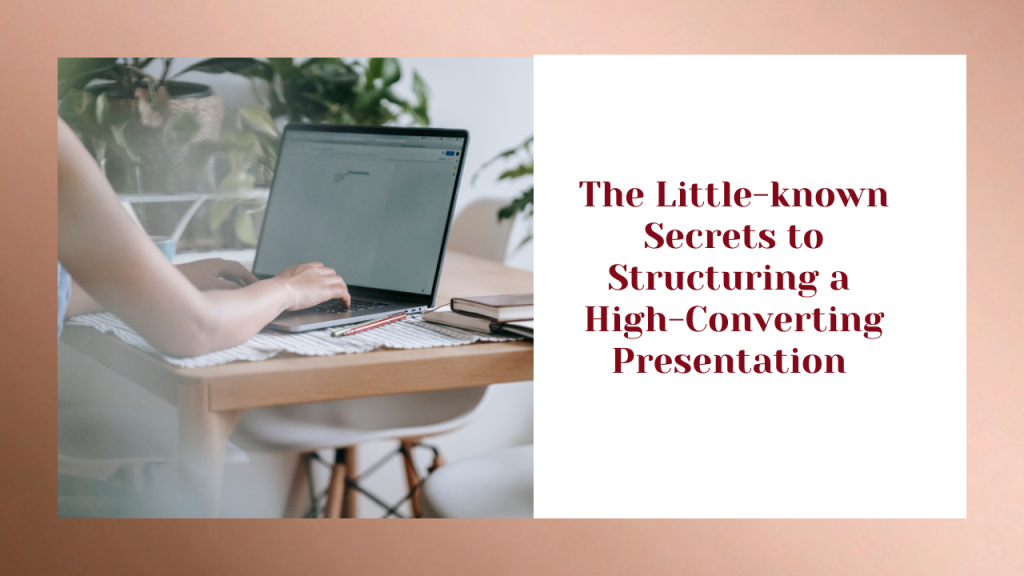 Here are the three steps that every presentation should have…
1. The Intro
The intro is crucial for making a strong first impression and building rapport with your audience.
To achieve this, focus on the following key pillars of an ideal intro:
Position yourself as the expert and the best person to help your audience achieve their desired outcomes.
Show your audience why they can succeed and why your method is the most effective.
Establish expert positioning through a title slide and an MC intro that highlight your skills and experience.
2. The Content
When delivering your content, it's important to cater to different learning styles and engage both the logical and creative aspects of your audience's thinking.
Avoid overwhelming them by selecting 3 or 4 key points and supporting them with stories and data.
Each key point should challenge a belief to drive meaningful change.
3. The Offer
After providing valuable content, it's time to present your offer.
Clearly communicate the specific action you want your audience to take, as the purpose of education is to inspire new action.
Emphasise that applying the information is essential for true benefits. Make sure your offer is aligned with your audience's needs and clearly explain the next steps for working with you.
If you're interested in mastering the art of running successful online events and growing your coaching business.

I'm sharing…
How To Create A Compelling & Engaging Event Presentation
In a way that builds desire, establishes your authority, and effectively dissolve objections.
How To Market Your Event To Attract The Right Audience
Even if you find marketing confusing or hard
How To Deliver A Powerful Online Event That Gets Clients With Ease
To deliver a truly remarkable event experience that captivates your audience, creates engagement, connection, and trust, and effortlessly converts the right people into paying clients.