A lot of people start dreaming about what they want for the following year.

​But so many times it ends there. They don't plan how to make it happen.

Without a plan, many dreams die.

With the planning I do with my clients, we turn dreams into tangible actions so we actually achieve them.

If you want your business to grow month after month next year…we've got some planning to do.

If you're thinking…"Kat, I'm not good at planning."

​I get it. Neither was I.

My sister Vicki (the most future-focused person I know) once said to me "What do you imagine for next year?"

I was embarrassed to admit it. ​

I hadn't imagined anything.

Let alone planned for it.

​I realised I didn't have a process for planning.

​So what did we do? We started planning my next year. ​

It CHANGED my year. And my life!
Being able to dream and plan your year out in one go…
​…then spending the next year just doing what you planned… it's very freeing.
​You feel in FULL control over your year.
But it took a change of mindset.​

A mindset of planning how to achieve what ​ I want and being intentional to create it.

Rather than "seeing what happens"

​And it was worth it.
Now, I want to help you do the same.
​Because planning is like laying out a pathway for 2023.
​The moment you come back from your holiday break, you just get back on the path and keep going. ​
You don't lose momentum.
Talking about this gets me so EXCITED for next year!
If planning feels like an overwhelming task to you… I've got you.
In this video I share:
The Annual Success Planner
It's a 5 step framework to help you map out your business dreams, goals, and actions.
You can check out the video here…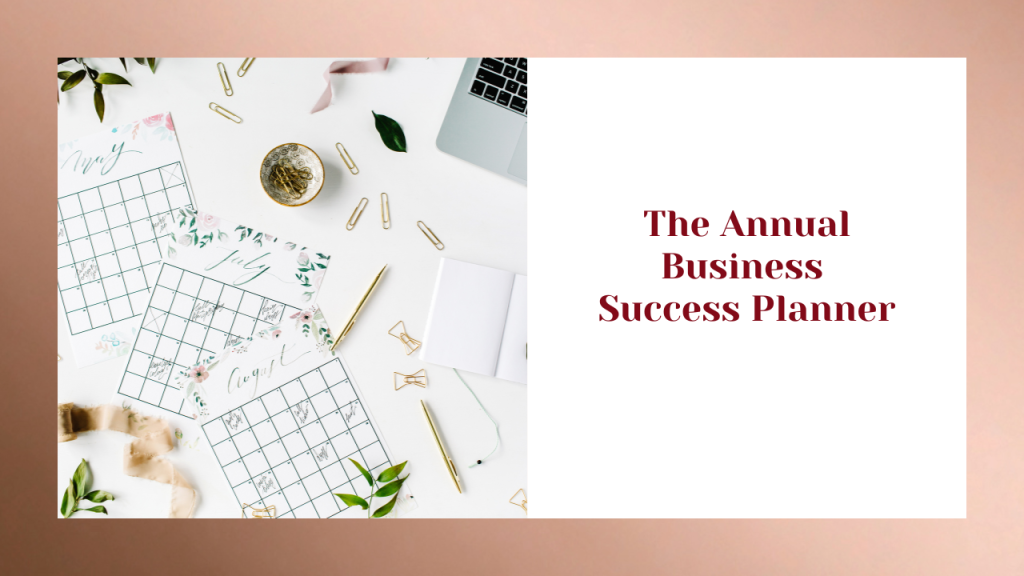 Here's the Annual Success Planner Framework:
1. Dream
This is a 'WHAT you want' list, not HOW you're going to get it. Consider what you want to achieve, be, do, have, eliminate, reduce, and improve.
Include personal dreams in this list that affect your business – YOU are the most important asset in your business!
Here are 3 great questions that can help you with this process:
What would I do in my business if I knew I could not fail?
What would I do if I had all the time and resources I needed?
What would I do if I had all the courage and self-belief I needed?
2. Goals
Turn your dreams into goals. There are no rules on how many goals you set.
Choose what feels both inspiring and doable for you.
Some of the things you want don't have a time frame, because they are habits. These goals don't have an end time frame.
Results goals typically are achievements and have an end date (like publishing a book.)
For each goal, write down why it's important to you. This will strengthen your desire to achieve the goal when the going gets tough.
Having compelling reasons why you want to achieve your goals helps you pursue them, and it's a good way to check they're aligned with your values.
3. How
These are the things you need to do specifically to make your goals happen.
Here are a few examples:
Be consistent in my content creation
Create a new lead magnet every quarter
Have daily conversations with ideal clients
Run a workshop every quarter
4. Action Plan
Now it's time to create milestones and single action steps so you know exactly what to do next!
Things to consider:
What are the resources you need to achieve the goal?
What systems will support the goals?
Am I covering all areas of business?
For example content creation, community, website, email, video, social media, finances, processes & systems, team, skill development and so on.
Example Action Plan

1. What is your #1 desired outcome for the next 30-90 days?
Get 10 new coaching clients
2. What is 1 goal to achieve this outcome?
Run a workshop
5. Review
It's unlikely your plan is going to be perfect the first time you write it, so block out time in your calendar to REGULARLY revisit your goals and plan.
Make sure your calendar includes actions that lead to your goals.
Read through this planner and make any notes and changes to your goal list and action plan and adjust any times in your calendar to do the actions.
Progression is the goal, not perfection.
You will experience setbacks and that's ok. Relax, smile, and keep going.
I hope this has been super helpful for you.
if you want my success planner, type 'planner' in the comments.
If you want help getting clients in this end-of-year season, and setting up your marketing, send me a PRIVATE MESSAGE with the word 'CLIENTS' and we can have a chat about how we can do it together.
Big love
Kat xo
P.S Whenever you're ready… here are 3 other ways I can help you grow your business:
1. Grab a free copy of my 'Client Attraction Checklist'
It's a powerful roadmap to attracting leads, signing clients, and scaling your coaching business. — Grab It Here
2. Join the community and connect with like-minded Coaches & Experts
It's our Facebook community where ambitious entrepreneurs learn how to increase their income, influence, and impact. — Join Us Here
3. Work with me to get more clients
If you'd like to work directly with me to get more clients… just send me a Facebook Message with the word "Clients"… tell me a little about your business and what you'd like to work on together, and I'll get you all the details — Message Here