Do you want to shine in your online presentations?

But do you ever find yourself on camera, feeling like your authentic self is hidden beneath a bundle of nerves?

Or perhaps your audience just isn't as engaged and responsive as you had hoped.

After delivering thousands of presentations, I've discovered 5 critical mistakes that can make or break your presentations, which impacts your engagement and trust.
In this video, I share these mistakes and provide practical solutions to make your presentations a powerful client-converting asset…
Watch the video here…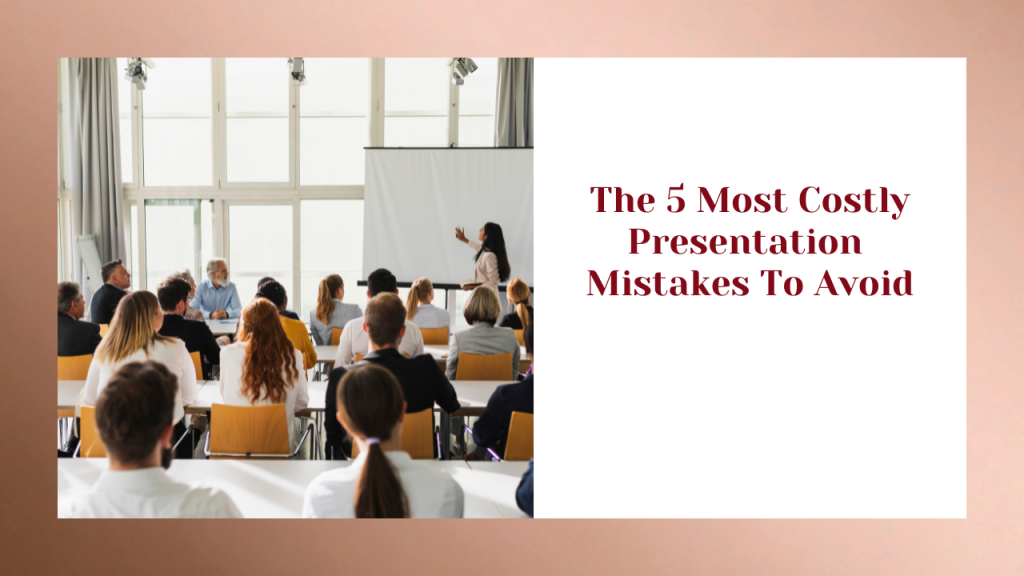 Here are the 5 strategies…
1. Focusing too much on yourself
When you're presenting, the more you think about yourself, the more you'll feel fear because you're thinking about looking good and avoiding looking bad.
Every day that you're stuck in fear and avoiding helping people, someone is suffering.
The key to reducing your fear and feeling confident is focusing on the audience.
2. Neglecting Influence Skills
A lot of people put too much focus on what they want to teach – rather than on influential content – which is content that inspires action.
Are the facts you're presenting inspiring and educating enough to inspire people to take action?
If not, then it's not just information that blends in with the noice.
3. Losing the audience with extremes

It's essential to find the right balance in the way you deliver your presentation.
When a presentation is underwhelming, it means that it hasn't been crafted to provide the audience with shifts in perspective and new inspiration. This can result in a disengaged and uninterested audience.
Being too overwhelming is presenting excessive information, utilising complex visuals, or diving into a high level of technicality that may overwhelm and confuse your audience.
4. Being unprofessional
Being professional involves rehearsing, optimising your environment for clear audio, using good lighting, setting up your device properly, starting on time, using professional PowerPoints, and taking time to craft a highly valuable presentation.
Professionalism is not perfectionism, however. You can still be personable.
It's about giving the most value while still being yourself and it really helps to add your personality and flavour to it.
5. Speaking without structure
You don't want to just give people a whole heap of content or information and leave people to have to figure out what to do with it.
People want organised knowledge.
You want to make it digestible and palatable for them, by breaking it down into steps or pillars using an effective structure.
If you're interested in mastering the art of running successful online events and growing your coaching business.

I'm sharing…
How To Create A Compelling & Engaging Event Presentation
In a way that builds desire, establishes your authority, and effectively dissolve objections.
How To Market Your Event To Attract The Right Audience
Even if you find marketing confusing or hard
How To Deliver A Powerful Online Event That Gets Clients With Ease
To deliver a truly remarkable event experience that captivates your audience, creates engagement, connection, and trust, and effortlessly converts the right people into paying clients.