Do you want to know the best way to go to the next level with your business growth and income?
I'm about to show you the #1 way to get more leads that become paid clients, in less time and how you can earn a leveraged income.
First, I want to share with you what happened when I first moved to Sydney.
If you were with me in December 2012, you would have found yourself standing in a queue outside the Sydney Convention Centre, now known as the International Convention Centre.
I'd seen an ad on Facebook advertising Mike Tyson as their headline speaker, marketed as an entrepreneurial event.
I was wearing business attire and there were a whole lot of other business people in the queue also that looked to be 18-year-old dudes who were carrying their boxing gloves.
There were thousands of people there and there was speaker after speaker sharing on real estate and how to trade shares on Forex. By mid-afternoon, Mike Tyson still had not come out and people started to get annoyed and started to leave.
By late afternoon, the convention centre cleared out and there was hardly anyone left. But I stayed because I wanted to learn as much as I could. Two guys came on the stage called Jeffrey Slater and Kane Minkus, who had just been on tour with Tony Robbins.
They said they had a whole presentation planned, but because there were not many people left they were going to do a Q & A session instead.
They asked people to raise their hand if they had a question. My hand just went straight up in the air before I could even think.
Saying Yes to Opportunities
The mic runner ran up to me and I didn't even have a question. I had trained myself to say yes to opportunities, and my hand went up without having anything to say. When he got to me, I stood up and I told them that I really wanted to be a speaker and I would love to have their advice.
They invited me to come onto the stage. I remember standing on the massive stage and they gave me the mic and asked me to share one piece of advice with the crowd.
Run at Your Fears
Sweating and nervous, I took the mic and said that my one piece of advice is to run at your fears because if you run away from them, they keep chasing you.
I'd recently moved countries from London, back to Auckland and then to Sydney. I had barely any money or friends in this new Country so I knew discomfort pretty well.
But I knew I wanted to be a speaker and I knew that I had to follow my heart and my dreams.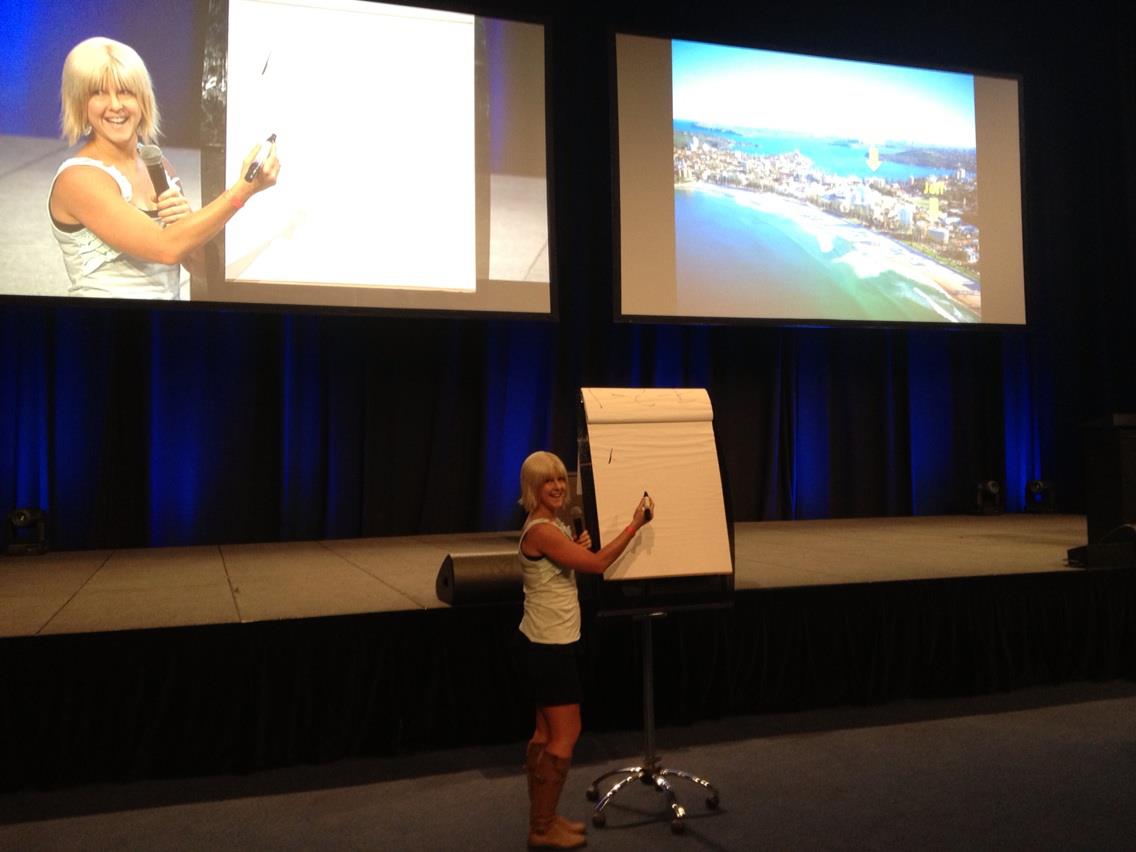 At that moment standing on the stage, I realised that speaking at the Sydney Convention Centre was on my vision board and had been there for eight years prior.
On that day, part of that dream was realised. I know I wasn't the speaker on the day, but two years later I applied to be a speaker at the International Convention Centre for a fitness convention that I had attended many times.
I didn't think I was qualified enough and I didn't think I'd be accepted. But I was! In 2017, I spoke at the International Convention Center, and that was the dream coming true from my vision board.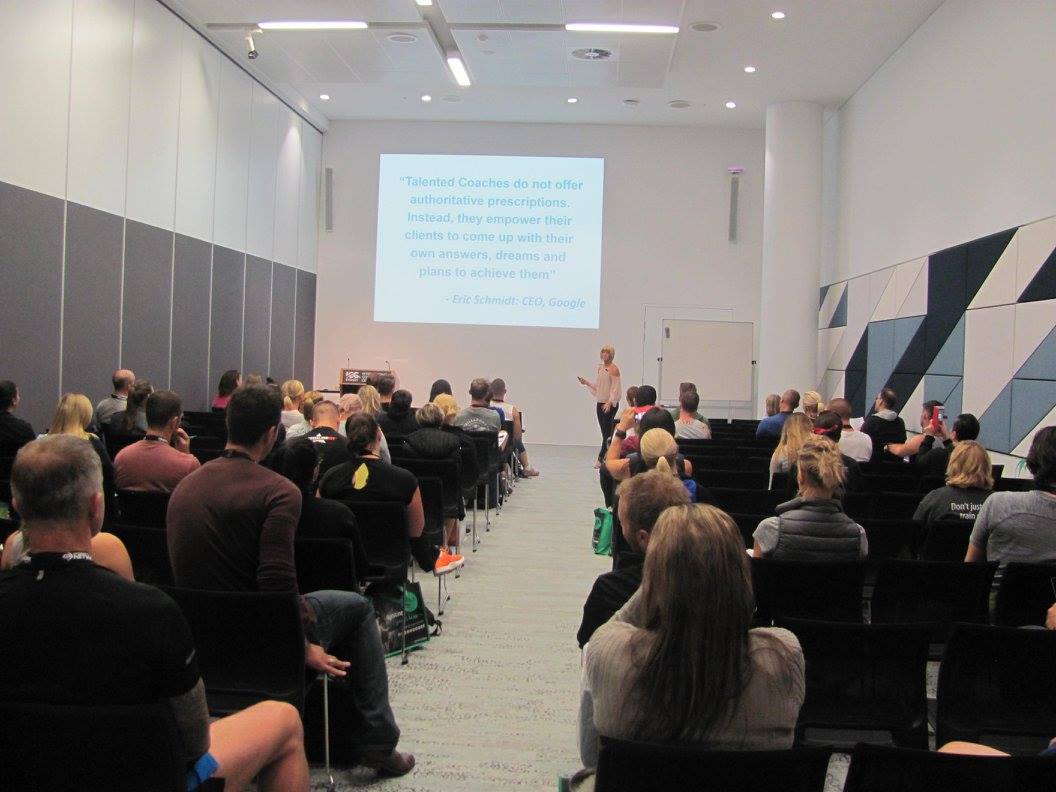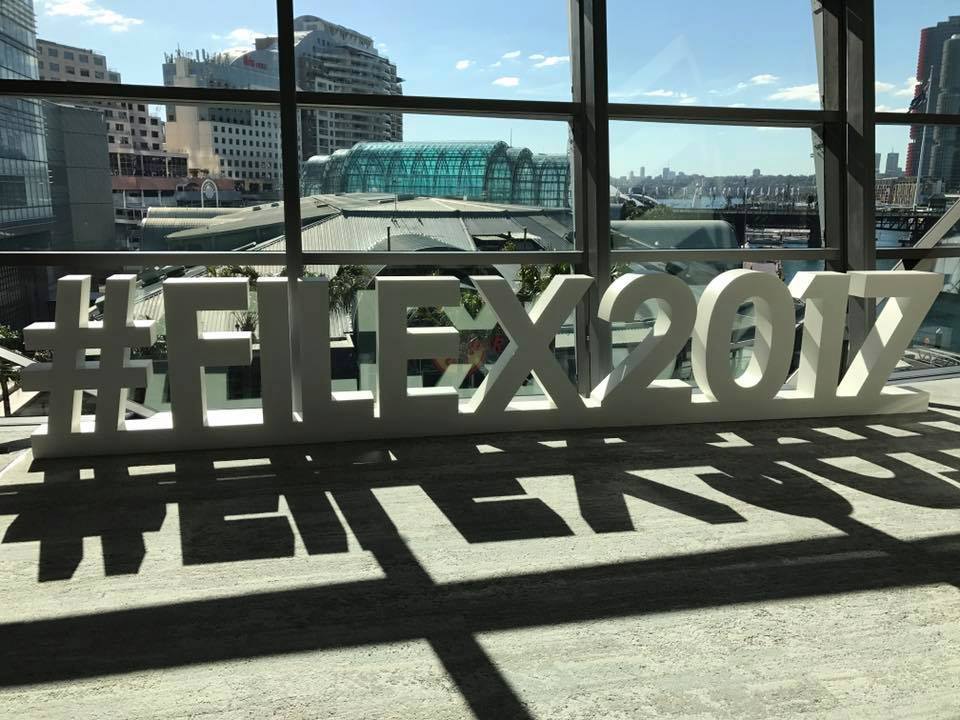 When I stood up on stage the first time at the Mike Tyson conference, I was nervous, shaking and my face was bright red.  But in 2016, I was actually the speaker and I was calm and confident.
The Mike Tyson conference was the day that I realised I wanted to have a platform. It felt so good, even though it was nerve-wracking and I'm an introvert and struggle with being in the limelight.
I was doing a lot of one-to-one training and coaching at the time. But I realised that if you want to leverage your time and make a big impact, then one-to-one is just not going to cut it.
You cannot make a big impact if you're only working one by one people.
If you want to leverage your time and speed up the process to grow your business, you need to be able to speak one-to- many.
Waking Up Your Identity
Success starts with waking up our identity.
One of my favourite speakers, Benjamin J Harvey talks about waking up your future belonging. It's like an identity, where there's a part of you that 'wakes up' and realises who you want to be.
That could be an author, a mother, a spiritual advisor, a teacher,  trainer, or an educator, for example.
In 2013, I was sitting in a visionary leadership conference with John DeMartini and Benjamin J Harvey. Again, my future belonging was awoken, as Ben as he said something that really stood out to me.
He said if you're willing to get on a platform, (it doesn't necessarily mean physically standing on a stage), but if you're willing to do the hard thing that most people are not willing to do – public speaking – you separate yourself from your competition.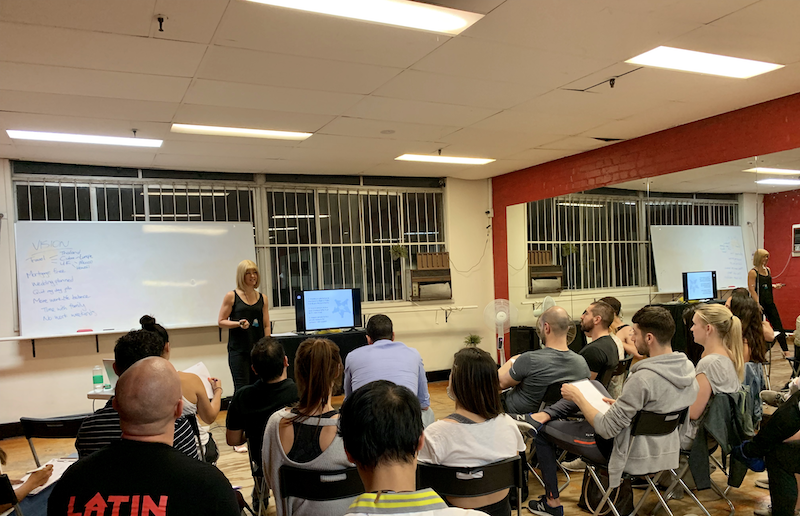 People on a Mission Have no Competition
If you're willing to step out and face your fears of public speaking, and if you're willing to talk about what you love and share your message with the world, you will stand out from your competition.
I definitely had a massive fear of speaking in public. I didn't even think that I would be able to speak to a room of 10 people in a group workshop, let alone a massive group.
When Ben Harvey shared the impact that you can make from going from a one-to-one model to a one-to-many model, it awakened something inside of me. Instead of thinking "Who am I to do that?" I started to believe "Why not me?"
Why not me? Why could I not do that?
When Ben asked if there were people who wanted to make that change in their business, I put my hand straight up. I put the $495 deposit down for their 'Present Like a Pro" course, which cost $5,000 at the time.
I didn't have the money. I had rent coming up, but I found the money. You always find the money for things that are important.
I've well and truly made that money back now – I've turned that $5,000 into a six-figure coaching business, doing what I love, using mostly the one-to-many model.
The Power of Presenting
The one-to-many model is the #1 way to get more leads in less time.
Running events is an amazing way to get clients and a great way to improve your credibility, improve your expert status, and to leverage your time.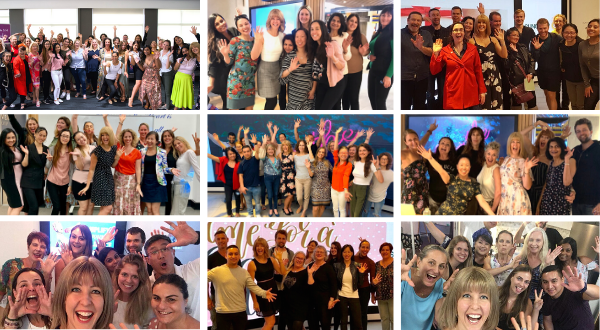 And now it's super easy to do it online.
I resisted doing this as a consistent strategy for ages. But when I finally made a decision and take action, it turned my business around. I've now run over 100 online events and 100 in-person events and it's been the one thing that has made the biggest difference in growing my clients.
If you run an online event, you can speak to 50 or 100 people during that time, instead of speaking to people one at a time.
Running events speeds up the time it's going to take to reach that many people. If you want to accelerate your success, it's a no-brainer.
The reason many of us have avoided events for so long is because of fear.
It could be fear of what people might think or fear of failure, fear of judgment, fear of being an imposter, or fear of not knowing enough.
When you decide to show up, despite the fear and when you decide to be the kind of person that does a one-to-many model, rather than a one-to-one model, and you provide great value, success is inevitable.
You can really accelerate and explode your business growth.
I've had a growth explosion during COVID-19. I was doing mainly in-person workshops, but I pivoted fast and started doing online workshops.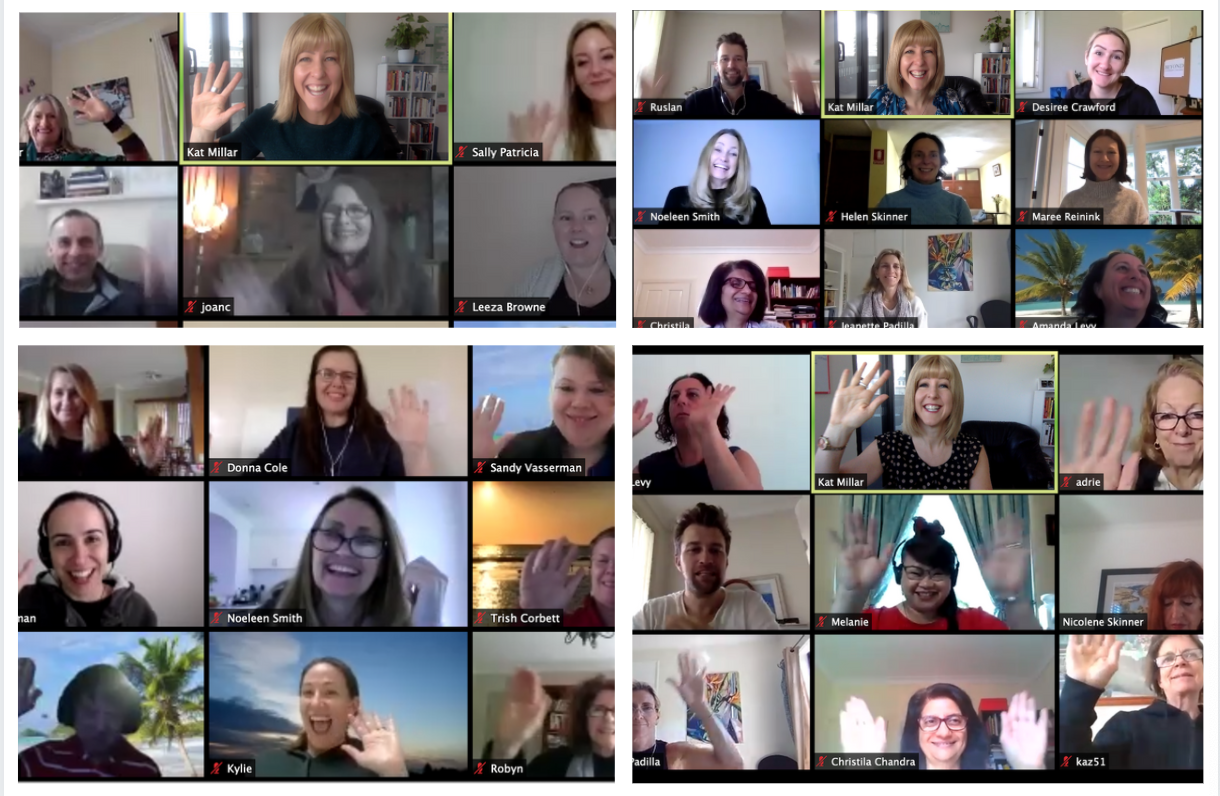 Holding online events means people from other states and countries can attend.
I recently did a Grace Lever online event that 700 women from all over the world attended and it was brilliant.
I also crewed an Authentic Education online presentation course and coaching course, and 79% of the people said they preferred the online environment, which I found fascinating.
Leverage Your Time, Speed Up Results, Get More Leads and Paid Clients
The one-to-many model is the best way to leverage your time, speed up your results, get more leads and paying clients in a short amount of time.
I'm sure you would love to be able to share a message talking about something you love and have lots of people listen to it. It's a great way to make money when talking about what you love.
If you want to get clients, you can really only do two things: You can write and get people through your written content, or you can speak and get people through your spoken content, whether that be on video or on audio.
You're not going to build a business if you don't create content. Business is about people exchanging value to get a return of investment. So many business people are unwilling to face their fears and step up to make content.
It's a step-by-step process. You need to learn the skill of presenting, learn to talk on Facebook Lives, and learn the skill of creating influential content.
You can't just show up and ramble your way through an event. There is a formula and a specific structure you need to follow to make sure that people engage and get value from what you're sharing.
There's also a structure to getting them to turn up to your event, which is the first hurdle and that's where you use marketing.
I predominantly teach my clients marketing and sales, both in written content and in presenting at live or online events and workshops.
You've also got to be able to keep them engaged and make sure that they are inspired to take action. It's about inspiring people to be able to go out there and apply what they've learned and that takes a specific structure and formula.
If you're willing to step up and do the one-to-many, you can leverage your time and build your business quickly.
Want some help? Book your free* 45-minute client attraction strategy session with me here
(first-time sessions only)
The world is waiting for your brilliance. Now is your time to shine!
Kat