Do you feel like you've hit a ceiling with the impact and income you're creating in your business?
Have you been sharing content to the same audience for months and not seeing the results you want?
You want to attract more clients but don't know what to do differently.
Maybe you tend to overcomplicate or overthink things when it comes to content marketing.
There are 2 things your content MUST have in order for your business to grow: connection and credibility.
Connection is necessary for people to feel they know and like you. Without it, they're not going to become a client.
Credibility demonstrates your ability to help people achieve a result. It's the authority and trust piece of your content.
What's the fastest way to accelerate the growth of your connection and credibility?
One word – video.
When it comes to growing your business through video content, three common problems arise.
Many people feel overwhelmed by the amount of information and tasks involved, causing them to procrastinate and struggle with consistency.
Lack of confidence hinders their ability to show up authentically and fearlessly on camera, leading to self-doubt and avoidance.
Not knowing how to effectively communicate their message. resulting in rambling and ineffective content.
Overcoming these problems requires a clear formula and structure to follow, ensuring enjoyable and valuable videos that resonate with viewers.
Watch the video here…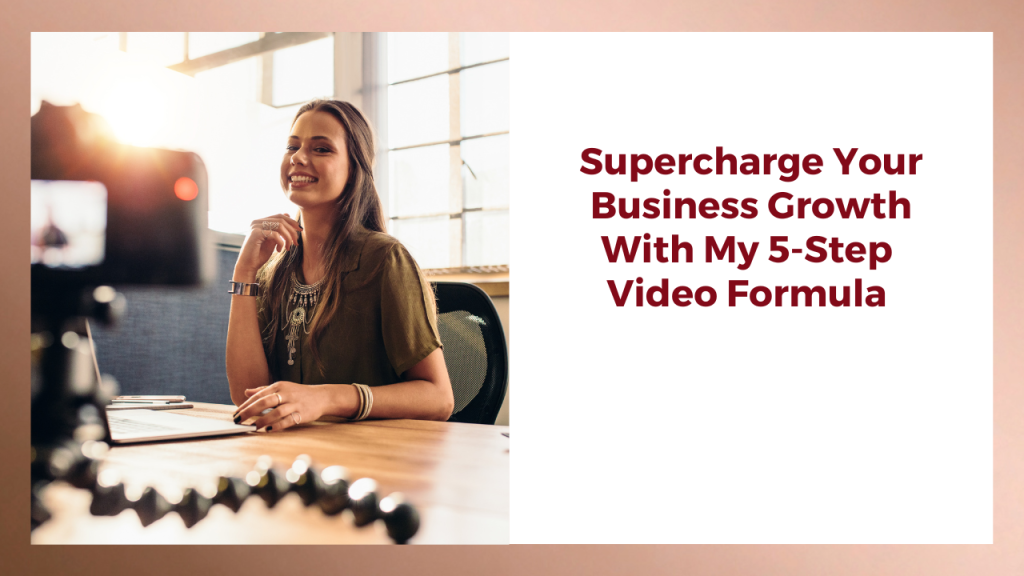 Here is the 5-step video formula…
1. Grab attention by using powerful questions or strong statements that resonate with your ideal clients, capturing their interest from the start.
2. Explain the importance of the topic and provide compelling reasons for viewers to pay attention and make a change, helping them understand the value they will gain from your content.
3. Establish credibility by briefly highlighting your qualifications or experience in the field, building trust and confidence in your expertise.
4. Teach your audience by offering educational content that addresses one specific problem and challenges their existing beliefs, empowering them with valuable knowledge and insights.
5. Include a call to action, giving viewers two options to engage with you, such as typing a word in the comments or sending a direct message, facilitating active participation, and fostering a sense of connection.
P.S Whenever you're ready… here are 3 other ways I can help you grow your business:
1. Grab a free copy of my 'Client Attraction Checklist'
It's a powerful roadmap to attracting leads, signing clients, and scaling your coaching business. — Grab It Here
2. Join the community and connect with like-minded Coaches & Experts
It's our Facebook community where ambitious entrepreneurs learn how to increase their income, influence, and impact. — Join Us Here
3. Work with me to get more clients
If you'd like to work directly with me to get more clients… just send me a Facebook Message with the word "Clients"… tell me a little about your business and what you'd like to work on together, and I'll get you all the details — Message Here