Are you passionate about coaching, but marketing feels like a chore?
Do you find yourself resisting writing content, recording videos or sending emails?
Maybe you keep putting off marketing until the last possible minute.
Maybe it intimidates you, feels like hard work, or is draining…
…yet you know that it's essential to grow your coaching business.
But what if I told you it's possible to not only tolerate marketing, but actually LOVE it?
What if marketing could feel as fulfilling as coaching?
And becomes something you look forward to doing, rather than something you just have to do.
If you want the secrets to attracting clients in a way that feels like a warm embrace, not a sales pitch…
Watch the video here…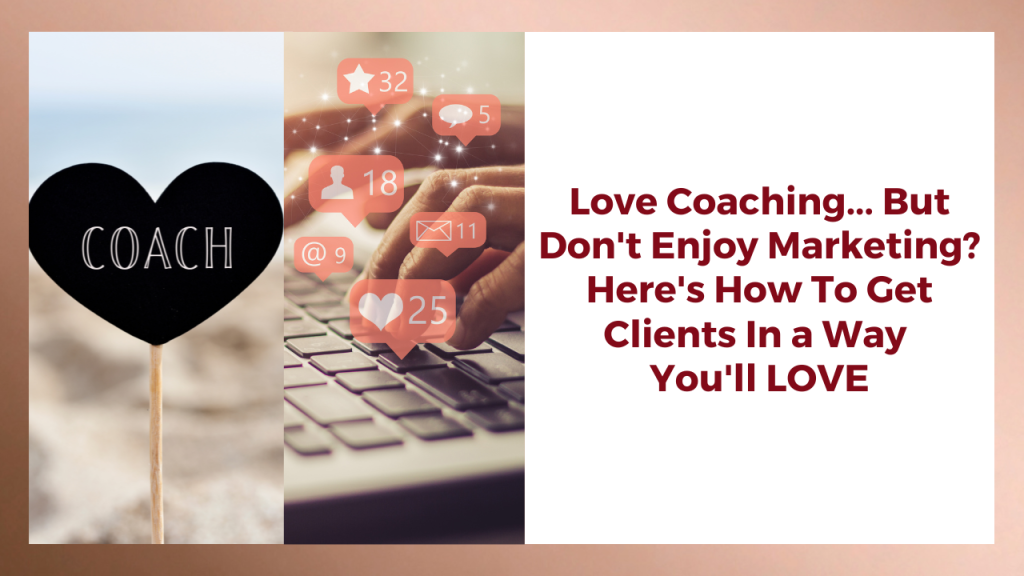 Here are the 5 things…
1. Create an Irresistible Offer
Build a valuable asset for your audience – an irresistible offer that caters to your ideal clients' needs.
Craft this offer thoughtfully, ensuring it aligns perfectly with what people want.
2. Share Passion with Ideal Clients Online
Engage your ideal clients on social media by discussing topics you're passionate about.
Address only your ideal clients, avoiding general audiences, and focus on providing assistance in areas you can help them with.
3. Market Like You Coach
Embrace a coaching mindset in your marketing approach.
Use your marketing as a coaching session, guiding your audience's beliefs and removing obstacles.
Educate and advise them, just like you would in a coaching or mentoring relationship.
4. Consistently Extend Elegant Invitations
Regularly invite your audience to take the next steps, such as downloading free resources or attending events.
Employ elegant and consistent invitations, gradually warming them up before proposing a working relationship.
5. Foster Strong Relationships
Maintain strong relationships with your audience.
Show care, encouragement, and belief in their potential, similar to the way a coach nurtures their clients.
Longevity in your coaching business comes from genuinely looking after your people.
P.S. Whenever you're ready… here are 3 other ways I can help you grow your business:
1. Work with me to get more clients
If you'd like to work directly with me to get more clients… just send me a Message with the word "Clients"… tell me a little about your business and what you'd like to work on together, and I'll get you all the details.
2. Join our community and connect with like-minded Coaches & Experts
It's our Facebook community where ambitious females entrepreneurs learn how to increase their income, influence, and impact.
3. Grab a FREE copy of my 'Client Attraction Checklist'
This is a powerful roadmap to attracting leads, signing clients, and scaling your coaching business.
Big love
Kat xo