Want to be the coach that clients can't WAIT to work with?

A lot of coaches get stuck thinking that to get clients with their content they need to…

– Post every day
– Get loads of likes and comments
– Have a big audience
– Follow people up
– Be across every platform

But the truth is, you can create a successful coaching business WITHOUT any of these things.

Based on my experience working with hundreds of coaches, I can tell you that what you need instead to become an in-demand Coach is to accelerate TRUST with your audience.

There are 5 powerful things you can do to turn your followers into clients.
Watch the video here…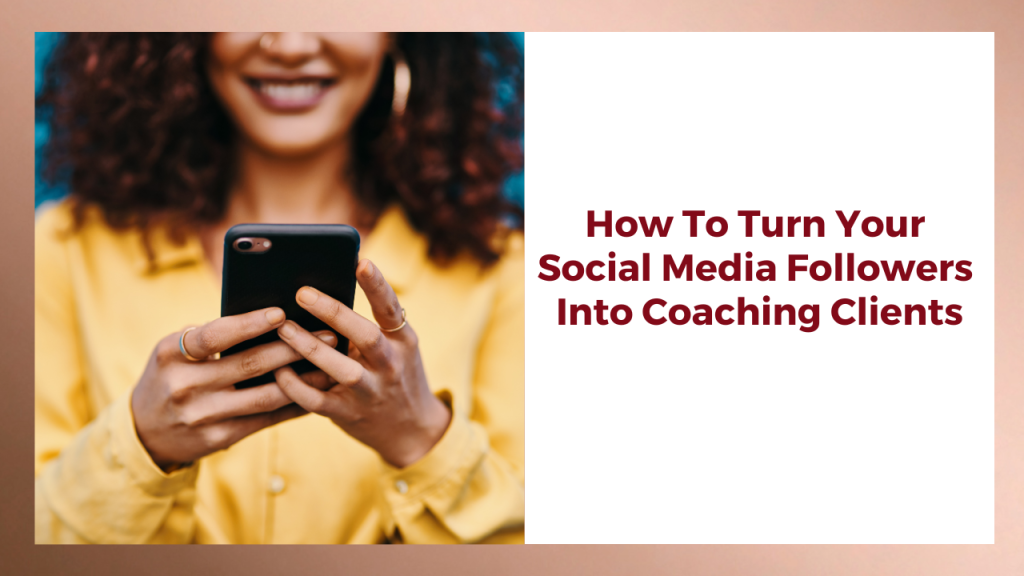 Here are some of the highlights from the video:
More and more people become coaches and head online to do business.

That means, that we as coaches need to level up the way we engage with our audience, communicate our value and show how we can help them.

Being a good coach is not the same as being able to grow a successful coaching business.
In fact, less than 24% of coaches are able to sustain themselves and focus on coaching full-time.
Only a profitable coaching business (not just coaching) gives you the FREEDOM to coach people all around the world and enjoy a great lifestyle, help lots of people, and be rewarded for it.

There are 5 powerful ways I recommend to turn your social media followers into coaching clients:
1. Speak More About Outcomes Than Methods
A big mistake coaches make is speaking too much about the methods or the processes of what they do in their marketing.

Rather than getting into the nitty-gritty details (and giving away your 'trade secrets'), focus on selling the dream—the ultimate outcome your clients will achieve.

Sharing valuable and inspiring content is about igniting their desire for change rather than telling them what to do.
2. Build a High Level of Trust
Anyone can create an Instagram account – it doesn't make them an expert.
We can't assume that people know that they can trust us. We need to prove it.
It's only if we are PERCEIVED as trustworthy that people want to work with us. We can show that we are trustworthy by positioning ourselves as an expert in the marketplace.
I recommend you prove your expertise and build trust by consistently sharing the 3 E's:
– Experience
– Evidence
– Education
This helps you to back up our claims, provide value, and support what you're saying to build trust consistently.
3. Shift Beliefs With Your Content
This is about taking the time to craft well-thought-out, well-worded content.
If people need what you offer and have the resources to buy it, there's typically only one reason they're not responding to your content or reaching out to work with you.​

It's because they don't yet believe they can get the results that you offer. ​That's why we need to shift beliefs using our content.​

Belief-shifting content challenges your audience's existing beliefs – their perceptions and their way of thinking
4. Be Contrastive
Stand out from the crowd by showcasing how your coaching approach is distinct and more effective than others.
Don't be afraid to go against the trend or be contrarian.
Share your unique opinions, and repel the wrong audience.
What are you teaching NOT to do? What are you standing against?
Show them why your approach is different and why it works better.
5. Move People Along the Client Journey
We want to encourage people not to just be passive consumers, but action-takers as a result of what they read or watch from us.
Guide your followers towards the next steps, whether it's joining your Facebook group, booking a strategy session, or downloading a free resource.
Remember, it's not just about creating content; every content piece should be chipping away at the limiting beliefs or the resistance or the blocks people have to taking action.
It's about building trust, nurturing, and supporting people.

When you know how to do these 5 things…

…you impact more lives
…more people reach out who want to work with you
…your content turns your followers into your clients
If you want to learn the exact formula that I use and teach to my private clients then join me in my upcoming workshop:
"How To Get Coaching Clients With Easy Marketing"
I'm sharing…
* My Signature Compelling Content Formula
How to craft your language to rapidly build trust with potential clients & inspire them to want to work with you

* The 24/7 Marketing Machine
How to effortlessly automate your lead generation with a simple 4-step marketing funnel

* The Elegant Conversion Event
A proven plan to launch a profitable online event

…so you can reliably FILL your events & calendar with qualified clients.

You'll walk away with a proven formula you can continue to use for years to come…
 
Spaces are limited.
Claim your FREE ticket to the online workshop here
Looking forward to seeing you there!

Kat xo