‍You want more coaching clients, but you want to do it in a leveraged way and without burning out or becoming resentful.
You're really passionate about helping more people and making a bigger difference.
You'd love to earn a higher income by speaking about what you love.
You value connection, you're an action taker and you love providing massive value, while also signing amazing clients into your business.
If you're serious about growing your coaching business.
If you have a lot happening in your life and don't want to do endless marketing and sales…
…but want more of the right clients, you need a way to enrol multiple people at once into your program.
The BEST way to do it is by running online events.
It's by far the most effective strategy you can do.
If you're willing to learn how to do it and ACTUALLY do it – over and over again so you improve on it, THEN you'll have an incredibly valuable asset.
Watch the video here…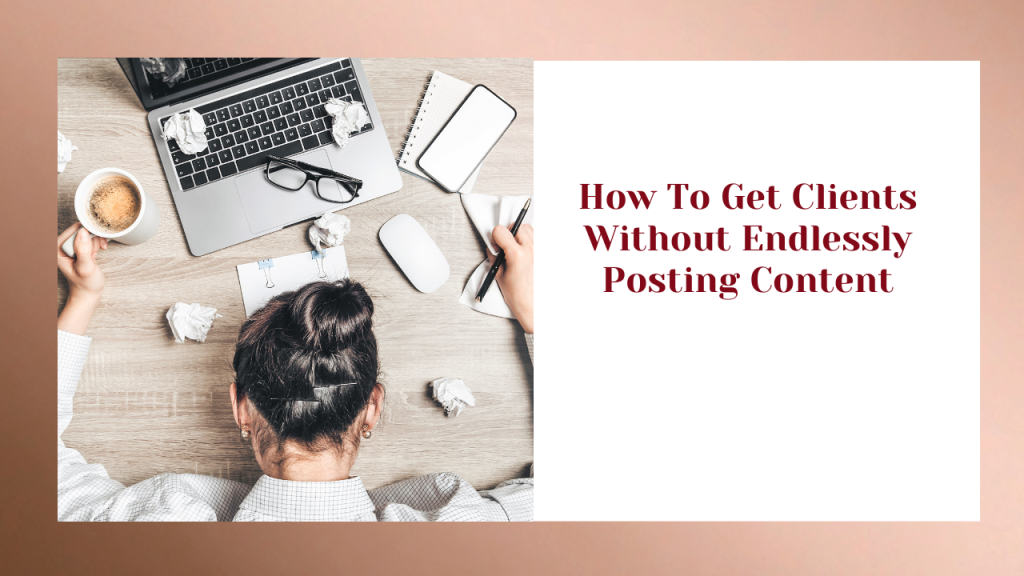 Here are some of the problems you'll probably face if you don't have an online event…
1.
You end up having to chase clients – not attract them
You feel like you're that pushy salesperson…Chasing people – constantly DM'ing people. It's not fun.
You don't have to constantly sell your offer or your strategy session via socials or DM's.
It feels so much nicer and easier to invite people to something of value.
2. You don't leverage your time
You can dig yourself a hole that's hard to get out of – doing manual work that isn't leveraged. With events, you earn more money without more work.
You want to set up your business so you don't run it manually. It requires time upfront to create the asset, but then you're saving time in the long run.
3. You end up repeating yourself
Do you find yourself saying the same thing to people in your coaching sessions?
When I was only doing 1-on-1 I used to repeat myself all the time.
You can share something 50 times in a 1-on-1 session and that would take 50 hours.
Or you can share it to 50 people in 1 hour.
You 50x your impact.
4. You spend more time listening than talking
When you run events, you get to speak about what you love. Sales require a lot of listening Coaching requires a lot of listening.
If you also love talking, events are perfect for you. Especially if you're the kind of person that loves educating.
You leave money on the table…
You could be just one event away from earning 5-figures.
When you know how to deliver effective events
You could be just one event away from earning 5-figures.
You massively leverage your time
You create instant positioning
You have a system to sign up clients whenever you want them
You build deeper relationships with people who love what you're sharing
5. People choose you over other options
People want more connection.
Written content still has its place. But studies done by Livestream show that 79% of people believe that live stream videos provide a more authentic interaction with the audience.
Audiences spend about 3 times as long watching live-streamed videos, as opposed to watching traditional pre-recorded videos.
People who are willing to show up on camera and share their expertise build their businesses faster.
If you're willing to run online events…
1. You can sell out your offers and get booked out fast
Making an offer to multiple people is like a clean sweep you don't have all these sales calls booked knowing that a certain percentage are going to sign up. It happens really quickly.
I remember doing a workshop once and completely filled up my program and for three months I didn't have to do any marketing because my program was full from this one event.
2. You start to attract and sign up ongoing, quality clients on 'repeat'
You have the system you roll it out every month or every quarter however long you want to do it.
3. It rapidly delivers certainty
You have an asset that sets you up for future success. You don't have to get stuck doing endless sales calls.
If you're willing to do it. Even if you don't know how. Even if you're scared. You'll have an incredibly valuable asset.
It will leverage your time. It will help you be seen as an expert. It's predictable.
Over the last decade, I've run over 350 events, and I've created a proven system that's predictable and helps you master the skill of running awesome events that people love and it signs-up clients.
If you want to step up and run events – and get clients from your events by following a proven framework, I have good news.
I'm running a FREE live online workshop called
'How To Grow Your Coaching Business With Online Events'

I'm sharing…
How To Create A Successful Event Presentation
In a way that builds desire, establishes your authority, and dissolves objections. Whether that's a 1-hour masterclass, a 2-day workshop, or something in between.
How To Market Your Event So The Right People Come
My secret method to get the right people to register AND show up to your event, so you can fill your events with qualified clients every time, even if you find marketing confusing or hard.
How To Deliver An Engaging Online Event With Ease
Discover how to deliver an event in a way that WOWS your audience with value, creates massive engagement, connection, and elegantly extends an invitation to your offer to the right people.