What if you could sell more of your services, at a higher price, just by tweaking your offer?

Imagine if your offer was a complete no-brainer for the right people to take up.

The best way to do this is to optimise your offer to make it IRRESISTIBLE so that your ideal client can't refuse it.
Why Optimise Your Offer?
To make you stand out in the marketplace

It helps you want to have more sales conversations

To get crystal-clear clarity on what people will receive

To go over-and-above with no-brainer value

It will give you the crucial confidence, conviction and certainty you need to sell it

More people will convert to clients – which equals more influence, more income and more impact – which is why most of us are in business
What Is An Irresistible offer?
An offer that the right person simply can't refuse because it's got the key ingredients, the elements that make the offer. What Alex Hormozi calls an offer that people feel stupid saying no to.
Mark Joyner in his book defines The Irresistible Offer as "an identity-building offer where the believable return on investment is communicated so clearly and efficiently that it's immediately apparent, you'd have to be a fool to pass it up"
He says, "An irresistible offer is the antithesis of old-school marketing through coercion.
It cuts through the noise and gets people to buy. It's so powerful that it must be the core of your business. Before you engage in any other marketing activities.
The Irresistible Offer must be your starting point."
Having an irresistible offer is one of the most important assets you can have in business…

…and creating an offer where people clearly see the value (and don't question the price!) is actually easier than you might think.
And I'm going to share with you exactly what you need to do.
There are 4 foundational offer questions that must be clearly answered:
1. The WHO – Who is the specific person your offer is for?
2. The WHEN – What is the period of time of delivery?
3. The HOW – What is the primary delivery method?
4. The WHAT – What is it exactly, in simple terms?
Over the last 19 years in business, I've identified that there are 8 essential elements to include in every offer that you put out there.
I call this 'The Irresistible Offer Formula'.
You can check out the video here…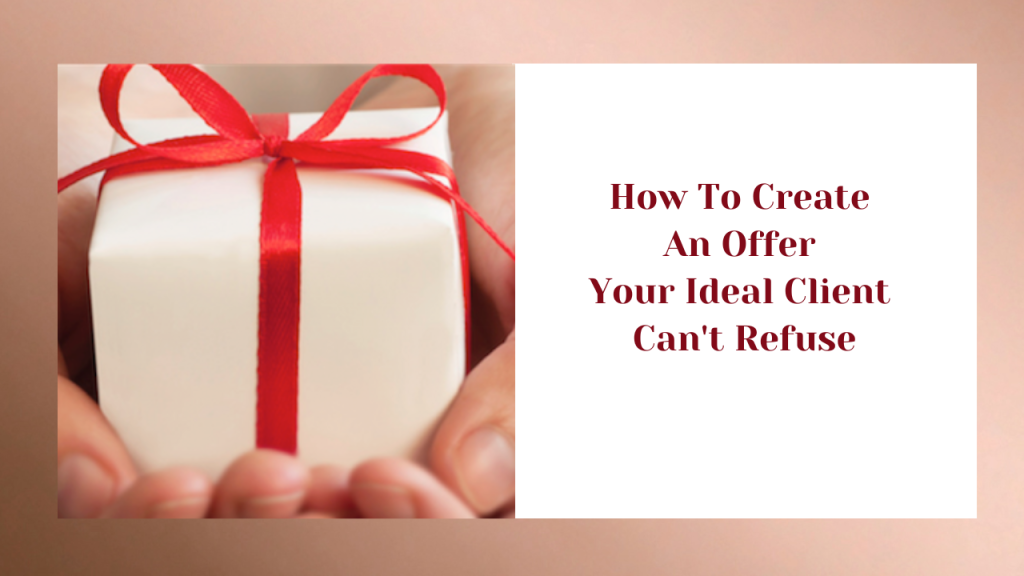 The Irresistible Offer Formula
There are 8 essential elements that make your offer irresistible:
1. Irresistible Inclusions
There are 3 inclusions I recommend are part of your offer:
Curriculum (a step-by-step plan for the result)
Coaching and/or mentoring and support
Community – a group of people to journey with.
What irresistible inclusions will you include in your offer?
2. Juicy Bonuses
Everyone loves bonuses. And we want to make them almost as valuable as the whole program.
I call this juicy because it's those things that people think I have to have it.
What are some juicy bonuses you can include?
Done-for-you elements
Extra support e.g 1-on-1 session
Gift pack
MP3 audios
Checklists, templates or guides
Trial
Gift voucher
VIP virtual events
Training videos
3. A No-Brainer Guarantee 
We call this a risk reversal strategy. If you've got this in place if there's no risk to joining people are much more likely to join.
Alex Hormozi did research on the profit that you get by having that guarantee compared to if you don't have it.
People will sign up because it's a no-brainer guarantee.
it could be a seven-day happiness guarantee or a 14-day money-back satisfaction guarantee something like that.
What's your risk-reversal strategy?
4. Scarcity
Scarcity is where we want things if they're not readily available all the time to us.
How many spots are you going to make available? If you've got these added bonuses that include your time… your energy… then you can limit the number of spaces available and how many people can join.
Scarcity is so important to have in your offer. Yet many people forget about it.
5. Urgency
Urgency is why must they act now. This is typically going to be that there's a date deadline or a deadline where the bonuses disappear.
Whenever I run workshops there are set bonuses for a set amount of people and for a set time frame.
The scarcity is about how many the urgency is about the time. for example, this replay is coming down at midnight on Friday.
Always honour it. You don't want to play with this. You want to make sure your word is your word and you have integrity.
6. The Right Price
You have to offer more value than what they're paying for.
You need to come in at a price point that feels comfortable and you feel confident selling it. Otherwise you won't be able to sell it if it's a price point that you don't feel confident sharing.
It might be that you get a little bit out of your comfort zone but you want to taper it up. You might have a price point for a certain amount of people. Then you raise your price for a certain amount of time or people.
Then you raise your price again. I could talk for hours about pricing. I've got a whole section in my training module about pricing. You've got to consider the price really highly don't rush it.
if you need some help with that just reach out.
7. A Clear Promise
What is the clear outcome that you're promising with your offer?
Here are some examples:
Repair the relationship with your partner
3x your productivity in the workplace
Lose 5 kilos
Eliminate clutter in your home
Get fully equipped to find your soulmate partner
Confidence to speak up at work
Emotional healing of past wounds causing anxiety
Leadership skills to increase respect and unity in your team
Overcome emotional eating
Deal with divorce or get through a through break-up
Overcome over-drinking, fear of public speaking, anxiety or shyness
These are specific outcomes that people want. That's on their mind… That is painful for them…
You don't want to sell something that people think it's kind of nice to have. Ye want to sell something that people desperately need and that's a specific outcome.
8. An Outcome-Based Name
The name of your program should be based on the outcome. It needs to be short, snappy, and aspirational.
You don't want to have a title that has pain in it for your actual program. You might use pain in advertising a Facebook live or a freebie downloadable or something like that.
The actual name of your program needs to be outcome-based.
I'm building out all 8 of these elements with my clients on my VIP Immersion Day this Friday. It's a members-only event, and normally the only way to get there is by working with me in one of my paid programs.
But I've opened up some guest spots, and have a few spaces left so if you'd like to join us, check it out here.
If you can't make it on Friday but you're looking to get more clients at the moment and you'd like to know what your options are for working together, DM me the word 'CLIENTS' and I'll get you the details.
If you want to know how to attract clients consistently. Get booked solid with amazing clients and reach $10K or more every month.