Want to know how to turn your content into clients?
You get that creating content is one of the most effective ways to attract qualified clients.

Yet you're finding that your content isn't consistently leading to clients.

It feels like you're second-guessing what you're doing, and if someone reaches out to you from your content, it can feel like a miracle…

The most frustrating part is not knowing how to address the issue if your content isn't getting the response you hoped for.

A lot of times this happens when we post the same type of content, hoping that one day it will work.

For example, focusing solely on lead-generation content, without building the trust and connection needed for people to be inspired to reach out to you.

The challenge with this is that it overlooks essential elements crucial to the success of an effective content strategy.

There is a range of content types required to motivate action that most coaches don't realise – and it's hurting their business.

For someone to take action on your content, they need to trust you, feel a connection with you, and see you as the logical choice for solving their problem.

When we strategically include a variety of types and elements in our content, we can generate leads consistently every week.

In this video, I'm sharing the 5 types of content that myself and my clients rely on to consistently grow our audience with the right people.
Watch the video here…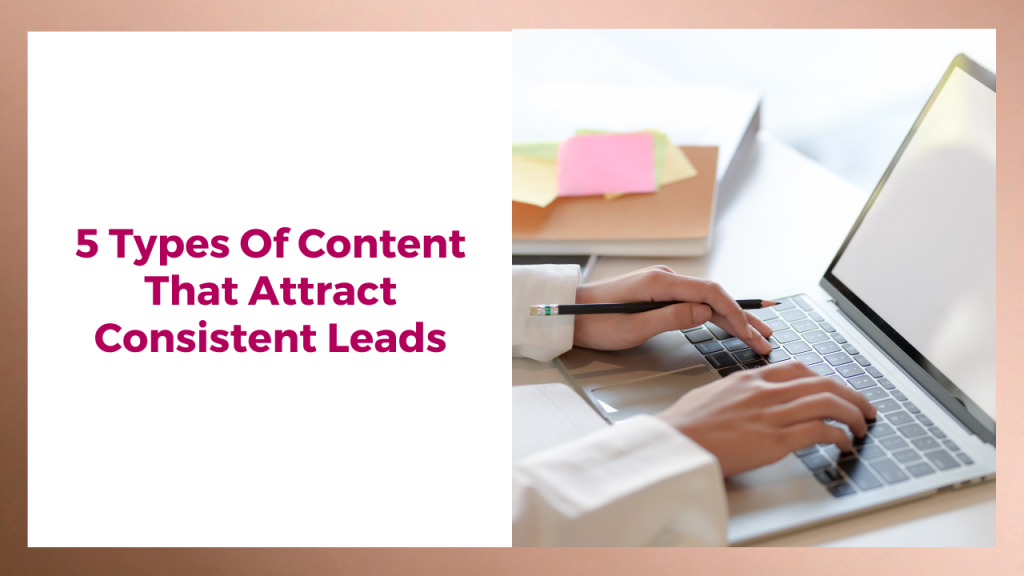 There are 5 types of content that I use and my clients use to get clients.
Each type of content has a different purpose and I recommend rotating between them. Here are the 5:

????????‍???? Educate content

The purpose: Elevate your expertise, teach and coach your ideal client on a specific topic.
Examples: Share common mistakes, hot tips that will help them progress, answer commonly asked questions, and shift beliefs.
????️ Engage content

The purpose: Build community and create engagement. Perfect for Facebook groups.
Examples: Invite your audience to discuss topics, answer fun questions, make recommendations, or offer a shout-out for them to share something.
???? Enlighten content

The purpose: Build trust and rapport, show and demonstrate.

Examples: Share glimpses behind the scenes of your life or business. Share case studies about a client, spotlight a member, celebrate wins – personal or people you know.
???? Edutain content

The purpose: Establish authority position, rapport, and connection.
Examples: Blend personal stories with a mixture of education and entertainment. Open up about your challenges and current life experiences, sprinkling in valuable insights. Express your opinion on something relevant to your audience.
???? Exchange content
The purpose: Invite action, to convert followers into clients.

Examples: Invite people to an event or strategy session, or make a direct offer to your program. Include who it's for and the benefits and problems it solves.
A lot of content on social media, emails, or blog posts, exists as a disconnected collection rather than an active part of a client journey.

To get more leads, it's beneficial to create your content pieces as part of your whole over-arching strategy in order to lead people along the journey from strangers to leads to clients.
It's also important to know what to say in your content and how to structure it so that it inspires action and leads the right people to working with you.
The way I do this is by using brain-based influence principles. It's an elegant way to light up different parts of the brain used for decision-making.
When you know how to apply these principles in your content, you can experience a rapid increase in clients.
Which of course means more money, and transforming more lives.
If you want to know how to do this, you may want to check out my FREE live online workshop 'How To Get Coaching Clients With Compelling Content'
This workshop takes the best of what I've learned from using content to attract clients online over the last 10+ years…

…and lays it all out in a simple formula that ANYONE can follow.


I'm sharing:

* The 7-Step Content Formula To Structure Your Content
My unique proven formula for creating compelling content that cuts through the noise, and deeply connects with potential clients.

* My Signature Content Map
How to effortlessly create a 4-week content plan in LESS than an hour, and how to use your plan to enrol new clients into your program or services consistently.

* The EXACT Words & Phrases To Steer Clear Of
Stop people scrolling past your content, (and losing the opportunity to work with you) by understanding key words and phrases that can repel your dream clients.

​* 3 Timeless Brain-Based Psychology Principles 
How to transform your content to make it INSTANTLY attractive by understanding exactly how to speak to the 3 different parts of the brain so that right-fit clients reach out to you.

* How To Use Elegant Influence To Turn Your Content Into Clients
When you learn the skill of creating compelling content, it can make you money for the rest of your life.
 
It can RAPIDLY speed up the process of moving strangers to clients by a whopping 5-10x (or more!)

It works even if you're not currently good at creating content.

Imagine knowing how to transform your content to be truly irresistible, engaging & mind-blowing to your audience!

This is your golden ticket to being reliably fully booked with ideal clients.

I only run this workshop once a year, so claim your FREE seat now before all the spots are gone.

This is an intimate workshop where you get personal feedback, so there are only 30 spaces available.
 
 Go here to check it out and reserve your FREE ticket to the workshop

Looking forward to seeing you there!

Kat xo