Content creation is an important part of a trust-building marketing strategy.
If you can't seem to get your content to consistently engage people and convert followers into clients, it usually comes down to some sneaky mistakes that a lot of people don't know about.
There are people out there head banging for the help you provide, but most of them currently can't find you.
People with problems you can solve are wading through Facebook right now… and if you're not jumping out to them.
It's probably because your words aren't crafted to be as compelling as they could be.
It's not because you're not awesome, it's because your content isn't grabbing and keeping their attention.
Your word choice has the ability to produce a flick of the finger, or a pause and consume.
"Tiny tweaks make big leaps"
If you want to attract new clients fast, learning how to create compelling content is a priority.
If you're using online events as a lead generation strategy which is what I recommend for most coaches and experts.
It's really hard to get people to those events without compelling content that invites them to it.
Compelling content strategically grows your audience, it attracts your ideal clients and inspires the right people to buy from you.
And you can do it in a way that FEELS good to you.
In this video, I share:
3 Sneaky Content Mistakes That Could Be Tripping You Up
You can check out the video here…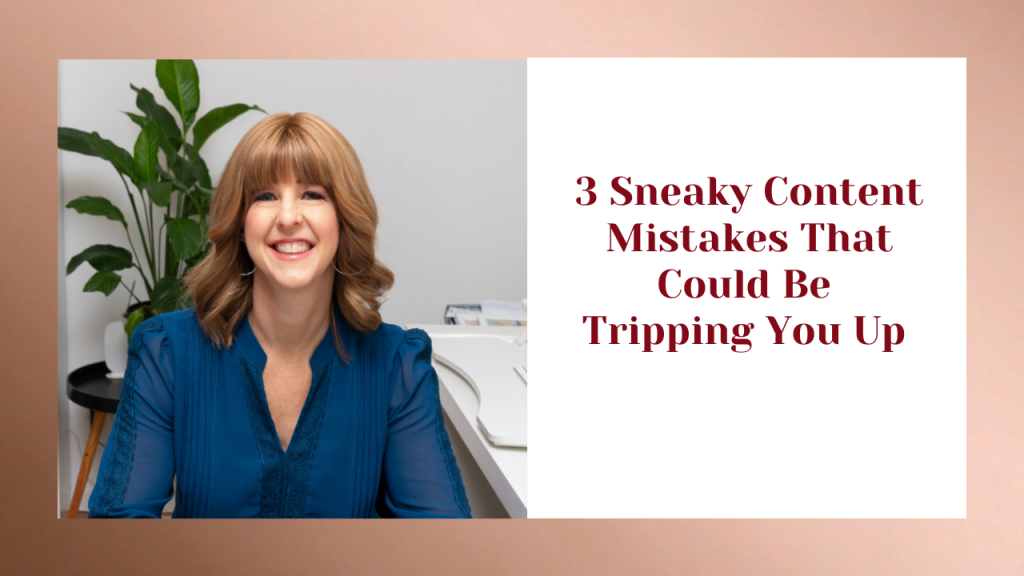 Here's the 3 mistakes that could be tripping you up…
1. You don't have a well-thought-out content strategy
If you don't have a strategy, it can actually add to peoples overwhelm and confusion.
Let me give you an example.
Let's say there's a guy called Carl and Carl likes to go for a walk around his block every day.
He does the exact same journey – turns left out of his block, then right until the next street, then left etc. He remains safe and within close distance to home.
Sally on the other hand, is spontaneous. Sally loves stepping out of her house with no plan, no direction and following her nose.
She loves finding new places. She often gets lost but she loves the thrill of it.
Neither of these are right or wrong.
Are you more of a Cautious Carl or Spontaneous Sally?
If you're like Cautious Carl in your content, you're probably staying safe and predictable.
You probably aren't ever rocking the boat, you're probably not trying new things, you're probably sticking to just one type of content and it could be becoming a bit boring.
You're probably blending in.
If you're like Spontaneous Sally in your content, you're probably doing all different types of content and sharing lots of different topics.
You might be trying the latest trends, using Tik Tok or Reels or Clubhouse or Instagram stories,
You probably post when you're inspired but have gaps. You might be fun to watch, but your audience can't fully rely on you to deliver consistent reliable value.
You don't want your content marketing to become monotonous (like Carl)…
…And, if you have no strategy in place, like Sally, you'll probably be overwhelmed and frustrated without direction.
But what if Carl and Sally each used a map?
A map allows you to see where you are, where you want to go, and the best way to get there…
…And, that's why you need a solid content strategy.
2. You're Not Creating Enough Curiosity
I say this all the time because it will never stop being true…
The main job of your marketing content is to create curiosity.
If you're not creating a feeling of curiosity for your reader or viewer, they will scroll away.
Giving away valuable content for free is the name of the game; but you can't "give away the farm" as they say, and leave nothing to be desired.
So what do we do instead?
I call it the Void-Value dance.
This is where you highlight a void.
You tell them all about a problem they have, showing then that you understand that problem completely and intimately – because you used to have the same problem.
Then you give them some value to solve it.
But there's a second important step. You then open up a NEW void.
Value-void – value-void – value-void.
It's like opening a new door to a new problem.
3. You're Not Inspiring Action
A lot of people don't have the ability to inspire action with their follower.
I call this being elegantly influential.
I did a whole free training video on this last week where I gave my 5 best tips on being elegantly influential. You can go back and check it out.
To be really practical here – something I see a lot is that people don't add the right kind of Call To Action.
The Call To Action is where the magic happens.
An effective Call To Action provides your reader or viewer with the next best logical step.
A lot of people try to rush the process from cold to hot and don't think about where someone is in their client's journey.
If there's one key point I want you to take away, it's this…
When you know how to create compelling content, your marketing becomes easier, faster, and more enjoyable, and you show up with more confidence.
You connect better with your ideal clients and you attract more of the right people into your business that you can help.
The good news is, you don't need a ton of content. You just need to find the juice – the words that will have people salivating about what you have to offer.
And this is why I created a 1-day course called 'How To Attract Clients With Compelling Content.'
And due to popular demand, it's back!
This is your FINAL chance for the year to join me LIVE online via Zoom and learn exactly how to stand out and be noticed online.
Want to check it out – DM me the word 'content' and I'll get you the details.
You're gonna love what I'm sharing at the event.
Take care my friends and remember –
The world needs you.
Talk soon. Bye for now
Kat xo
P.S. Whenever you're ready… here are 3 other ways I can help you grow your business:
1. Grab a free copy of my 'Client Attraction Checklist'
It's a powerful roadmap to attracting leads, signing clients, and scaling your coaching business. — Grab It Here
2. Join the community and connect with like-minded Coaches & Experts
It's our Facebook community where ambitious entrepreneurs learn how to increase their income, influence, and impact. — Join Us Here
3. Work with me to get more clients
If you'd like to work directly with me to get more clients… just send me a Facebook Message with the word "Clients"… tell me a little about your business and what you'd like to work on together, and I'll get you all the details — Message Here