Not getting the results you want from your marketing efforts?
Want to know how to get higher conversions in your launches?
For the last 6 years, I've been using a workshop strategy that consistently produces between $10k and $20k each time.
Every quarter, I run 3 workshops on different days, 2 full-day workshops, and 1 express version in the evening.
Every time I do it, I get a bunch of new clients and new learnings and I want to share these with you.
You can check out the video here…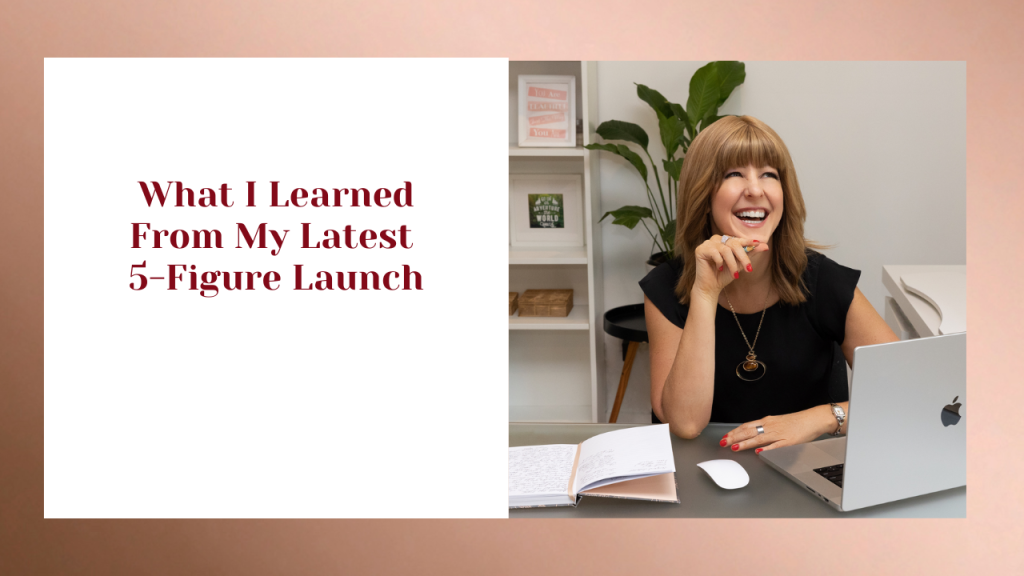 Here are the 3 lessons I learned…
1. Make decisions from your future, not your past
This is what a mentor said to me at the start of my launch.

I had run the landing page of my workshop past him and he suggested I change the name of the event.

I was resistant to it because I knew it would be a lot of extra work because I'd already created the marketing campaign and images.

But it was gold advice and I needed to listen and take action on it.

Sometimes we cling to things because of the time, energy, or money we've put into them.

But we need to step back regularly and ask if there are things that we're holding onto that are no longer serving us.

Or are making decisions based purely on what we want – and not what our ideal clients want. 

It's important to make important business decisions from the wisdom of our mentors and our own intuition, not from the past or emotions. 

Anything you need to let go of?
2. Going deeper is more valuable than going wider
During this launch, I was really reminded that value is NOT adding more and more.

Value is about sharing important things and fewer of them, and explaining them thoroughly so people really get it – and most importantly, take action on it.

Otherwise, you can skim the surface and people can feel overwhelmed.

Especially as the online world is getting busier and busier and people are consumed with constant information. 

I decided to remove some of the content I used to share and go deeper in what I was sharing, and I could feel the power and positive impact this had on people.
3. Making decisions for the long term is a smart business move
A lot of people are resistant to steady growth and improvement over time. 

They want instant result now. 

But success in business usually doesn't come from one big thing quickly – it comes from a series of small iterations that lead to big things over time.

As I look at my business journey, more than ever I appreciate my past self for sticking with the things that didn't 'explode' straight away – but over time have steadily grown. 

A launch, a workshop, a funnel – they are assets that set you up for long-term success and consistent cashflow. 

I often see people trying things, not getting the result they want, and throwing it away to start on something new. 

They end up with a heap of 'half-built bridges'.

They're operating from a 'quick fix' desperate, often scarcity mindset, rather than a strategic, patient, measured, and thoughtful approach. 

If we only focus on 'quick wins' in the moment, we fail to set up business assets for our future.

If something doesn't work as you want it to, you don't have to start again from scratch. It's about looking at what 'piece' didn't work – then refining and tweaking it until it does.

Every step gives you data. It shows you what you need to work on and improve if you take the time to learn from it.

As you continue to get feedback, make better decisions and improve your skills, every launch gets easier, more profitable, and more impactful.
There's a great quote by Andrena Sawyer. She says, "Entrepreneurs should always aim to play the long game. Instant gratification cannot build a legacy"
I realised this during my latest launch. I was so grateful to my past self for all the work I've done to keep refining the same workshop and the same program – rather than try and create a brand new one from scratch.
It means I can show up with confidence, with evidence that this offer works, and knowing that every tweak gets it better and better.
Building a solid business takes time and work. When we rush for results that are faster than what we can handle, we can make poor decisions.
Kat xo
P.S. Whenever you're ready… here are 3 other ways I can help you grow your business:
1. Grab a free copy of my 'Client Attraction Checklist'
It's a powerful roadmap to attracting leads, signing clients, and scaling your coaching business. — Grab It Here
2. Join the community and connect with like-minded Coaches & Experts
It's our Facebook community where ambitious entrepreneurs learn how to increase their income, influence, and impact. — Join Us Here
3. Work with me to get more clients
If you'd like to work directly with me to get more clients… just send me a Facebook Message with the word "Clients"… tell me a little about your business and what you'd like to work on together, and I'll get you all the details — Message Here