I quit my job.
I became a 'full-time' coach, but the reality was, I was far from coaching full time.
I didn't have enough clients to cover my expenses. I ran out of savings.
I experienced constant fear of not being able to figure out how to make it work…
…like the confusing technology, the latest online marketing strategies, or how to sell well (and actually enjoy it!).
I was scared of embarrassing myself on Facebook live videos… scared of rejection, scared to admit there was a HEAP I didn't know!
Basically – I suffered from a whole lot of self-doubt.
During this time, I learned something beautiful.
Success and happiness are about how much value we create for others.
Not how many books we read, podcasts we listen to, or YouTube videos we watch.
The problem: I needed to learn the skills fast. I had no money.
I began diving deep into creating value for people.
To focus, I stopped…
– Paying attention to drama and negative voices
– Talking to friends who didn't help me create value
– Opening my Facebook News Feed
Instead, I did as many strategy sessions as I could. This improved my skills and showed me what people really want.
I overcame my fear of public speaking by learning presenting skills and started running my own events.
I started receiving consistent invitations to speak at other people's events, on podcasts, panels, and summits.
I started creating content consistently.
As I became better at writing, I contributed to publications.
Things started to turn around.
People began to recognise and respect my ability to create value. I started attracting a steady stream of clients consistently.
The best part is, I was finally free.
No more boss, no more doing work I hate, no more wondering what to do.
After five years of working with coaches and service-providers globally, I've learnt what it takes to have a profitable business that helps people and brings incredible fulfilment.
So if you're sick of struggling in your business…
If you've been hustling hard, but you just can't seem to crack the code that brings in clients consistently…
It's not about being the most experienced or having the biggest following – you can get to 100K/year without these things.
It's about your ability to communicate your message to the right people in the right way.
That's what my FREE online live 1-day workshop is designed to do.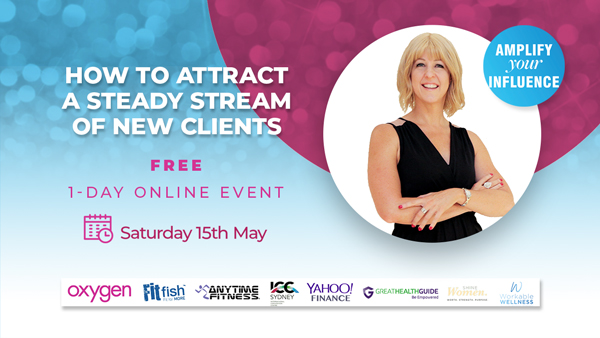 We lay aside the complicated approaches…
Strip everything back to what is working now, so you have the tools to transform into a fully-booked coach.
It's THIS Saturday!
You'll learn not only my tips and tricks to attract clients on repeat… you'll have the exact formula to implement it in your industry and niche.

So click here now to find out more before it's too late.

Kat
P.S There is NO recording available, so show up live and let's get you attracting clients fast!