A lot of us are starting to think about what we want for the following year.
​
But as well as looking forward, let's take a moment to stop and look back.
​
Otherwise, we can leave a lot of lessons behind and miss squeezing all of the juicy wisdom out of what this year has taught us.
​
I created The Ultimate End-Of-Year Review so you can celebrate your wins and reveal the learnings in a structured, fun way.
I covered:
A powerful tool to help you maximise your lessons from 2022

My simple signature reframe method to help you compassionately release the past

9 powerful questions to prompt your valuable reflections and help you focus on what you want going forward
You can check out the video here…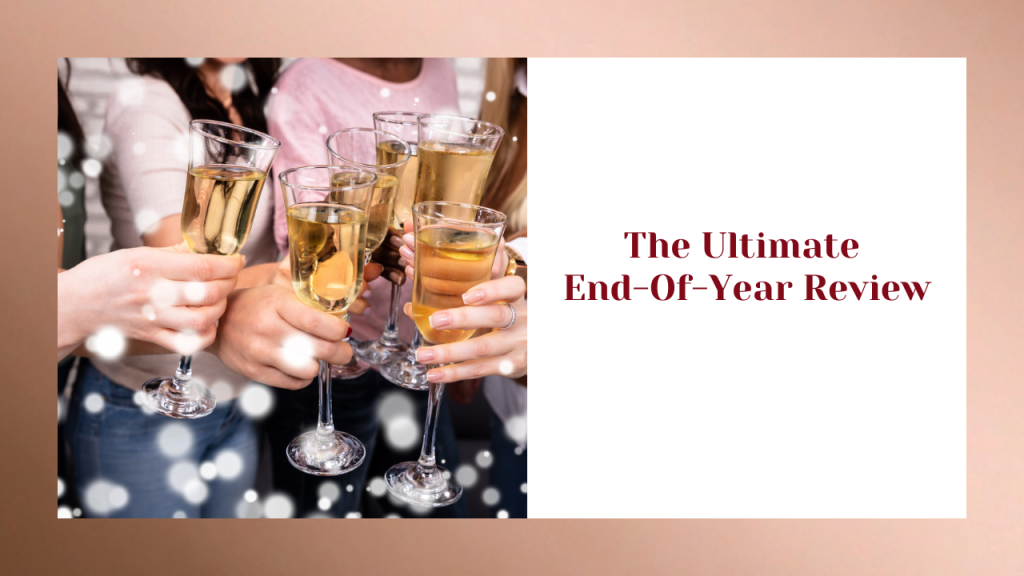 Firstly, CONGRATULATIONS on all you have been and done this year!
No matter how much you've achieved or where you're at, there's always lots to celebrate and feel good about!
Before we dive in, let's first acknowledge any feelings of regret or disappointment with kindness.
There are usually lots of things left undone, unsaid, and uncreated in a year. There are many challenging circumstances and imperfections. And that's perfectly ok.
The important thing is to acknowledge and take wisdom from them. Then let them go and move on into being and creating everything we desire.
One way we can do this is by creating a 'reframe statement'.
Think about your biggest regret, challenge, disappointment, or 'failure' from this year. Then write down how you choose to think, believe, act or feel anyway.
Reframe statement:
Even though (circumstances), I choose (response)
Now take a deep breath, and let's move on to celebrating you!
Do your best to answer these questions from your heart. It isn't about what looks good on 'paper', but what you are truly proud of, no matter how small or unimportant it might seem to others.
1. Who are you proud of being this year?
2. What challenges are you proud of overcoming?
3. What are some things you are proud of doing? 
4. What are some specific skills you developed? 
5. What are some things you learned? 
6. What are some things you created?
7. How did you help others?
8. Where did you have the most fun in your business? 
9. What are you most grateful for the year?
Congratulations on all you have been and done this year!
May your coming year be prosperous, joyful, and truly fulfilling!
Kat xo
P.S Whenever you're ready… here are 3 other ways I can help you grow your business:
1. Grab a free copy of my 'Client Attraction Checklist'
It's a powerful roadmap to attracting leads, signing clients, and scaling your coaching business. — Grab It Here
2. Join the community and connect with like-minded Coaches & Experts
It's our Facebook community where ambitious entrepreneurs learn how to increase their income, influence, and impact. — Join Us Here
3. Work with me to get more clients
If you'd like to work directly with me to get more clients… just send me a Facebook Message with the word "Clients"… tell me a little about your business and what you'd like to work on together, and I'll get you all the details — Message Here