Want to attract more amazing clients consistently?
In my latest training, I shared a tool called the 'Consistent Clients Roadmap'.
It's the simplest way to know exactly what to focus on, based on where you're at in your business right now. And just as importantly, what to ignore.
It fixes 3 big mistakes that coaches and experts make all the time when it comes to growing their coaching business.
Mistake #1: Copying the gurus, without understanding the strategy behind it
A lot of people look at what gurus are doing and think "I should be doing that". Here's the thing. The gurus are doing exactly what they should be doing in their business right now at their level. They're not necessarily doing all the same stuff that helped them get there in the first place.
Mistake #2: Staying stuck doing only the strategies that got you where you are now
For example, a lot of people are doing a bunch of manual work, instead of installing systems that help them grow.
Mistake #3: Using outdated strategies that no longer work anymore
For example, relying on in-person events, networking, or word of mouth.  
If you don't deploy new strategies to take your business to the next level, you cap out, stay stagnant and can't grow.
You're left feeling frustrated and opportunities fall through the gaps. 
When you have a roadmap to follow, it gives you clarity and focus. It shows you exactly what to work on next at your level so you don't make these mistakes. 
We use the Roadmap in two ways.
Firstly, as a diagnostic tool. It helps you think…

"Hey, I'm at this level. These are the things I need to have in place in order to go up. Which ones do I have?"
And you can tick the boxes of the ones you've got and the blank ones – they're the ones to focus on.
Secondly, each one of these becomes a mini project.
This is a high-level snapshot that's part of the Client Attraction Roadmap that I teach my clients to get fully booked with clients and make 10k or more every month.
You can check out the video here…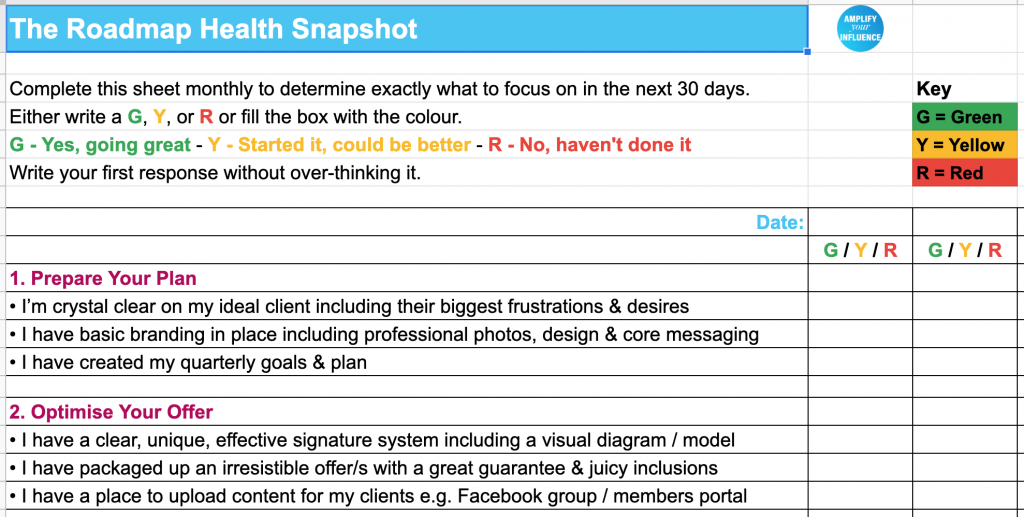 If you want a copy of 'The Consistent Clients Roadmap', DM me the word 'Roadmap' and I'll get that to you.

It's simple, but it's not easy. You still need to know how to do each step.
So if you want all the behind-the-scenes training with exactly how to do each step, plus all of my templates and resources so you can attract more amazing clients fast and consistently, DM me the word 'CLIENTS' and I'll send you the details.
I'm at capacity at the moment for 1-on-1 but I have an amazing group program that I'd love to let you know about and see if you're a good fit. 
I also have some exciting news – my signature workshop, 'Client Attraction Mastery' is coming up soon, where I dive deep into how to get clients fast and consistently. 
Here are 2 dates for your diary:
Tuesday 31 May and Saturday 4 June.
Stay tuned for details!
Kat x

P.S Whenever you're ready… here are 3 other ways I can help you grow your business:
1. Grab a free copy of my 'Client Attraction Checklist'
It's a powerful roadmap to attracting leads, signing clients, and scaling your coaching business. — Grab It Here
2. Join the community and connect with like-minded Coaches & Experts
It's our Facebook community where ambitious entrepreneurs learn how to increase their income, influence, and impact. — Join Us Here
3. Work with me privately
If you'd like to work directly with me … just send me a Facebook Message with the word "Private"… tell me a little about your business and what you'd like to work on together, and I'll get you all the details — Message Here