Do you ever wonder how to inspire people to work with you?


In an online world that's noisier than ever, our ability to tune out messages is at an all-time high.


So, it's important that you know how to create content that inspires people to reach out to work with you.


Influence is the bridge that gets your message to people in a way that evokes action.
 
 
You can have the greatest intentions and the greatest offer, but if your content isn't influential…
 

…it won't land with the right people and inspire them to take action.
 

Your content is just entertaining.
The ripple effect is profound if we can influence heart-centred people.


People who care deeply about others and want the best for others.

Definition of Influence: the ability to be a compelling force, or to
produce effects on the actions, behaviour and opinion of others.

Influence is the ability to change yourself and others.


When you're wanting to use influence to make a positive difference, it's about making the world a better place.


I want to share something that I read by Tim Gates, who's a global motivation and change conference speaker.
He says:
"It seems to me that most codes of law, ethical principles and 
spiritual texts all encourage, declare or command the influence of self and of others. Have you noticed that personal and societal development and progress are all governed by a process of influence?"
Elegant influence is about helping amplify what people truly want, overcome their limitations, and be the highest version of themselves.
 
So, how exactly do you use elegant influence in your content to attract clients?
In my latest video, I share:
'The Art Of Elegant Influence: How To Create Content That Inspires Action'
You can check out the video here…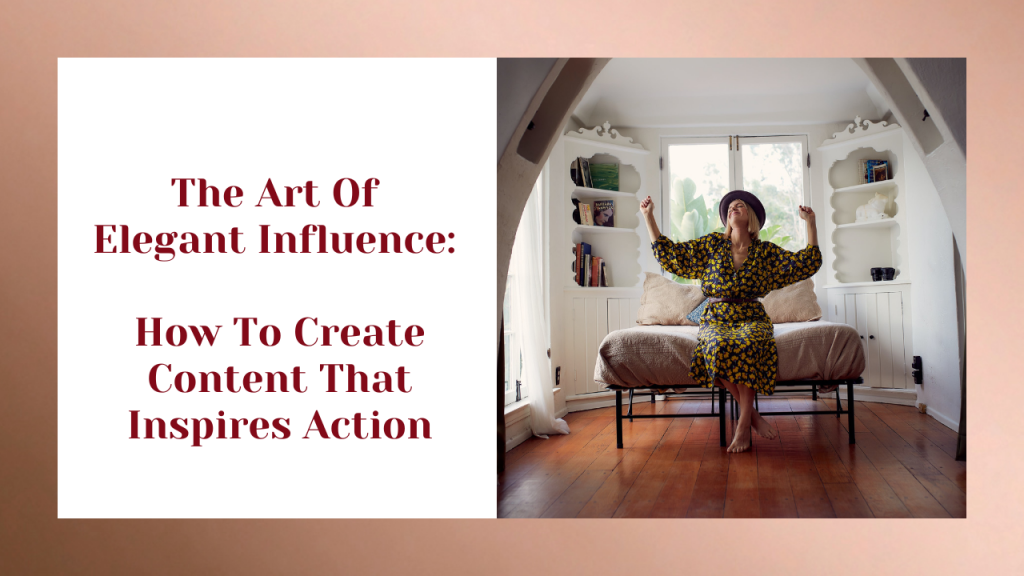 When you know how to use elegant influence to create compelling content.


Your marketing becomes easier, faster, and more enjoyable, and you show up with more confidence.


You connect better with your ideal clients and attract more right clients into your business that you can help.


The good news is, it's a skill that anyone can develop.


Want to know exactly how to do this, so you have clients reaching out to you consistently?


Join us at my upcoming, live workshop… 'How To Get Clients With Compelling Content.'


It's specifically designed for female Coaches and Experts who want to use their content to get more quality clients, consistently and reliably.


This workshop takes the best of what I've learned from attracting clients consistently online over the last 7+ years…


…and lays it all out in a simple formula that ANYONE can follow.



I only run this event once a year, and there are only 30 FREE tickets available!


So if you'd like to know exactly how to get more quality clients using your content, reserve your seat now!


To claim your free ticket, go here now

Kat xo