Most people know that sharing content is one of the most effective ways to attract qualified clients.
But so many people are struggling to produce content that brings in any type of tangible result.
Many people are frustrated that their content isn't getting them clients, and when I look at their content, I can see why. Because there's so much missing.
You need a strategy that's easy to execute, without needing to spend hours a day.
And it has an ACTUAL impact on your business.
If you don't have a compelling content strategy:
You have pieces… but not a whole…
You only post when you feel inspired…
You confuse your audience…
It sets an atmosphere of amateurism
Definition of an amateur: one who engages in a pursuit… as a pastime rather than as a profession.
If you do have a compelling content strategy:
You stop stressing about what to share and finally feel on top of your content
You have a simple system, like paint by numbers
You finally start getting clients from your content
There are 3 essential elements that need to be in your content strategy that most coaches are missing.
Then they end up disappointed when their content doesn't lead to clients.

If you miss these:
1. You can miss out on reaching 75% of your audience who are wired differently to you
2. Your posts get lost in the newsfeed

3. Your content doesn't resonate with your soulmate clients
Meaning, you're not able to help people who need it.
Being able to create compelling content that gets clients is a skill we need to develop.
You can check out the video here…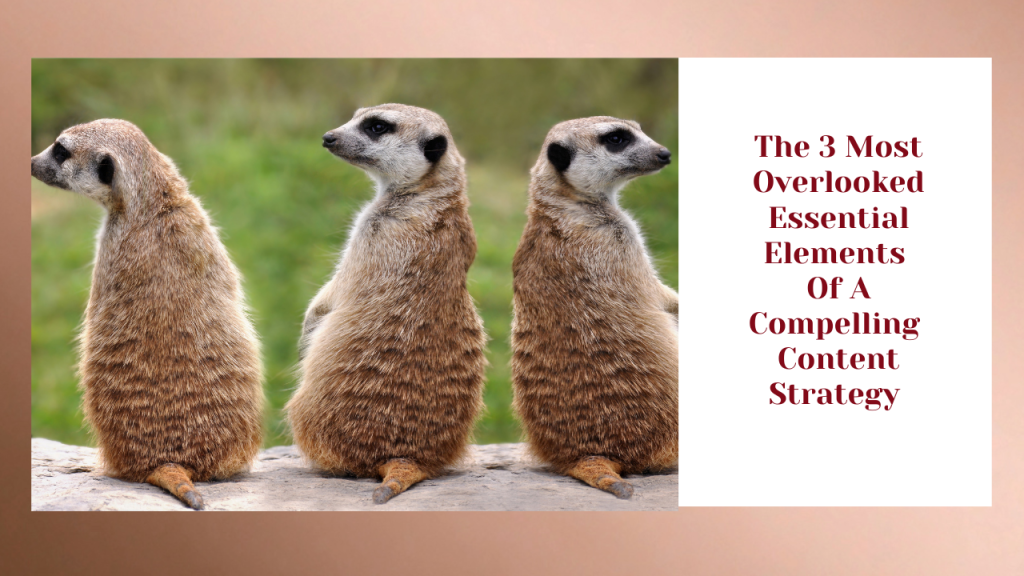 Here are the 3 most overlooked essential elements
1. Diversity
We need to use diversity in our content strategy.
We need to be doing different types of content. There's got to be variety.
So how do we do this?
Firstly, as a coach, you need to be doing written content PLUS video content regularly.
Secondly, you need to be doing a range of different types of content.
Thirdly, we need to create content that appeals to different personalities, learning styles, and preferences.
There are 20 different content types that my clients and I use and we rotate them to speak to different types of people because each piece of content has a different purpose.
Some posts are to attract and engage. Some posts are to build trust, nurture and invite more interaction. Some posts are to convert. Some posts are delivery posts for our clients.
You got to think about the stage of the journey that people are on and what's the purpose of that post.
There are 5 different categories of content I recommend:
Engage
Educate
Edutain
Enlighten
Exchange
Remember your audience is made up of many different types of people. I know we've been told for years in the marketing world right to one person speak to one person.
I get why people teach this. But the reality is we're never just speaking to one person. We are speaking to lots of different people. That's the reality.
We want to make sure that we're taking an audience-centric approach.
Otherwise, we miss half of our audience.
2. Consistency
You've probably heard this before. You probably know that it's important. Are you doing it?
Do you have a strategy that you're sticking to consistently?
If you don't have a strategy that you STICK to that includes sharing content consistently, you'll probably find that you get to the end of the week and haven't posted much.
Or you have posted, but it's not purposeful content that gets you leads.
You haven't crafted it. It hasn't been designed to lead people along that journey.
You might only be emailing your list every few weeks.
You might be posting when you've got a more quiet season and then maybe you disappear for a few months or a few weeks.
Then when you come back you've lost a lot of that traction and you don't get the engagement.
When you have a system it's a relief. It takes a lot of the pressure away and it brings a lot of relief.
For example, my system is every single week I do a Facebook Live.
Every single week that's transcribed and my assistant puts it up on YouTube and on my blog. On my website. Creates an email and sends that out to my community.
We break it up into little sections and we create social media from it. That's a system. It's part of the strategy and it's consistent.
Consistency matters.
3. Intentionality
We need to make sure every piece of content has a purpose.
A lot of people post content without really thinking about why.
Think about the purpose of your last 3 posts.

Was it to…
✨ Get more engagement?
✨ Attract more people?
✨ Overcome a belief?
✨ Sell something?
✨ Build more connections?
If your content doesn't have a purpose, it can't achieve the goal of attracting the right clients.
There are so many things that you need to share with someone before they will invest money in you, and that's why you need a strategy.
To make sure you're covering all the points. You don't overcome objections all in one post. You don't tell all your stories in one post.
A content journey leads your audience from one step (say a social media post) to the next (maybe giving their email address).
A lot of posts on social media, emails or blog posts, exist as a disconnected function rather than an active part of a funnel.
This means there's no incentive to do anything after they've consumed your content.
You want to have action items for the person at the end of your content.
If you're finding that you're not getting the results you want from your content, it's probably time to adapt or change your content strategy.
If you want to know how to do this, I've just launched a brand new program called the 'Client Attraction Intensive.'
It's a 30-day Mastermind program to get booked out with quality clients, using a proven client attraction formula.
You get:
30 days of weekly Mastermind Sessions
30 days of personalised Content Makeovers
1-on-1 Messaging Makeover Strategy session
Marketing Review & Personalised Video
30 days of access to Mastermind Videos
The Client Attraction Accelerator Portal
The Amplify Vault
Tickets to all VIP Immersion Days & Virtual Retreats
Private Members-Only Facebook Group
It's only available for 10 people and there are currently only 3 one-on-one support package bonuses left.
You can read about the Client Attraction Intensive here