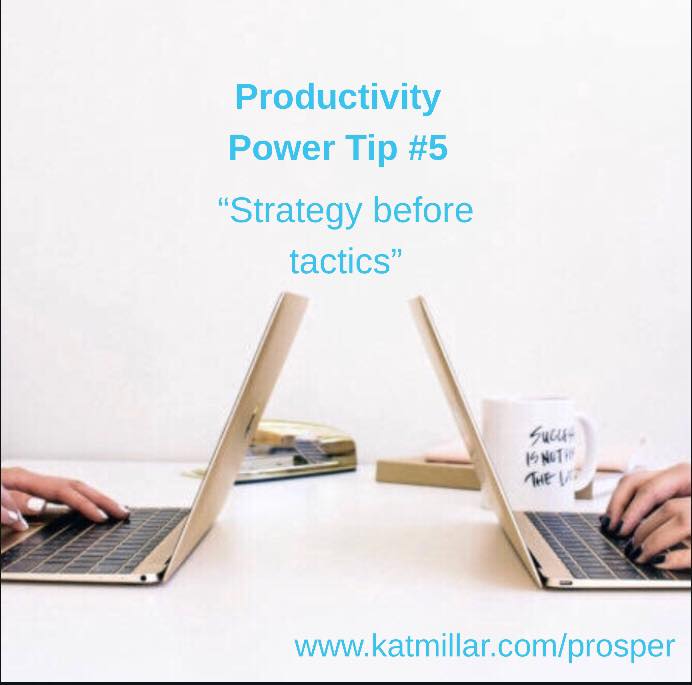 Productivity Power Tip #5
Strategy before tactics
A problem I see a lot is entrepreneurs trying new tactics, without understanding the strategy behind it.
This is especially the case if you are a creative entrepreneur or business owner just starting out.
Strategy refers to a direction toward a goal. Tactics are the actions taken to support that strategy.
I see a lot of people getting lost. They hear about another tactic and try to apply it without considering whether it's the best fit for them right now.
Or, they spend time creating new things before considering whether it suits their business model.
Examples of this include:
Posting videos without understanding the exact ideal person client trying to help
Putting out blogs and never putting a call to action with it
Posting lots of random quotes without thinking about the 'why' behind it
Posting stories that don't help solve people's problems
Posting images without thinking about whether it fits your brand message
I've made all of these mistakes. It's easy to get caught up in new shiny tactics because they seem like a quick way to solve our problems.
It takes time to develop strategies. But if we want real and lasting results, it should always be strategy first, tactics second.
A well-planned strategy provides you with a clear vision of where you're going and helps give you direction in your day-to-day decisions.
Anyone can do tactic for 2 seconds – the strategy is the key.
 "Tactics without strategy is the noise before defeat." - Sun Tzu
Action Tips
Do you have a clear strategy in place that will take you towards your vision and goals?
If not, it's time to step back and clarify your strategy.
What would help you the most at the moment? Maybe it's marketing, sales, packaging, niche, pricing or event-planning.
Book in at least 1 hour of thinking time alone this week, where you put your phone on flight mode and nut it out.
It's worth it.