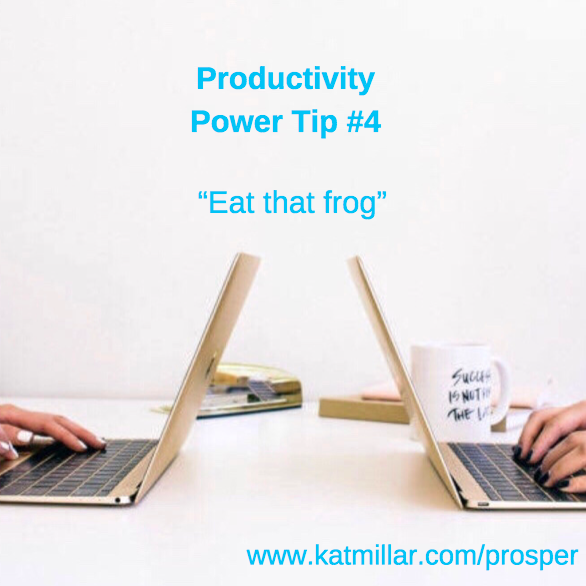 Productivity Power Tip #4
Eat That Frog
As business owners, we can have very long to-do lists. Often, when we feel overwhelmed with so much to do and so little time to do it, we can procrastinate on the hard tasks.
It makes sense – our brain always wants to take the path of least resistance.
Sometimes it's because we feel we don't have the space or brain capacity to give it our full attention, other times it's because we don't know how to do the task that's on our to-do.
Either way, putting the hard things off can make them loom larger and larger over us, and can start to affect our confidence as a business owner.
This energy can be a drainer on our head-space and can lead to us getting caught in a spiral of self-judgment and self-doubt.
Often this can be avoided by committing to start each morning with our hardest or most unpleasant task.
A few years back, I read an excelled book by Brian Tracey called "Eat That Frog".
In the book, he tells a story about Mark Twain who once said that if the first thing you do each morning is to eat a live frog, you can go through the day with the satisfaction of knowing that is probably the worse things that will happen to you all day long.
Your "frog" is your biggest, most important task, the one you are most likely to procrastinate on if you don't do something about it.
Successful, effective people are those who launch directly into their major, challenging tasks and then discipline themselves to work steadily and single-mindedly until those tasks are complete.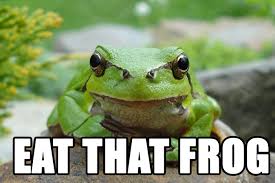 Action Tip
What is your "frog?"
What is the one task that you have been putting off?
Once you have chosen your "frog" make it a goal to wake up tomorrow morning and do that task first.