Anyone else like geeking out on numbers and tracking and measuring progress and all that good stuff??
I find that setting and reviewing quarterly goals really keeps me on track towards my yearly goals.
As opposed to getting to later in the year and thinking woops - what happened to the year??
I began the practice of recording and tracking my habits when I first started competing in figure competitions in 2006.
It really helped me to stick to my plan, and achieve the results I wanted.
Since then, I've been a stickler to measuring progress - everything from journalling to cleaning my room, taking vitamins to posting on social media.
I love what Tom Peters says "What gets measured gets done". I've found this to be so true in my own life.
Here are some examples:
My favourite app to geek out on is called 'Streaks'. I find it super-satisfying to enter my scores each day.
So, here are some of my results...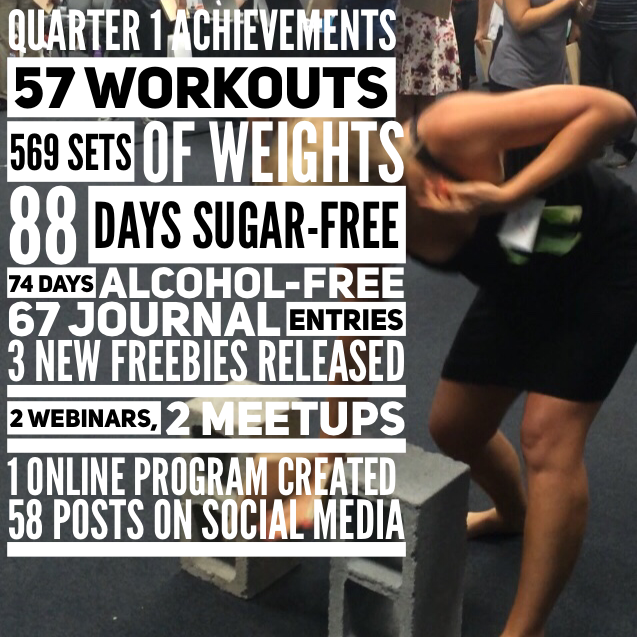 What I did well:
* Hit and exceeded my business targets. Ran 2 webinars, 2 Meetups, 2 workshops, 1 Accelerator program launch
* I was pleased with doing almost 3 months of sticking 95% to no alcohol, sugar, grains, coffee, processed food or dairy. I feel really amazing, my energy is insane!!! I didn't quite hit 100%, but perfection is a pretty tough standard to aim for
* Posted pretty consistent content (educational) on social media
* Created a pretty regular journalling habit
What I didn't do well:
* I failed miserably at my stretch goal
* My goal was to do a lot more cardio - 3 hours average a week, I averaged more like 2 hours a week
* I had a goal to educate myself each day and only got 51% on that
* I had a goal to stick to my plan and schedule each day and totally bombed that one.
 Some discipline needed on this for sure!
* Neglected to visit a new place each month
* Didn't take enough full days off business - busy quarter, but no excuses
So these things are all going to be a new focus for quarter 2.
Goals for next quarter:
HEALTH:
* Do 65 workouts - including 800 sets of weights, 25 hours of cardio, 65 stretch/foam roll sessions
* Stick to dairy-free, sugar-free and gluten-free at least 95% of the time (e.g. 85/91 days), alcohol only on special occasions
* Meditate at least 5 days a week

BUSINESS
* Run 2 webinars, 2 Meetups, 2 workshops, 1 new Accelerator program launch
* Create 3 new freebies
* Grow my email list by 20%

PERSONAL
* Do at least 3 fun experiences (e.g. visit new places)
* Take a full rest day from business at least once a week
* Journal at least 5 days a week

For some of you, these things may look rather tame and easy, for others of you, they might look strict (and potentially rather boring haha).
I have big dreams and having habits in place towards them that I track is the best way I've discovered to know I'm on the right track and progressing - which is one of the most satisfying feelings.
P.S. If you are wondering how I find time to measure and track all this, I do it while I'm on the stepper machine - which doubles as a nice distraction from the pain. 😄
If you haven't already, I hope you find some inspiration here to set or refresh your own goals and habits for quarter 2.
What are some of your goals? How do you like to set goals? Do you like the idea of quarterly goal-setting?
I'd love to hear!
Please post in the comments below
Kat