Most business owners know that content creation is one of the most effective ways to attract qualified clients.
But so many people are struggling to produce content that brings in any type of tangible result.
Like having people reach out to you in the DM's, or book a call on your calendar, or email you asking about your program or service.
One of the biggest downfalls business owners have when it comes to their content, is that they don't have an effective strategy.
If you don't have an effective content strategy, you can waste so much time and effort and not get enough clients from your content.
An effective content strategy has a number of essential ingredients…
…and if you miss them, you can miss out on turning your followers into clients.
To get your content strategy doing its job, there are some key principles you can follow so that your content inspires people to work with you.
When you get your content strategy right, things can change really fast in your business.
In my latest video, I share:
'How To Create A Content Strategy That Gets You Clients.'
You can check out the video here…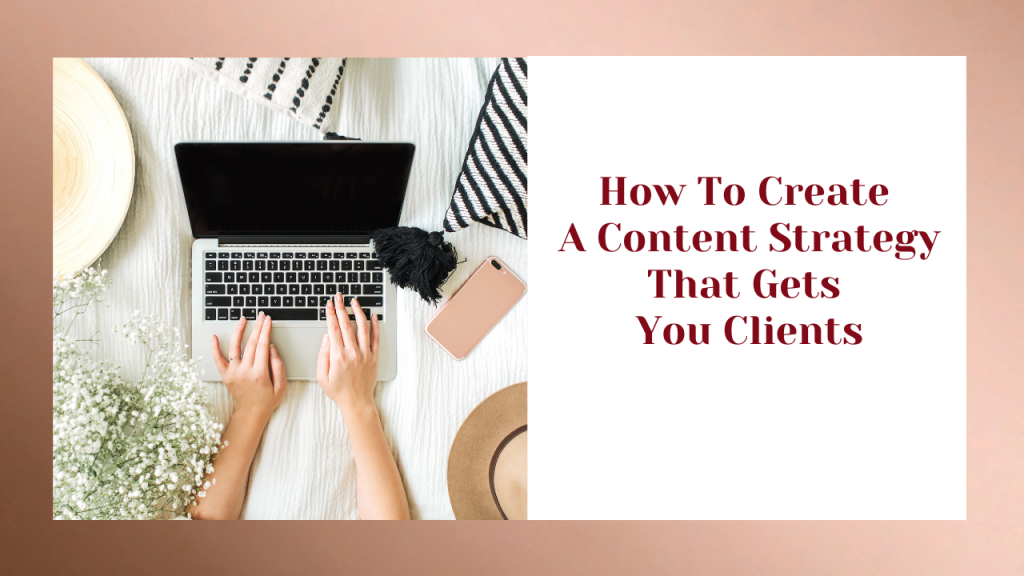 Here are 5 things I recommend for creating a content strategy…
1. Build your content backwards from your signature offer

Like Steven Coven says "Start with the end in mind"

We want to start by making sure we have an irrefusable offer…

…then use our content to overcome any beliefs or blocks they may have to signing up for that offer if it's the right fit.

2. Make sure every piece of content has a purpose

A common mistake I see is people posting without a purpose.

Your content typically won't sign clients if you haven't got an intentional plan about where each piece of content fits in your over-arching strategy.

There are so many things that you need to share with someone before they will invest money in you…

…and that's why you need a strategy, to make sure you're covering all the points.

3. Create a consistent content schedule

When you have a consistent content schedule, you know when you're going to create and when you're going to post.

This creates a sense of relief and a feeling of control, knowing you have this part of your business on track.

4. Rotate between different types of content

There are 5 types of content that I recommend. Each has a different purpose. They are:

1. Engage

2. Educate

3. Enlighten

4. Edutain

5. Exchange

Also, use a mixture of video and written content to appeal to different types of preferences.

5. Create a clear content journey

Many people's social media posts, emails, or blog posts, exist as a disconnected function rather than an active part of a funnel.

This means there's no incentive for people to do anything after they've consumed your content.

A content journey leads your audience from one step (e.g a social media post) to the next (e.g giving their email address).


Want to know exactly how to do this, so you have clients reaching out to you consistently?

Join us at my upcoming, live workshop… 'How To Get Clients With Compelling Content.'

It's specifically designed for female Coaches and Experts who want to use their content to get more quality clients, consistently and reliably

This workshop takes the best of what I've learned from attracting
clients consistently online over the last 7+ years…

…and lays it all out in a simple formula that ANYONE can follow.

I only run this event once a year, and there are only 30 FREE tickets available

So if you'd like to know exactly how to get more quality clients using your content, reserve your seat now!

To claim your free ticket, go here now
Kat xo