It's time to stop and give yourself a massive pat on the back, chink your glass with a loved one, and celebrate your success!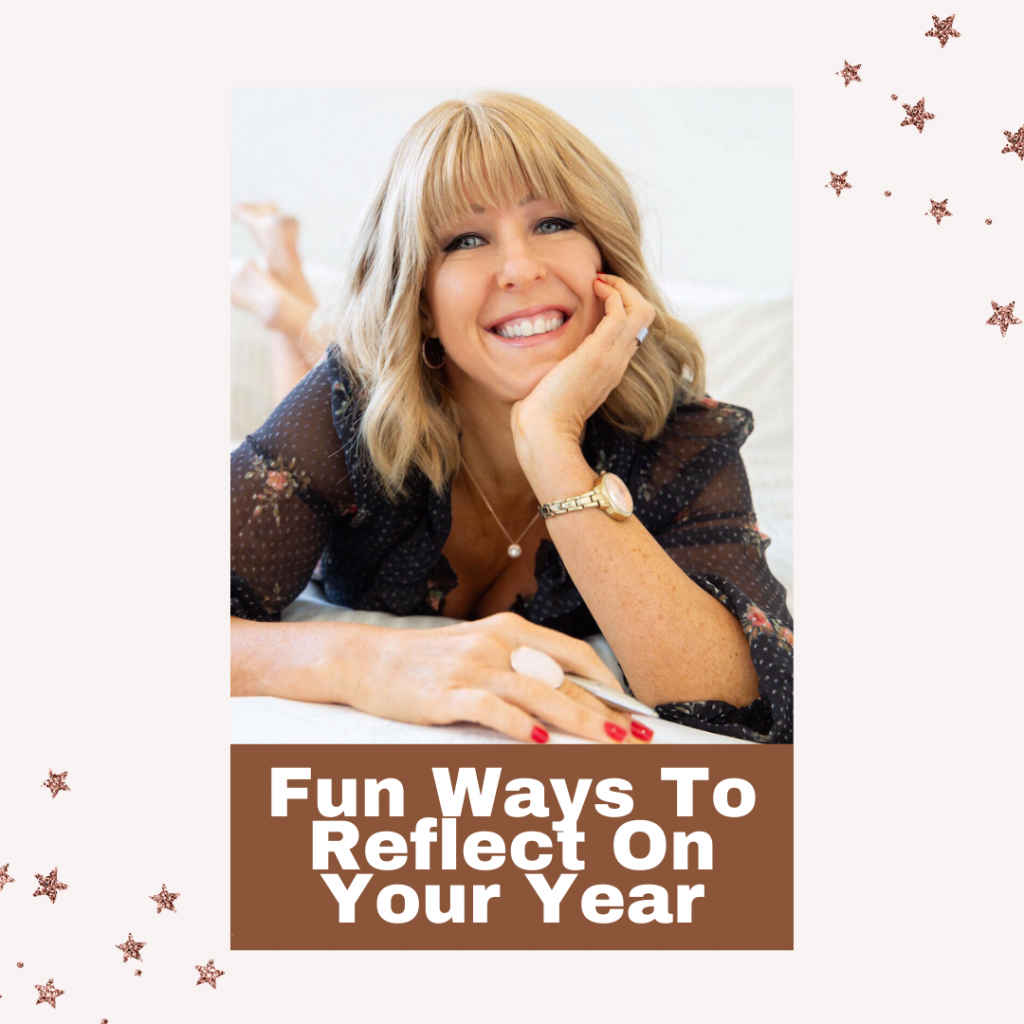 With the year rapidly drawing to an end, it's powerful to look back at the year that's been, before moving forward into the new year ahead.
Taking time for reflection on our personal life and business successes and growth before we continue into the next season is a great way to honour ourselves and enjoy the feeling of gratitude.
There's so much power in acknowledging the end of a season before the next one.
And while little changes just because the calendar ticks over…
If we're intentional, we can use the potent, collective energy that's around us in this time of year to fuel us for our next chapter.
How you end something often sets the tone for how you begin the next thing. And I've noticed this applies to how we end a year.
2021 has been an unusual and challenging year for many people.
So firstly, I encourage you to acknowledge yourself for how you've handled what potentially could be one of the craziest years in your living history. Your nervous system may have been through the wringer.
Acknowledge yourself for everything that you have been through. Acknowledge that it could potentially have been one of the toughest years of your life. You made it through a global pandemic!
It can be really easy to focus on the things that didn't happen that we wanted to happen this year. But we know that focusing on that is really not helpful.
Give yourself lots of grace and kindness, especially if you haven't achieved everything you wanted.
Taking the time to celebrate everything that you've learned and achieved throughout the last year is so valuable. It's a great way to take the wisdom and grow.
I like taking myself on a date, where I go to my favourite cafe or park, sit under a tree, take out my pen and paper and reflect with gratitude.
There are a few different ways I recommend you reflect on your year.
I encourage you to take yourself out on a private little date with yourself and use this process to reflect on the year before it finishes.
3 Ways To Reflect On Your Year
1 – Do A Solo Date With Yourself
The first one is to do a solo date with yourself. I love to get out of the house and into nature and sit with pen and paper and have a time of reflection, and just write and write.
2 – Do A Group Reflection
The second way is to do a group reflection. I do this in my Influences Inner Circle group each year and we went around and encouraged each other and spoke out what we admired about each other.
I encourage the group to think about where they were last year and how far they've come.
3 – Create A Video Reflection
The third way of doing a reflection is to do a video reflection. You could record yourself a video and watch it back in a year's time, or watch it back in a couple years' time. You could do this on Zoom, FB Live or just a video on your phone.
Share some of your highlights, what you have gained and achieved, and what you would do differently. You could do this alone, or with your community.
3 Steps For Doing A Yearly Reflection
There are 3 steps that I use that might help you when you're doing your yearly reflection.
1 – Go Through Your Calendar
The first thing I do is I go through my calendar, right from January to December. The easiest way to do this is to do a search. I compile a list so I can see it in front of me.
I write down the courses that I've crewed, the events, webinars and Facebook Lives I've held and the holidays I've had.
2 – Put it on a Spreadsheet
I like to put the information onto a spreadsheet with filters on it so I can easily see a snapshot of the year, which helps me in planning the coming year.
I work out how many events I ran and attended, how many Facebook Lives I did, how many webinars I've held etc. and I tally them all in a spreadsheet.
3 – Have a Creative Process
You may also want to have a creative process of reflection. A friend of mine took a day and created a snapshot of drawings of her year, a beautiful creative reflection of her life right now.
You might want to just summarise your year on one page, or put it creatively on a big piece of paper for what your year was like for you.
5 Reflective Questions To Ask Yourself
It helps to have some targeted questions that you ask yourself when you do a yearly reflection to guide the process.
Here are 5 suggested questions:
1 – What Went Well For You This Year?
Ask yourself what went well for you this year? What's one thing or many things that went well for you?
I know it's been a super challenging year for most people, but this is important. You need to really acknowledge what you did well.
I loved that this year I was not out and about all the time.
I got to know myself a lot more. I got to see my non-negotiables, and what was really important to me.
2 – What Are You Proud Of?
It's important to write down what you are proud of. Is it doing your first Facebook Live? Or was it your first time doing social media posts?
I'm proud that I've created new and better solutions for myself and for my community. I've grown so much personally in this last year. Adversity forces you to grow and expand.
What are you proud of that you've achieved in 2021?
3 – How Have You Grown Personally?
When entrepreneurs face challenges, it shows you what you are made of. We're tough, we resolve challenges, we push through, we solve problems.
The leaders that are doing the best in the world, the most successful people are the ones solving the biggest problems.  They create solutions and solve problems.
It's in a crisis that you see what's really inside of you. I've grown so much personally in this last year. Adversity forces you to grow and expand.
When everything's calm, anyone can be calm, peaceful and joyous. But when the rubber hits the road and when the storms come, that is when your true inner strength comes out.
The storms show you what you're made of. They force you to step up.
Write down all the areas you have grown personally this year. And boy, it's been a crazy year where most of us have had big chances to grow personally.
4 – How Have You Grown Professionally This Year?
How have you grown professionally this year?
For me, I've really developed my program and community, which was a big desire. For years, I've desired a really amazing community. And I've now got that. And I love every single one of my clients. I love working with them all.
I've said no to people throughout the year, so I can just keep saying yes to the right people. And I've now only got clients that are incredible.
This requires a lot of faith and trust to believe that the right people will come to you if you allow the wrong people to pass by. I've let go of people that haven't been the right match go, in order to keep spaces open to the right people.
In these communities, people grow professionally as individuals and they grow corporately also. I'm seeing the power of community and people encouraging and inspiring each other.
5 – What Did You Learn?
What did you learn this year?
We learn from all sorts of things – our friendships, clients, personal relationships, mentors, books, videos, and programs we've invested in.
I've always believed in the power of mentorship, but I'm really seeing my growth now because I've continued to massively invest in great mentors.
Also, I attended so many courses.  Some of them were repeats and I can feel the layers and mastery that I'm building.
I've learned so much more about marketing, copywriting, Facebook ads. And there's still so much more to learn.
I think it's really good to be specific on the skills that you've been improving on and specifically the knowledge that you've gained in the year.
The lockdown really taught me the value of learning how to best use online technology. I think it's absolutely amazing that we can sit at home and make money.
I encourage you to do these 5 reflection questions by yourself – take yourself out on a private little date with yourself and reflect.
This way you can go forward into the next year, taking the learnings from the last year and running with them into the new year.
It's also cool to ask other people these questions also to encourage them to reflect on their highlights and learnings, and enjoy the feeling of gratitude.
Have a wonderful, happy new year, and may your 2022 be very prosperous, successful, and fulfilling!
I wish you a great time with your loved ones, lots of deep, refreshing rest, and plenty of fun.
See you in 2022!
Kat