Do you get frustrated when you put out a lot of content, and you don't get enough people responding to it?
If our content isn't working, it's usually because of what we're saying and the way we're saying it.
There are some mistakes we can make that can put off the very people we're here to serve and bring transformation to.
Which is why I want to help you avoid them and fix it asap.

Content that makes people want to read and watch has certain essential elements; if you miss them, you can miss out on clients.

When you understand the elements, it almost seems like magic.

But it's not magic. It's just about knowing how to make your content COMPELLING.

If we want our words to impact people, we need to know how to create content in a way that inspires and influences people to take ACTION.

Otherwise, we're just adding to the noise and overwhelm online.

This is why I want to share with you 7 fatal mistakes I see people make with their content structure.
You can check out the video here…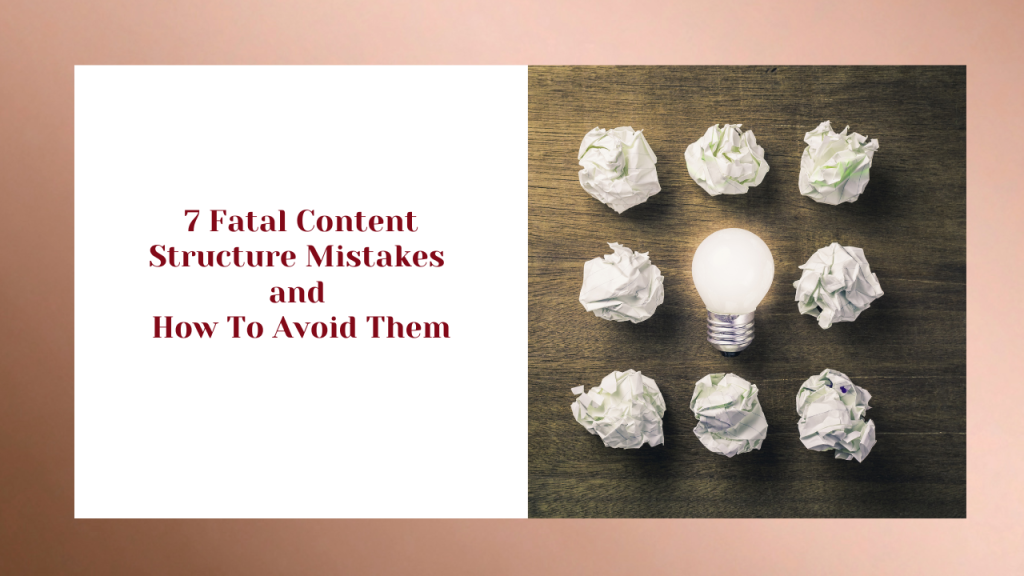 The 7 most sinister mistakes:
1. Failing to get attention
There are two things when it comes to attention we want to gain attention and we want to maintain attention.
First of all, we've got to grab attention. Then we've got to keep them reading all the way through. We've got to keep them watching the video all the way through.
We've got to make sure that we avoid Instinct resistors. Instinct resistors are those things that raise resistance at our Primal level.
Instinct resistors include boredom – I've heard that before. If it's not intriguing enough people will go past it. People will avoid complications.
If you ask too many questions at the start. If your sentence is really long and the reader or the viewer has to really think about it. If it's too complicated they're like "I'm out."
2. Failing to build tension
Our content needs to be a good mixture of creating tension and relieving tension.
We need to evoke some emotion in people. We need to dial up their desire to want change.
Inspire people to want to actually make changes in their life.
If it doesn't do that then we're just reaching them at a logical level and doesn't influence people to move along the client journey.
3. Ignoring the trust factor
What often happens is that we forget that people don't see the world the way you see the world. We've got to earn trust. It's time that builds trust.
If you are jumping on a video and people don't really know you you've got to build that trust factor. Remind them of why they can trust you.
We've got to be able to share evidence and experience and education.
I call them the three E's:
Evidence
Experience
Education
Give proof that calms the brain where people feel that hey she knows what she's talking about. She's giving me facts and stats.
She's backing it up with experience talking about clients that you've worked with and helped.
Then educating them to learn something new. Learning something that they didn't know before or seeing something in a different way that's building up that trust factor.
4. Forgetting to be human
People do business with people that they like. People that they feel good with. People that make them smile.
People that encourage them, support them, inspire them, and get them thinking differently…and being real.
Show up in a way that we are our best selves. We can still show our vulnerability. We can still show our realness.
Be professional. For the sake of your audience show up in a way that's going to serve them.
Make sure it's always coming from an audience-centric perspective but remember to be real. Remember to show that you've struggled with things that you do still struggle with things.
Show that you are a real human being. You're not this corporate executive-speaking person that sounds clinical that doesn't crack a joke.
The. more we share from our heart the more people will connect with us.
5. Not providing enough value
Some people say to be careful not to give too much away.
I get the logic behind this. The thought is, if we give too much, people won't see the need to pay for help.
But I find that the more value I give away, the more clients I get.
People are always going to need personalised support and help that they can't get from your free content.
The amount of value that we need to give now to be competitive to stand out online is huge!
I think that's a beautiful thing because it means that more and more people are being helped.
Yet some people are so guarded about not giving too much away that they're not being generous.
The more value I provide, the more people want to work with me.
We want to be known. We want to have a reputation as someone who gives plenty of value. Someone who's generous.
Someone who helps out so many people whether they are going to become a paying client or not.
6. Missing the curiosity factor
One of the most important things our content needs to evoke is curiosity.
Be careful not to say "Hey, in this workshop, I'm sharing everything I know about XYZ"
Someone can think "Oh, well there's nothing more to learn there's no point working with her because she's just taught me everything she knows"
We've always got to open loops in people's minds. Our brain is designed to want to close the loop.
It's like how Netflix keeps you watching that next episode because you're wondering what's going to happen.
It's why when you've got lots to do and you haven't got a list written down your brain goes at a million miles an hour.
Add curiosity to your content so that people want more.
7. Not moving people along the client journey
We want to encourage people not to just be passive consumers, but action-takers as a result of what they read or watch from us.
A lot of opportunities are missed by not inviting an action step at the end of your content.
Most of your pieces of content should inspire action. Otherwise, they could just be nice thoughts or interesting information, which can add to the noise.
Here are some call-to-action examples:
Type their opinion in the comments
Share their favourite tip
DM you
Download a free resource
Register for your free event
Book in for a strategy session
Join your Facebook group
etc.
Every content piece is chipping away at the limiting beliefs or the resistance or the blocks people have to taking action.
Your content strategy is a series of pieces of content that do that.
It's about building trust, nurturing, and supporting people.
When you know how to create content that people want to consume…

* You impact more lives

* More people reach out who want to work with you

* Your content turns your followers into your clients
And this is why I created a Masterclass called 'How To Get Coaching Clients With Easy Marketing'
You can access the replay here for a limited time
It's all about how to get more quality clients online with your content consistently.
I share…
✨ How to stand out online so you can finally get found by your soul-mate clients
✨​ How to easily grow your audience with the right people​ who LOVE what you share
✨ How to get people actually consume your content… not scroll past
✨ How to get booked with clients fast, in a way that's RELIABLE!
So if you're ready to dramatically increase your income, and have a bigger impact,
…you'll want to catch the replay now while it's still available ⏰