Want to get more consistent leads coming into your business?
Do you ever sit down at your computer and wonder where to start?
When you have a plan with clear steps of what to do each week, you save yourself an ENORMOUS amount of time, and progress your goals RAPIDLY.
Maybe you'd like to see your email list and Facebook group grow, but right now, things are stagnant.
You want more clients, but you're not sure exactly what to do each day and each week to get there.
There are 3 big mistakes that coaches make all the time when it comes to what they focus on in their coaching business.
Mistake #1: Doing too many different things
I talk to a lot of coaches who are busy, but aren't getting enough clients and cashflow.
They're getting stuck in the details, and not spending enough time focusing on RGA's – revenue generating activities.
Mistake #2: Spending too much time on one aspect of your business
If we don't take the time to make sure every aspect of our business is working, and plugging up any leakages, opportunities can fall through the gaps.
You're left feeling frustrated and stuck.
Mistake #3: Staying stuck doing the same strategies
Or using outdated strategies that don't work anymore. For example, doing a lot of repetitive manual work, instead of installing automated systems to help your business grow.
You can check out the video here…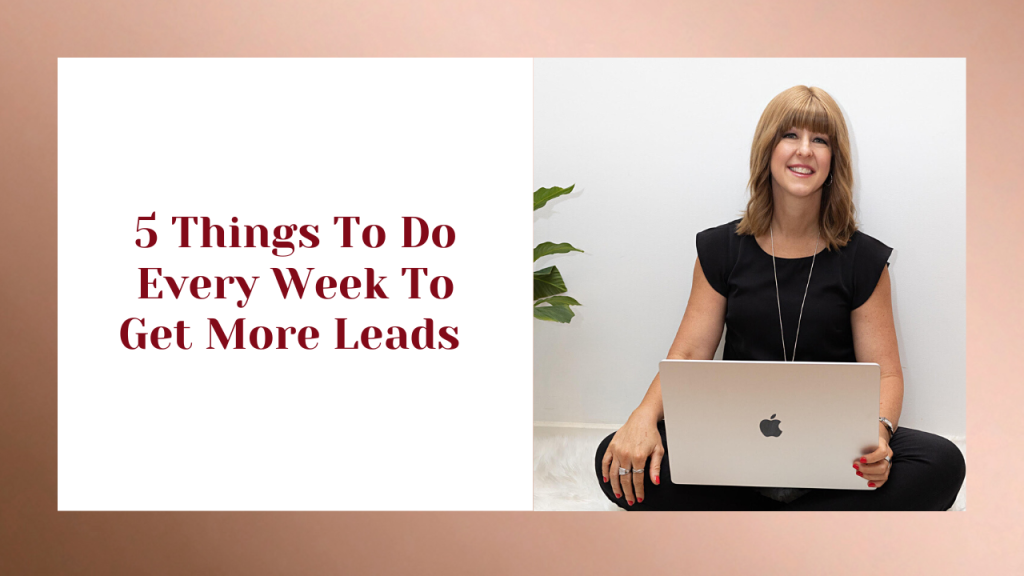 Here Are the 5 Things you Can Do.
1. Share A Valuable Piece Of Content
If you share a valuable piece of content every single week, you'll create consistent opportunities for people to find you.
if you are consistently producing a valuable piece of content written, video or both. I do both because people want to connect with you.
They want to get to know you. They want to hear how you sound. Your tonality, your mannerisms. They want to see whether they like you. Whether they can see themselves working with you.
Education is the most important way to show people that they can trust you. So teach them cool stuff. Create really cool guides or cheat sheets or checklists or templates or things that they can use.
If you're putting out value you'll be surprised at how many more people can find you by being out there consistently.
Show up for your people on a reliable basis, your ideal clients will notice that and trust you more.
2. Record A Valuable Live Video
I've been doing this for the last about three years now. Every single Wednesday at 8 PM Sydney time. I might miss maybe a couple a year as I'm on holiday or something like that. But otherwise, it's just consistently producing value.
Putting it into the guides in my Facebook group so people can access them later. A lot of people watch them on the replay.
I get that not not everyone wants to do a video. You might be thinking I don't like showing up on video and I get that…
…And I felt like that too. But at some point, we need to make a decision to overcome that blockage or that barrier whatever it is and we need to make a decision and take bold action to do it.
If this scares you, do it. If you've been avoiding it, do it.
Do it for your people. Do it to help the people that are in your community
Playing, being safe, and overthinking, it's going to keep you stuck. 
3. Reach Out
The goal is to add value through your content and overall online presence.
Businesses are built on relationships.
I remember hearing recommendations about holding back on value so that people want to pay you.
But I've found that the more I give, the more clients I get.
I've found that even if I share every day, it's only a small percentage of what people need to grow their business.
People need to trust you before they think about working with you. And when you show up giving free value, you build trust.
There's a great quote by Zig Ziglar, he says "If you help enough people get what they want, you will get what you want."
Business is a relationship game. More people need to know who you are. If they don't know you, they can't buy from you.
Make sure everyone has the chance to know you, everywhere!
If you don't invest time into developing your skills and knowledge your business is not going to grow.
4. Create A Valuable Free Resource
You can leverage your time by just consistently creating new free resources. And they don't need to be fancy. For years I did plain documents. Plain written text but I was helping people.
Someone would say, I really need help with this. I would create a guide or record a quick video explaining it. Imagine if you did that 50 weeks a year.
You'd have 50 valuable pieces of content – free resources for people and you're building a library, a bank, of really helpful cool stuff for people. Written guides. Videos. People, don't want to get stuck.
People love to consume free stuff that's directly going to help them with the problem you're helping them solve.
5 Develop A Valuable Presentation
If you're not running events, you are missing a massive opportunity for people to connect with you and get a taste of what it's like to work with you
You hide away and stay invisible to the people you can help…
You don't have an effective way to get your audience to a place of decision…
You leave money on the table…
You massively leverage your time
You create instant positioning
People get to experience what it's like to be your client.
Keep showing up, keep sharing, and keep shining my friends.
Kat xo
P.S. You know it's time to start making the impact you're here to make and the income you deserve. In my upcoming workshop, "How To Get Coaching Clients With Easy Marketing"
I show you exactly how to get clients – fast and consistently.
I'm sharing…

? How to stand out online so you can finally get found by your soul-mate clients

?​ How to easily grow your audience with the right people​ who LOVE what you share

? How to get people actually consume your content… not scroll past
? How to build MASSIVE trust with your community (so the right people want to invest in you)

? How to get booked with clients fast, in a way that's FUN!

​Marketing is not meant to be painful… it's meant to be easy, effective, AND enjoyable!
The workshop is valued at $997 but I'm offering limited tickets for free.
It's a live online workshop that I'm running on Saturday the 11th of February. And the best news is that it's free.