One of the biggest mistakes I see a lot of business owners making when it comes to attracting clients is a lack of focus.
Trying to do too many things, and nothing is really making any significant difference.
When I first started my business, I used to sit at my laptop every morning and before long, I'd have lots of tabs open, and I'd be researching.
I'd be going down rabbit holes and consuming way too much of other people's content … instead of creating my own.
If you want to stop wasting time on all those things that don't make a significant difference in your business, it's time to strip it all back to what really works.
Everything gets a whole lot simpler when you focus solely on the things that matter.
To have a sustainable business, you've got to simplify and only be focusing on a few solid strategies that work.
Then you can really trust that your business will continue to provide abundantly for you.
If you want a business where you make 10k or more every month, and make a big difference in people's lives, there are 4 powerful methods that I recommend.
Only four.  These are the exact strategies that I personally use. And they're the only FOUR things that got me to 6-figures in the first 12 months of going full-time in my coaching business.
You can check out the video here…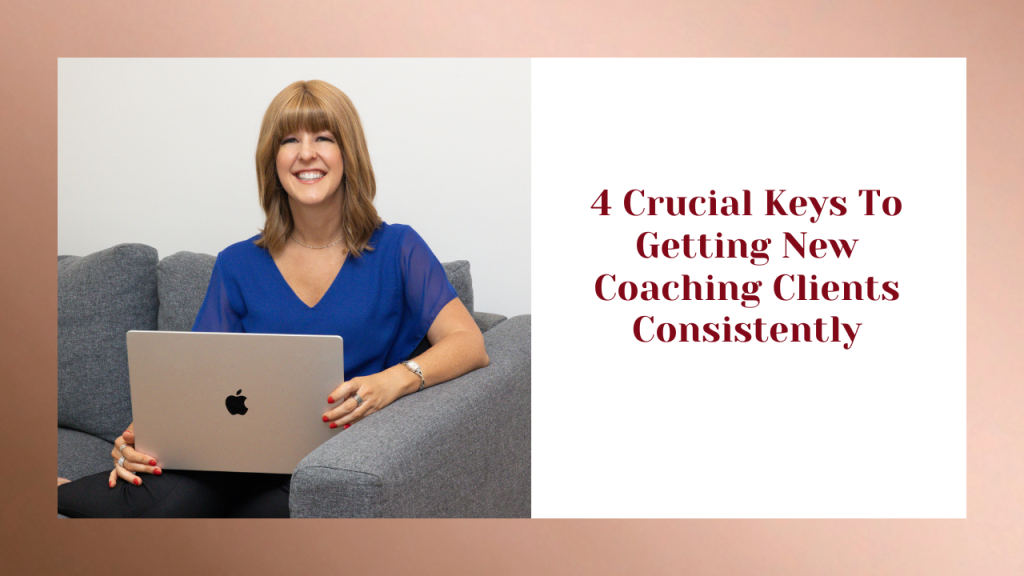 Here are the 4 Crucial Keys
1. Content Strategy
The first thing you need to attract clients consistently, is a content strategy.
A content strategy is a non-negotiable. It's not an option. Every coach who wants to be successful needs to share compelling content consistently.
The challenge is if you don't have it…
You have pieces… but not a whole…
You only post when you feel inspired…
It sets an atmosphere of amateurism…
The opportunity is if you have it…
You have a simple system, like paint by numbers…
You have a way to consistently get rewarded for your efforts…
You finally start getting clients from your content…
2. Client Attraction Funnel
The second key to attract clients consistently is to have a client attraction funnel.
A funnel is basically a place where someone can opt in any time and join your pipeline.
This is your 24/7 client attraction machine.
The challenge is if you don't have it…
It feels too complex, so it stays on your to-do list…
You're posting content, but losing leads, so you stay still…
You stay stuck at the starting point and don't build your business…
The Opportunity is if you have it…
You feel a constant sense of progress because your numbers are growing…
People can be looked after while you're away from your laptop…
You have a system to sign up clients whenever you want them…
3. Conversion Event
The third key to attract clients consistently is having a conversion event. A conversion event is a way of presenting what you do to a group of people and elegantly inviting your ideal clients to your offer.
The challenge is if you don't have it…
You hide away and stay invisible to the people you can help…
You don't have an effective way to get your audience to a place of decision…
You leave money on the table…
The opportunity is if you have it…
You massively leverage your time…
You create instant positioning…
It feels like you're doing business with your best friends…
The ONE thing that has always gotten me the most clients the fastest is conversion events.
Events that convert leads into clients.
4. Coaching Support
The fourth thing that you need in order to attract clients is coaching support.
This includes TWO things – an experienced expert and a quality community.
There's nothing more valuable in your business than having support. Having support holds us to a higher standard. It holds you to getting things done.
It's the one thing in my business that accelerated me faster than anything.
Receiving consistent clarity, guidance, and feedback from an expert who has achieved what you want to achieve, and who is farther along in the journey is priceless.
Keep shining my friends.
Kat xo
P.S. If you know it's time to start making the impact you're here to make and the income you deserve.
I have a workshop coming up called 'How To Get Coaching Clients With Easy Marketing'
It's a live online workshop that I'm running on 2 dates – Tuesday the 7th of February and Saturday the 11th  of February. And the best news is that it's free.
I dive deep into these four strategies and show you exactly how to do them.
The content that I'm sharing took me years of refining. I've put it into a formula and I'm sharing it for free because I want to help as many people with this as possible.