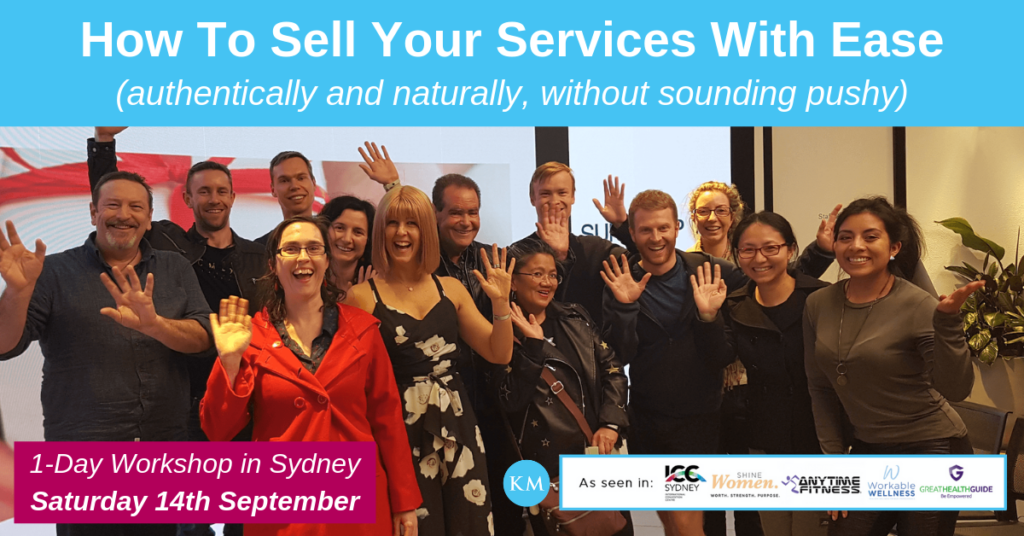 Do you want to know how to sign up more paying clients in your business?
➡ Sydney September 14th, 2019 (Saturday) 10am – 5pm
➡ Full Details Or Get Your Ticket Here:
? Full-Day Event
? Attract Your Ideal Paying Clients
? Grow Your Business Fast
Do you want to know how to best communicate your value in order to be paid what you're worth?
Many people avoid sales conversations because they don't want to come across as pushy.
If you this you, I know you'll relate to this:
? You offer a great service but don't always know the best way to sell it
? You struggle to ask for what you're worth and want to be more confident in selling your services
? You want to run successful sessions, classes or programs that help people improve their lives
Come and join this workshop for a full day of helpful tips and tricks to sign people up to your programs and services, with ease!
THIS WORKSHOP IS FOR YOU IF…
? You're a Coach, Trainer, Educator or Service-based Business Owner
? You really want to help more people in your area of passion
? You want a clear strategy for selling authentically
YOU'LL LEARN:
✔️ The VALUES selling framework – to make your offer irresistible
✔️ How to remove any resistance to selling and fear of rejection
✔️ An effective sales script template that you can effortlessly tailor to your unique business
✔️ The exact questions that establish fast and powerful trust and connection and inspire people to buy
✔️ The ability to build genuine, authentic rapport with any type of person
✔️ How to speak with confidence and certainty and avoid sounding nervous
✔️ How to overcome every single objection you will be presented with
✔️ How to structure your sales emails, landing pages and videos, even if you're not a good copywriter
WHAT OTHERS ARE SAYING:
"Professional, packed with good info. Authentic, real, all the examples were fun" – Nina Segura, Life Coach
"The workshop provided a lot of useful nuggets of information, a lot I had not even considered prior to this, that I know will be helpful to me in my business" – Teddi Jutsen, Life Coach
"So many practical and tangible takeaways" – Naomi Deck, Motivational Health Speaker
"Very engaging, fun learning. I really liked all the examples and had a lot of takeaways from the workshop. Thanks so much" – Aleksandr Chistiakova, Engineer
"Very informative, learned new skills, plenty of great info, recommended for others looking for new sales tools and skills" – Anthony Payten, Coach
? How To Sell Your Services With Ease Workshop Is Being Held In Sydney on Saturday 14th September 10am – 5pm
➡ Learn More: http://bit.ly/sep-workshop
(Note: Tickets are limited due to room size and allocated on a first-come, first-served basis. Book now to reserve your place)