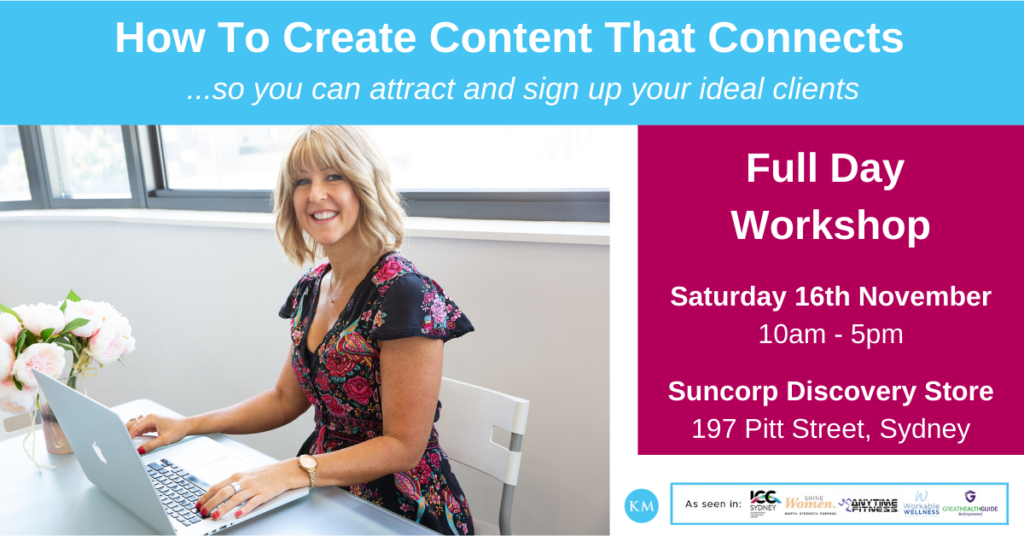 Want to know the fastest way to use content to attract more clients?
Is this you?
* You know you need to boost your online presence, but you struggle to get enough engagement
* You find it hard to find time to constantly come up with new creative ideas to promote yourself
* When you DO put out content, you still don't get all the likes, comments or sign-ups you were hoping for?
You're not alone.
If there's one crucial skill I wish I'd learned earlier in my business, it's creating effective content.
Once I learned the skill of copywriting in my business, I started to attract more of my ideal clients and everything changed in my business.
People often say to me things like "I don't feel like anyone is really reading my stuff"… or "I just don't really know what to say".
If you want to stay in business and influence more people, the skill of knowing how to write effective content is critical.
The 'How To Create Content That Connects' Workshop shows you exactly how to write high-converting content using proven techniques based on research in human behaviour and decision-making.
You'll Learn:
* How to create content that gets you MORE connection and engagement straight away
* My unique 'better buzz' strategy to EXPLODE your social media engagement (I've never shared this before!)
* 7 keys to creating an effective content calendar – including my favourite hacks to save you loads of time and energy
*The exact words and phrases to NEVER include in your content and the common mistakes to AVOID in your content writing (that many people are making)
*The exact words and phrases you can START using immediately that will STOP people scrolling and have people reading more
*How to ATTRACT your ideal clients with influential content that HOOKS them in and makes them want to read more
* Expert writing tips, tricks and hacks to make your message clear, concise and INFLUENTIAL
Plus you'll be taking action and creating content IN THE ROOM and getting stuff DONE!
What Others Are Saying:
"One of the best workshops I've ever attended" – Oksana Rama
"I'm already up and running with templates, ideas and strategies" – Kristian Jones
"It exceeded my expectations… an enjoyable, fun learning environment" – Deborah Dissanyake
"Lots of inspirational ideas and strategic tools… with secret weapons for my business" – Sam Hui
"It's amazing how much information Kat packed into the day… I loved everything about it…" – Leanne Allen
Spaces strictly limited. Secure your seat now, so you don't miss out!
Register here: bit.ly/content-nov