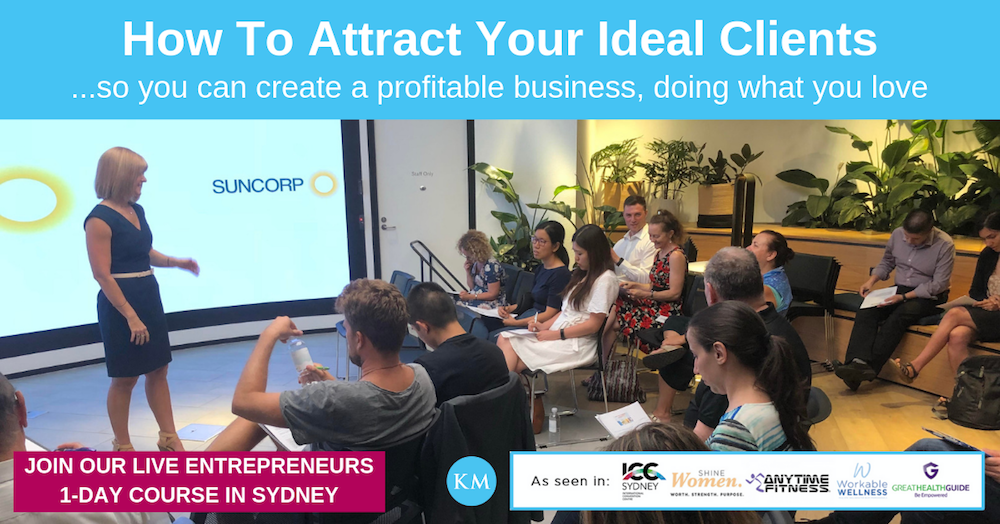 Hey passionate difference-maker,
Do you want to know the easy way to get clients, EVEN IF you're just starting out?
Do you want to know, with CERTAINTY, how to create a profitable business?
So you can make a deeper impact with your message...
Create the income you deserve...
And position yourself as the go-to expert in your niche?
Well, I have good news for you 🙂
At my upcoming workshop, I'm sharing a rarely-utilised strategy that will be your new secret client-getting advantage.
This strategy allowed me to:
* Attract dozens of my ideal clients - even while I was on holiday
* Have a profitable business, earning consistent five-figure months
* Go full-time in my business
* Help my clients get results (like Aimee who went from $800 per week to over $4,000 per week in sales!)
THIS WORKSHOP IS FOR YOU IF...
You're a Coach, Trainer, or Service-based Business Owner
You want to get paid more to help more people
You want a clear strategy to find your ideal clients that works, consistently
YOU'LL LEARN:
How to get crystal clear on your ideal target market and show them exactly how you can help them
A 5-step Client-attraction Formula - the exact steps to attract a consistent stream of your ideal clients
Low-cost marketing strategies that create big results (that most of your competitors aren't doing!)
The 3 M's that can transform your business, instantly
How to automate the most important aspects of your business, simple hacks to get your time back
YOU'LL GET:
Fun-filled learning about the business growth strategies that are working best in 2019
A comprehensive workbook to work through
Snacks + hot and cold drinks throughout the day
Your most burning questions answered
Quality, valuable feedback to help you in your business
Networking opportunities with like-minded passionate entrepreneurs
Event Details:

Saturday 17th August 2019, 10am - 5pm
Suncorp Discovery Store, 197 Pitt Street, Sydney
Earlybird Offer available until Sunday, 11th August.