FREE Event For Coaches, Consultants, & Service-Based Entrepreneurs Who Want To Master Their Copywriting Skills To Attract New Clients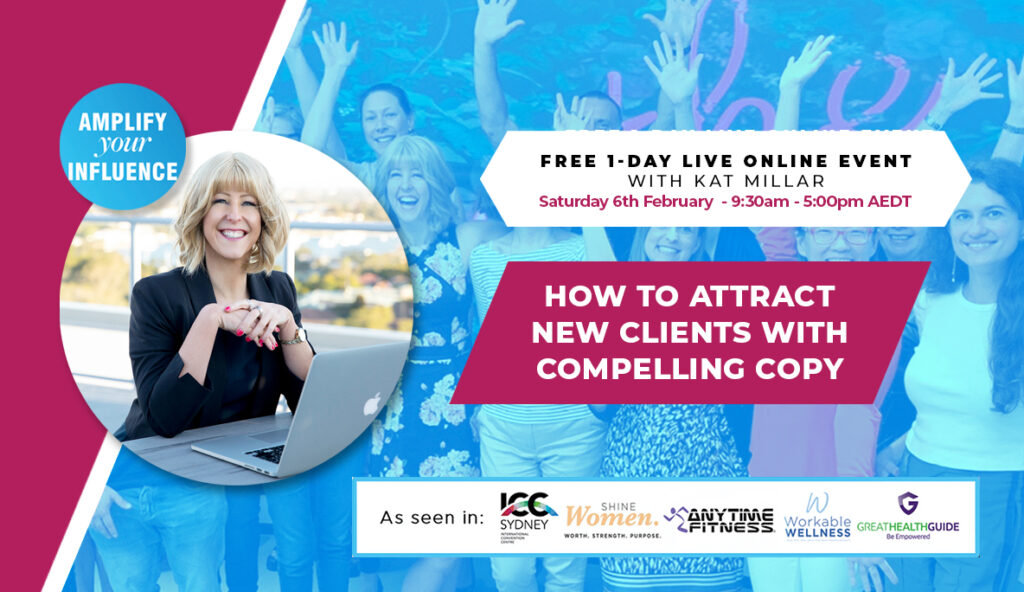 You're creating content in your business, but something isn't working and you're not signing up enough clients
You find it hard to clearly communicate your value and express your message online and make your copy resonate with the right people
When you put out content you don't always get the engagement and sign-ups you were hoping for and you're not sure what you're doing wrong
People often say to me things like "Not many people are engaging with my content"… or "I just don't know what to say to get people's attention".
If you feel the same, it has nothing to do with you.
The #1 reason your marketing won't convert comes down to your copy.
Copy is all the words you use in your marketing – such as your posts, emails and webpages.
The main difference between a rich and broke business owner is their marketing ability… and according to one of the top marketers in the world, around 80% of marketing success comes down to the copy.
An ugly website with great copy will outperform a beautiful website with poor copy .
Many people are WINGING IT with their copy, and don't have an effective strategy…because they don't realise that successful copywriting follows a formula. 
Without an effective formula, it's impossible to get results.
If you want to get more clients, the skill of effective copywriting is crucial.
That's why I created this workshop.
To share with you exactly how to create compelling copy that connects with your ideal audience and converts them into paying clients.
PLUS you'll get some awesome BONUSES – just for attending the event live!
I'll see you over there,
Kat