FREE ONLINE Masterclass For Coaches, Consultants, & Service-Based Entrepreneurs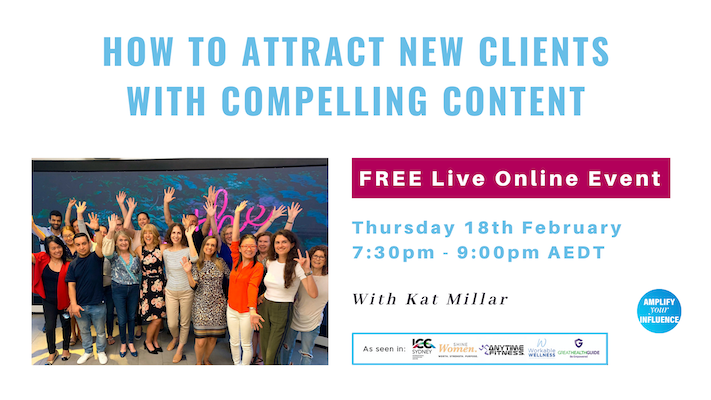 IS THIS YOU?
You're creating content in your business, but something isn't working and you're not signing up enough clients
You find it hard to clearly communicate your value and express your message online and make your copy resonate with the right people
When you put out content you don't always get the engagement and sign-ups you were hoping for and you're not sure what you're doing wrong
YOU NEED TO KNOW – it has nothing to do with you! YOU are awesome!
The #1 reason your marketing doesn't convert comes down to your marketing words.
Creating compelling content is a SCIENCE – not a guessing game.
THE TRUTH IS: Clients are everywhere.
The only thing between you and them are the WORDS you use to capture their attention.
Many people are winging it with their content and don't have an effective strategy…
…because they don't realise that successful content that SIGNS UP CLIENTS follows a formula.
Without an effective formula, it's IMPOSSIBLE to get results!
The techniques you'll discover at this event show you EXACTLY how to attract your ideal clients, with copywriting that WORKS.
AT THIS UNIQUE ONLINE EVENT YOU WILL DISCOVER:
* A Step-By-Step Compelling Content-Creation Formula
* My Winning Psychology-Based Copywriting Secrets
* POWER Words And POWER Phrases that STOP people scrolling past
* How To Create Attraction Content that INSTANTLY gets you more engagement
* How To Create Compelling HOOKS and stand OUT in a noisy, crowded marketplace.
…PLUS you'll get an awesome BONUS – just for attending the event live… my 'Compelling Content Tool Kit', Valued at $97!
…with ready-to-apply templates, cheatsheets, guides & video training to navigate the online space & attract the clients you want – ready for you to implement instantly!

WHAT OTHERS SAY:
"I feel empowered to sit down and write copy which will get the attention of my target market, and ultimately bring me more paying clients!"
"I am blown away, so much empowering information!! You should have made us pay for it upfront!!! You've ignited a fire. My head was full of posts last night. WOW!!"
"I loved it!"
"Learning about the power words that was brilliant!!!"
The techniques you'll discover at this event show you EXACTLY how to attract your ideal clients, with content that CONVERTS.
This masterclass is designed for heart-centred Business Owners who seriously want to make a difference and explode their business in 2021 – WITHOUT using pushy marketing tactics.
Can't wait to see you there!
Kat