Want to know how to sign up more coaching clients? ? Discover how at…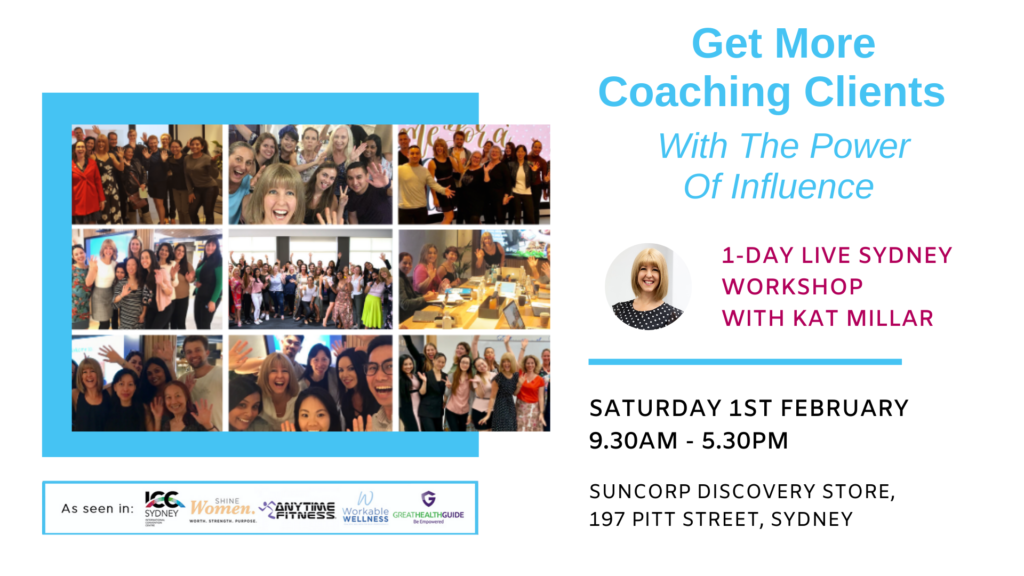 ? In One Powerful Day You Will Learn:
? The BEST methods to connect instantly with your audience and INFLUENCE them to your ideas
? How to become a master influencer and build authentic trust and a powerful connection with your ideal clients
? How to use neuro-marketing to influence the SUBCONSCIOUS mind in your written and spoken content
? The MOST effective way to design your marketing plan so that you nail your message, and attract the right clients
? The BIGGEST mistakes Coaches make in their marketing and how to avoid them
? A proven, effective marketing plan that you can tailor to your business
✔️ Productivity… GUARANTEED
You will experience an informative and productive day, packed with the most relevant and effective client-signing strategies for your business… or you pay nothing!
✔️ Powerful Strategies
The most effective marketing strategies, to help you simply, authentically and enjoyably sign up your ideal clients, even if you're just starting out or feel you have no idea what you're doing
✔️ More Life, Less Work
Everything you'll learn is focused on helping you build a lifestyle-friendly, profitable business on your own terms… one of the main reasons we have our own business… right?! 🙂
You'll Get…
? The business growth strategies working best in 2020
? New skills and confidence to grow a profitable business
? A comprehensive workbook, plus content creation sessions
? Snacks + drinks provided
? Valuable feedback on your business for greater clarity
? Networking and masterminding with like-minded entrepreneurs
If you want to grow a profitable coaching business, this workshop is a must.
2020 is the year to finally let go of what's holding you back and create the life you dream of.
P.S There are only 10 tickets available and allocated on a first-come, first-served basis. Book now to reserve your place.