Want to attract new clients online 24/7 while you sleep? 🚀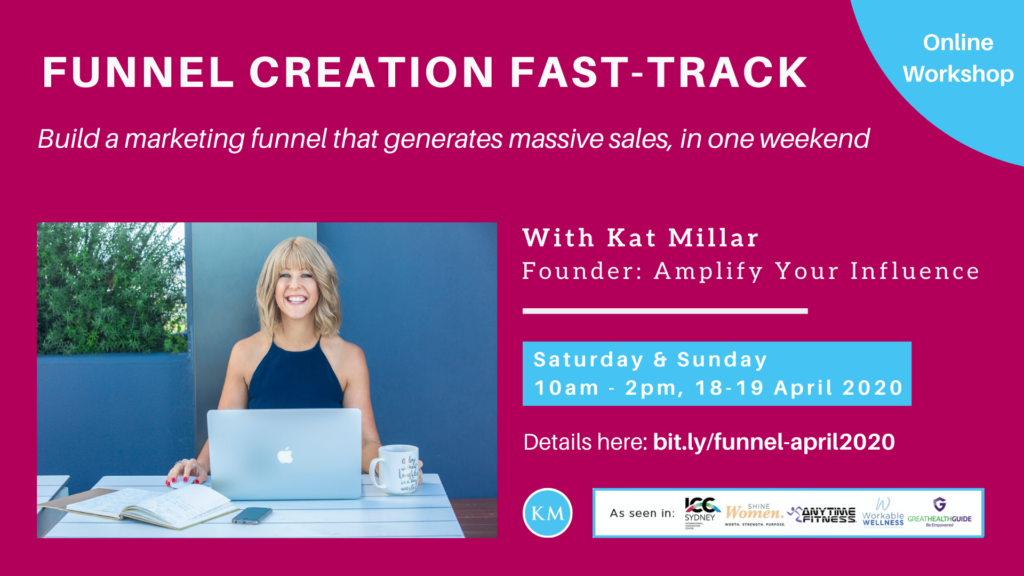 ➡ Full Details Or Get Your Ticket 🎫 Here 
Kat Millar presents this new online workshop for service-based business owners who want to build a marketing funnel that attracts new paying clients FAST…
WITHOUT being a marketing or copywriting expert! 👩‍💻
And if you're not even sure what a funnel is, but you know you need an online system to engage and capture new clients, just show up and I'll walk you through it all, step-by-step!
——————————–
💥 THIS IS FOR YOU IF:
——————————–
✅ You're a coach, consultant, educator, wellness or lifestyle professional or subject-matter expert
✅ You know you have the potential to help a lot more people and make more money
✅ You want guidance, inspiration and clarity on setting up an online system to get more paying clients
————————————————-
🤔 WHAT IS A MARKETING FUNNEL?
————————————————-
Put simply, a marketing funnel is a simple, automated way you can turn strangers into clients. 🤝
It's a series of steps you create on a landing page builder, so you can have people signing up to you 24/7.
————————————-
👩‍💻 WHY BUILD A FUNNEL?
————————————-
✔️Unusually consistent lead flow
✔️Free up more time for the things you love
✔️Get paid what you're worth with a profitable asset
✔️Have a 'do it once and it's DONE' method
At the 'Funnel Creation Fast-Track' online weekend workshop…
———————
💡 YOU WILL…
———————
👉 Understand how to get a consistent stream of qualified and eager clients through setting up the right funnels for your business
👉 Discover the BEST ways to build an effective and profitable client-attraction system for financial flexibility and freedom
👉 The MOST effective, proven way to design your marketing funnels so you attract the right clients, even if you're not tech-savvy!
————————————————————–
🗣 WHAT OTHERS SAY ABOUT KAT'S EVENTS:
————————————————————–
"Fantastic! Kat presented a great session with lots of valuable content designed to create practical results in getting started. I'm ready to go!" – Leah Robinson
"10/10 delivery, very engaging and presented well! I will be attending more events of yours in the future. Thank you!!"
– Dale Williams
"So much relevant content – so generous, broken down really well. Such good delivery" – Renee Scifo
"My highlight was Kat's teaching style – I'm inspired to work on my confidence and decide on the right niche, goals and mission" – Debbie Lim
"Great concise info linking strategies to desired outcomes – cut through the fog of client attraction and acquisition"
– Paul Harper
Join us at the 'Funnel Creation Fast-Track' online workshop 🙌
I can't wait to help you build a 24/7 marketing machine!
Kat
(Note: Spaces limited and allocated on a first-come, first-served basis. Grab your space before it books up)