Want to know the strategies that work BEST right now to attract more clients?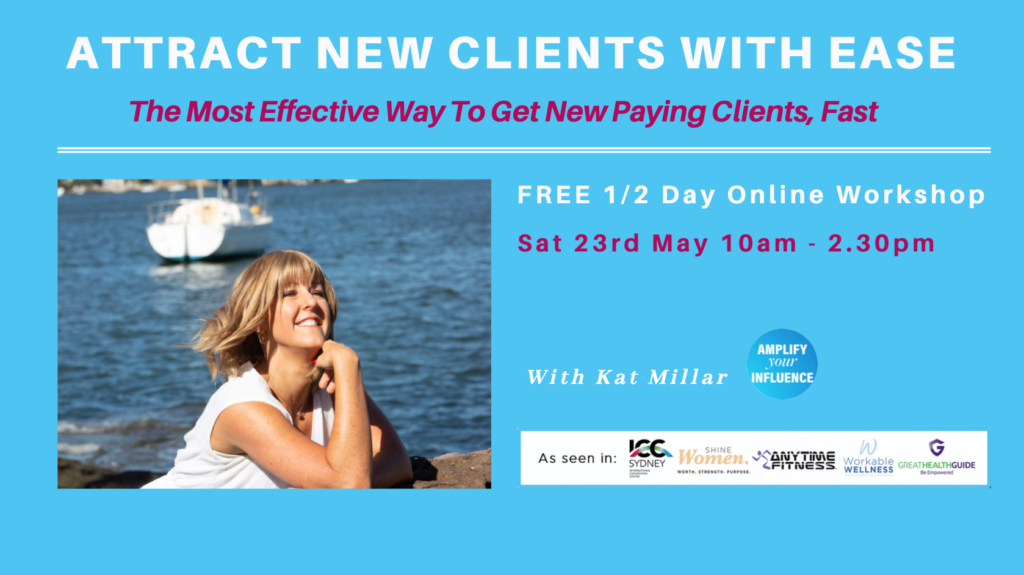 Saturday 23rd May 2020
10am – 2.30pm
Online: Zoom
Limited Spaces…
Join a group of like-minded, action-taking entrepreneurs!
Kat Millar
Your Trainer & Coach
Kat Millar presents this FREE 1/2 day event for service-based business owners who want the current marketing secrets that attract new paying clients FAST – (WITHOUT having to be a marketing or copywriting expert).
In this one-of-a-kind day, you'll learn the 5-Step Client Attraction Formula – which means you'll know step-by-step how to generate consistent clients… even if you don't know where to start 
Do you ever feel like you're working hard but not earning the income you want?
You're posting content on social media, creating content, posting in Facebook groups…
But you're still wondering "How the heck do I get more clients?!"
If you haven't yet experienced my workshops, then this may be the most important message you read this year.
If you feel like you're doing the right things, but you're STILL struggling to get clients… I get it.
I also used to find it hard to attract and sign up my ideal clients.
It felt like I was doing SO much ALL the time, but nothing was working consistently.
That was until I learned how to do 3 things that changed everything.
The 3 important steps you need to take in order to attract and sign up more paying clients…
The first step is get your ideal clients' attention
Think about it – if you can't get their attention, how can you share your value?  No matter how awesome the content you're creating is, they don't even notice it.
The second step is to learn the skills of effective attraction and connection
If people aren't engaging with your content, your message is either confusing, not clear enough or not appealing, so it doesn't create a desire to learn more.
The third step is knowing how to share your programs and services and effectively communicate your value
This is one of the most important skills in marketing and sales so you can help more people, in a genuine, real way.
Following these steps allowed me to…
* Build trust with people who wanted more and were ready to take the next step
* Have a steady stream of consistent, quality clients
* Sell out my programs with my ideal clients that I love working with
I literally had clients start to consistently say to me "How can I work with you?" 
Now, I regularly turn away clients that I don't want to work with.
And my clients happily tell others about me without me asking them to.
And now I want to share these principles with you, to help you to get new clients, fast.
This Workshop Is For You If…
* You're a coach, consultant, educator, wellness professional or subject expert
* You know you have the potential to help more people and make more money
* You want guidance, direction and clear steps to get more paying clients
At This FREE Unique 1/2 Day Event You'll Discover:
? The most successful way to get people's attention, how to use the skill of effective attraction and my best authentic influence secrets
? How to get laser-like clarity on your ideal clients and package yourself correctly to attract them
? The marketing techniques that are working right now and what to avoid wasting time on
? My proven, signature 5-step client attraction formula to attract your ideal clients using the most effective methods
? The most costly mistakes to avoid when growing your business and what to do instead
? How to get paid well for helping people within your area of expertise, so you can create time flexibility, financial freedom and make a bigger difference
What Makes This Different?
I'll show you the complete system to grow your business to over $10,000 per month, no matter where you're starting from.
I'll hand you my blueprint for success and we'll work through it step-by-step throughout the day, so you'll walk away with a plan you can apply straight away.
Many seminars give you way too many options and confusing tactics and you leave feeling overwhelmed…
This day is about taking things OFF your to-do list that are wasting your time, and getting crystal clear on the things to do that work.
What That Means For You Is…
INSTEAD OF…
Trying to appeal to everyone, you'll be able to clearly show people why you're right for them and the go-to person to help them
INSTEAD OF…
Constantly posting on social media and getting little or no engagement,
you'll know exactly how to clearly communicate your value and get attention
INSTEAD OF…
Trying to sell your product or service, you'll be helping people realise they need to change and that you are the obvious solution.
You'll learn the step-by-step formula which makes all the difference in effectively attracting your ideal paid clients… 
in the best way and fastest possible time. 
This formula allows you to have a simple, effective marketing and conversion model…
? No need to keep competing on price
? No need to have a best-selling book
? No need to have thousands of followers
? No more pointless posting
? No more endlessly chasing clients
Productivity… GUARANTEED
You will experience a highly informative and productive day, packed with the most relevant and effective client-attraction strategies for your business
Powerful Strategies
The most effective strategies, to help you simply, effectively and enjoyably grow your business with clear steps to help you, even if you have no idea where to start
More Life, Less Work
Everything you'll learn is focused on helping you build a profitable business on your own terms…
one that you enjoy, otherwise there's no point… right?!  🙂
You'll Get:
? The best tools and principles working right now that you can apply straight away to grow fast
? A comprehensive workbook to work through and take home
? Networking opportunities and mastermind breakout sessions with like-minded entrepreneurs
? The presentation slides and workbook sent to you after the event – so you can continue to use and apply the information.
Event Details
Saturday 23rd May, 2020
10am – 2.30pm
Zoom – Online
Spaces strictly limited. Secure your FREE ticket now, before it books out



Meet Your Trainer, Kat Millar
Kat Millar is a Professional Trainer, Coach and Founder of Amplify Your Influence, specialising in helping people make a living, doing what they love.
She has owned and run successful businesses since 2003 in 3 countries and over the past 10 years has delivered over 4,000+ one-on-one coaching sessions.
Kat has spoken at the International Convention Centre, Latin Dance Australia, and Shine Women, and her work has appeared in the Great Health Guide and Workable Wellness, to name a few.
Kat helps people effectively package and deliver their unique strengths, experience and knowledge, to make a meaningful difference and get paid well for it.
Thinking about joining us? These entrepreneurs did – check out what they had to say…
"It exceeded my expectations… an enjoyable, fun learning environment"
"It's amazing how much information Kat packed into the day… I loved everything about it…"
"I liked everything about the workshop…
The atmosphere = Excellent!"
"Practical, easy to implement strategies that you can implement immediately"
"Interactive, comprehensive and fun! "
"I learned strategies to help me save time and take massive action. It has made a huge difference already"
"You can't help but feel empowered and inspired to take massive action"
"Lots of inspirational ideas and strategic tools… with secret weapons for my business"
"It will really help me progress faster"
"If you want a roadmap towards success for marketing a service-based business, Kat is the go-to person!"
"One of the best workshops I've ever attended"
Event Details
Saturday 23rd May, 2020
10am – 2.30pm
Zoom – Online
Spaces strictly limited. Secure your FREE ticket now, before it books out
I can't wait to see you there and help you get more clients and help more people.
Kat